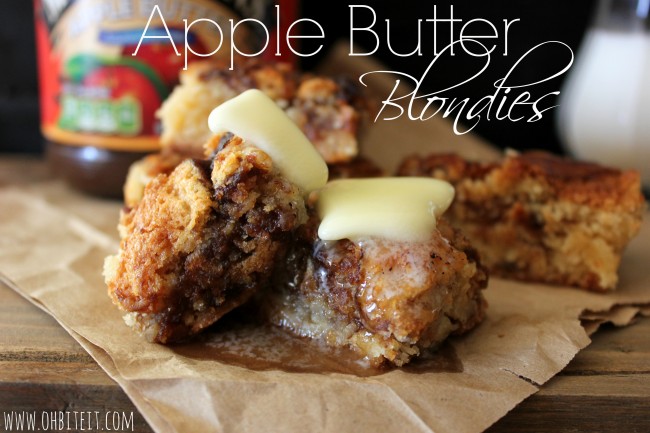 Hey L@@K~~it's an actual Apple treat that's perfect for Fall and doesn't require slicing…peeling…coring and pretty arrangements into Pie.  These sweet Blondies are chock full of Apple goodness and will become a friend & family favorite for sure!
Super simple and SO impressive, you will adore these Blondies and they will definitely provide you with way more 'fun' than those boring Brownies..lol!
What you'll need…(YOU CAN WIN THIS Musselman's Prize Pack!):
1 box of White Cake Mix
1/3 cup Evaporated Milk
1/2 cup melted butter
1 cup of Musselman's Apple Butter
9×9 square baking pan~sprayed with non stick spray…or 2 mini loaf pans (included in the PRIZE PACK) that's what I used
Butter for topping~optional..but To Die For!
Directions:
In a medium bowl combine the cake mix, evaporated milk, and the melted butter.
Pour the Batter into your baking pan.
Add in the Apple Butter…
And lightly swirl it all around~
Bake it at 350 degrees for approx. 20 minutes or until it's cooked through…
Serve it nice and warm with some Butter on top…
Butter…because you can!  ~Enjoy! 🙂
*FOR A CHANCE TO WIN THE MUSSELMAN'S PRIZE PACK, including a large jar of Apple Butter, 4 mini Loaf pans, Adorable Bags for sharing, Adorable Stickers for sticking, and Recipe Cards~simply share this post!
**Comment below that you shared it~~ THAT'S ALL YOU HAVE TO DO!  A winner will be chosen by Midnight EST Friday October 25 2013.  GOOD LUCK!