It's one thing to enjoy a Grilled Cheese Sandwich, you know..two slices of Bread held together by a slice of ooey-gooey melty Cheese.
It's a whole other thing to enjoy a crazy, colossal tower of Bacon, held together by piles of ooey-gooey Cheese and many slices of buttered Bread~!
This sandwich takes Grilled Cheese up to levels only fantasized about by most people..until now. An entire pound of Bacon is literally drowning in a pound of Colby-Jack Cheese, melted to perfection and resting gently on some buttered & toasted Whole Wheat Bread.
~The Bread is really just there to make it socially acceptable~feel free to only eat the Cheesy Bacon if you just don't care…lol! 🙂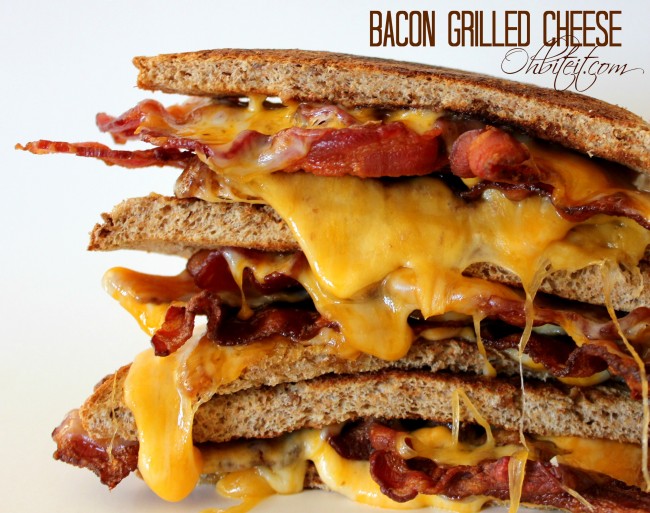 What you'll need (this makes enough Grilled Cheese sandwiches for about 4 'normal' people):
1 lb. Bacon~crispy
1 lb. Colby-Jack Cheese (or any cheese you like)
Six slices of Bread..makes 3 LARGE sandwiches, cut in half to share!
Butter..enough for both sides of your bread.
Directions:
Butter the Bread, add the Cheese and the Bacon.  Grill it on both sides until the Cheese is all melty …and ooey …and gooey …and crazy good!
Now~~Eat it!  ~Enjoy!  🙂