I'm so proud of myself! I finally made a Cheesecake~the real way…I think?!  Not from a box or from, …a store OR my Mom! 🙂
Of course, I had to change it up just a tiny bit.  So I added some "Holiday" to it simply by swapping out the typical Graham Cracker Crumb Crust with some Ginger Snap Cookie Crumbs.
OOO MMM GGG! That's all I can say!  What an amazing difference that small change made!  The slightly spicy, warm flavor from the Ginger Snaps totally compliments the creamy, rich Cheesecake.  And that super dark, Molasses Ginger Snap Crust makes this a holiday Cheesecake party in your mouth, and everyone will want an invitation!
Drizzle it with some thick Caramel, a sprinkling of crunchy Pecans and now there's no turning back! 🙂
What you'll need:
1 1/2 cups crushed Ginger Snaps Cookies (about 40 Cookies)
4 tablespoons (1/2 stick) Butter, melted
Four 8-oz. packages Cream Cheese…softened
1 cup Sugar
1 cup Sour Cream
3 tablespoons Flour
4 large Eggs
1 tablespoon Molasses
1 cup of Caramel Sauce (I used Store Bought Topping)
1 cup Pecans…chopped
Directions:
Process or crush the 'Ginger Snaps' Cookies into fine crumbs, the same texture as Graham Cracker Crumbs…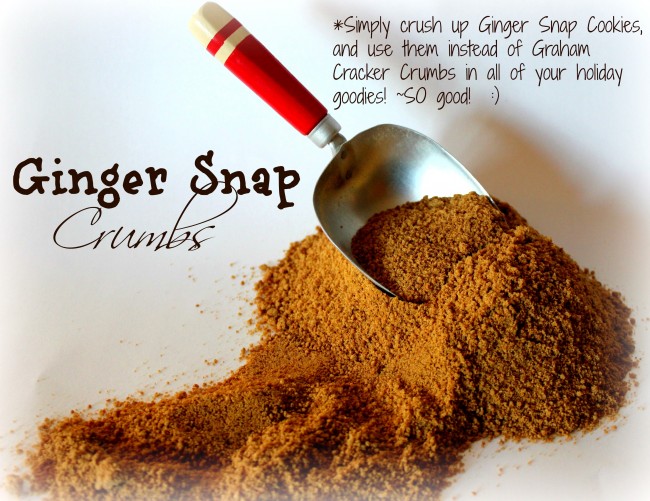 Preheat the oven to 325°F. Line 13×9-inch baking pan with foil, with ends of foil extending over sides of pan. Spray the foil and the sides of the pan with nonstick spray.
Combine Ginger Snaps Cookie Crumbs, Molasses and melted Butter in a medium bowl, or processor, pulse until it's like wet sand…
Press the crumbs firmly onto the bottom of the prepared pan…
Place the pan with the pressed crust into the refrigerator or freezer while you prepare the filling.
In a large bowl, use an electric mixer to combine the cream cheese and sugar on medium speed until well-blended.  Add the sour cream, flour and vanilla; mix well. Add the eggs, one at a time, mixing on low speed after each addition just until blended…
Pour the filling over the crust and spread to make an even layer…
Bake 40 minutes to an hour, or until the center is almost set. Cool completely.
Refrigerate at least 4 hours or overnight. Use a knife to loosen the sides of the cheesecake, then use the foil to gently remove the cheesecake from pan.
Drizzle it with some Caramel Sauce…
AND top it with some crunchy Pecans…
Cut into pieces to serve…
NOWWW there's nothing left to do but have your way with it!  ~Enjoy! 🙂
Store leftovers in a tightly covered container in the refrigerator.
*Adapted from KRAFT