You know that feeling when you see something so incredible, that all it takes is one split second for you to know it will be amazing, and you'll love it and it will change your life forever and ever?  No, I'm not talking about your newborn Baby, or finding your one true love~I'm talking about Pop Tarts..lol! 😉
~My life changed forever when fate threw me into the arms of these new Peanut Butter Pop Tarts…haha!
This was a sure thing, there was no chance that I was wrong about these. In fact, I committed myself to two boxes before I even tasted one! I wasn't about to screw this up…no way!
Not to brag, but I was SO right!! I promise you, you will never regret the pure pleasure that each sweet, creamy Peanutty Pastry provides to your taste buds. I just had to create a platform for them to shine and show off their true talents.
What better way to showcase them, than on a sweet & thick "stage" of Cheesecake?!  Over 2 inches of Cheesecake, lovingly sandwiched between two layers of warm, gooey, toasted, Peanut Butter Pop Tarts~  …talk about a match made in dessert Heaven!!  These two flavors go together like me and my Yoga pants…on a Saturday…on the couch! 😉
What you'll need:   
A 13×9 Baking Pan
Approx. 8-10 Peanut Butter Pop Tarts
2-16oz. containers of Cream Cheese
4 Eggs
1 cup Sugar
1 cup Sour Cream
3 tablespoons Flour
1 teaspoons Vanilla Extract
Some Chocolate Frosting or Glaze for the topping…optional!  (I used Amazing Glazes)
Directions:
Layer the bottom of the pan with some Pop Tarts~Top side down, and trim them so they fit nicely, like a pretty & sweet Puzzle…
In a medium bowl combine the Cream Cheese and Sugar, beat on low speed with an electric mixer.  Add in the Sour Cream, Flour, Vanilla, and one egg at a time~Mix until smooth…
Pour it onto the bottom layer of Pop Tarts…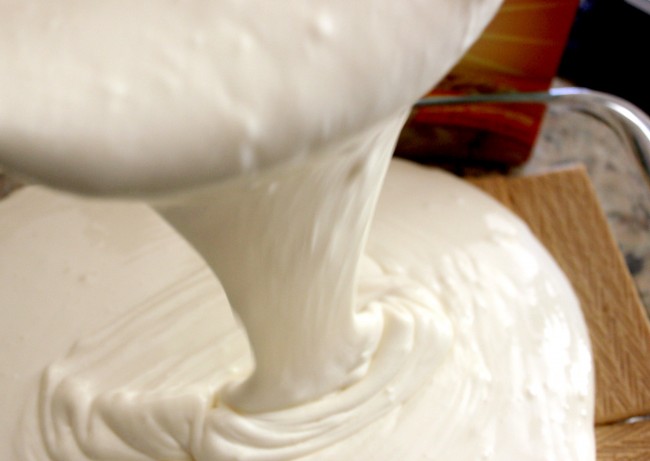 Then evenly top it with yep…MORE Pop Tarts.  They're so awesome, they don't even sink into the Cheesecake~
Bake it at 350 for approx. 35-40 minutes or until it's cooked through (not jiggly anymore).  If the top gets too dark before it's fully cooked through, just cover it with some foil.
Let it cool to set up, it can even go into the fridge, if you'd like it to set up faster~
Slice into it and marvel at its beauty.  Drizzle on some of the Chocolate Glaze, because you can…
Find a nice quiet spot…and dig in!  ~Enjoy! 🙂