In my never ending quest to create a lifetime variety of Jalapeno Poppers, I somehow created this new all-time favorite!  This is what happens when I go to the grocery store in a snacky mood~  I end up buying the "Feed an Army" size bag of Chips that I will never eat.  And by "never eat" I mean, nah…I'd totally eat them all…Ugh~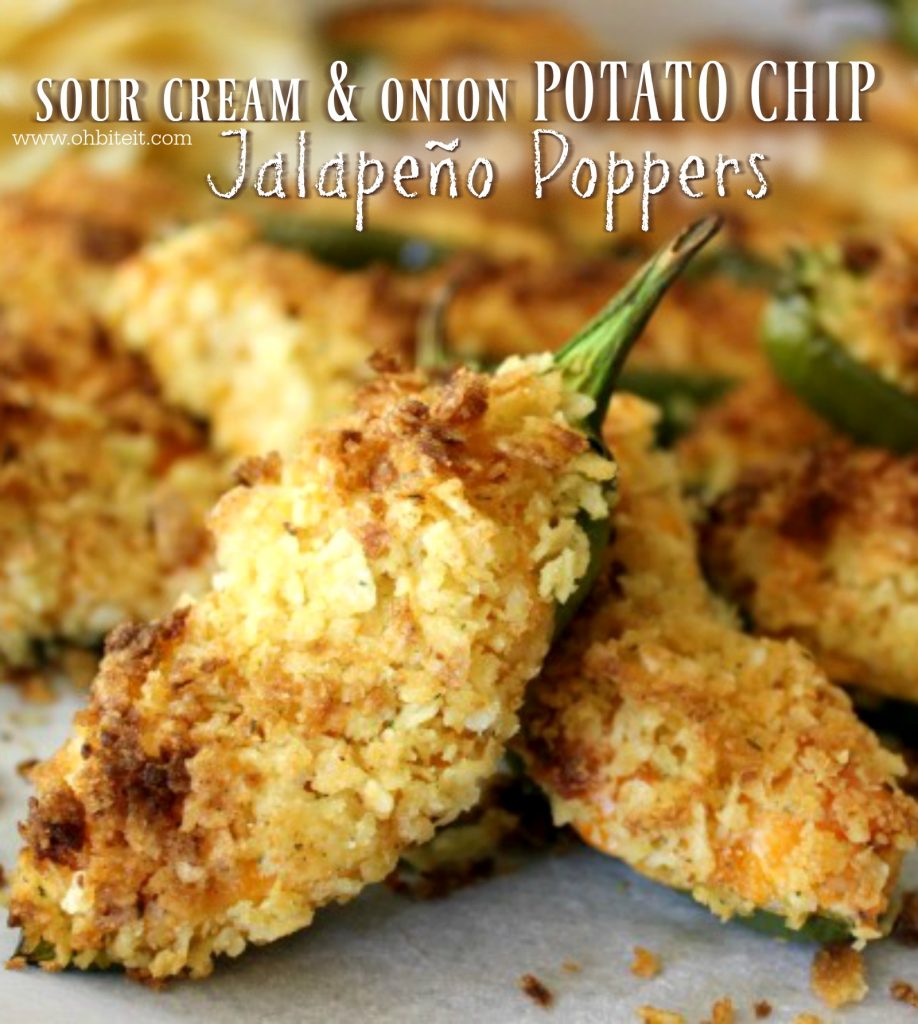 BUT…if you crush up those Chips and use them as an ingredient, it's not so bad..right?!  Especially when you add them to a healthy veggie like Jalapenos…now they're total 'health food'…LOL!  🙂
The Sour Cream & Onion Chips add the most amazing crunch and flavor to the creamy and cheesy Poppers.  Crunchy~Cheesy~Salty~Spicy…the perfect snack!  These will be a game day favorite, even if your idea of a "game" is just laying on the couch…all day!
~Make way more than you think you'll need..trust me! 🙂
 What you'll need for 30 Potato Chip Poppers:
15 fresh, seeded and halved Jalapenos
2-3 cups of crushed Sour Cream & Onion Potato  Chips
2 cups Shredded Sharp Cheddar Cheese
8 oz. Cream Cheese
A dash of seasoning~I used Cajun
**YES…you can add Bacon!  Simply add crispy and crumbled Bacon into the Cream Cheese Mixture.
Directions:
CAREFULLY (they're SPICY)~ split and seed the Jalapenos, set them aside…
Crush up the Chips, by hand or with a processor…
Until you get about 2-3 cups of coarse crumbs.  Put them in a shallow bowl and set aside…
In a medium bowl combine the Cream Cheese, Cheddar and spices…
Fill each Pepper with some of the Cream Cheese mixture and top them with LOTS of those crushed Chips, really mound them on there good…
Bake them at 350 degrees, for approx. 25-30 minutes or until they're slightly golden and the Peppers are soft & melty cheesy.  If the Chips get too dark before they're done to your liking, just cover them with some foil to finish cooking them.
Let them cool for at least 1 long minute before you lose complete control and burn yourself…lol!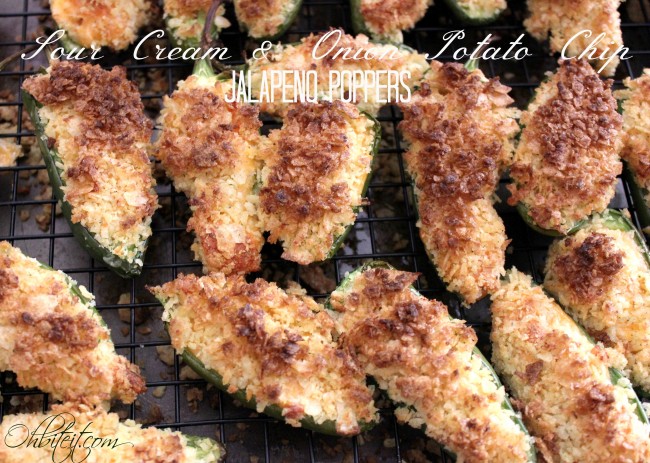 Do the right thing and share…you can do it!
NOWWW you may have one ten! ~Enjoy!  🙂