~Happy National Taco Day~  A moment of silence..lol!
I say this all the time but~God Bless America!  Where else do we get to have a specific day dedicated to a particularly delicious food, almost every single day of the year?  Yep…the good old USA!
Today is National Taco Day, a day of Tacos, Tacos for a day, 24 hours of Tacos~~we should've all had the day off, right?? …RIGHT!  🙂
In honor of this day I've contributed these totally tasty Taco Bubble Bites.  Cheesy, puffy, Taco filled biscuits, they're beautiful bubbly bites of extreme yumminess…just perfect for a 'holiday' like today!  🙂
What you'll need:
1 can of  Pillsbury Grands Flaky Layers Biscuits, or Homestyle (8 count)
1 lb. Ground Beef..(I used lean)
2 cups Shredded Cheddar
2 cups Crushed Tortilla Chips
1 Taco flavor packet
Sour Cream & Hot Sauce for topping..optional!
Directions:
In a medium skillet, brown up the Beef until it's fully cooked, add the Taco seasoning packet and set aside…
Crush up the Chips…
Cut each Biscuit in half and roll each half into a circle.  Add about a tablespoon of the Ground Beef to the center and roll it up nice and tight…
Put them seam-side down into a baking pan and top them with the crushed Chips…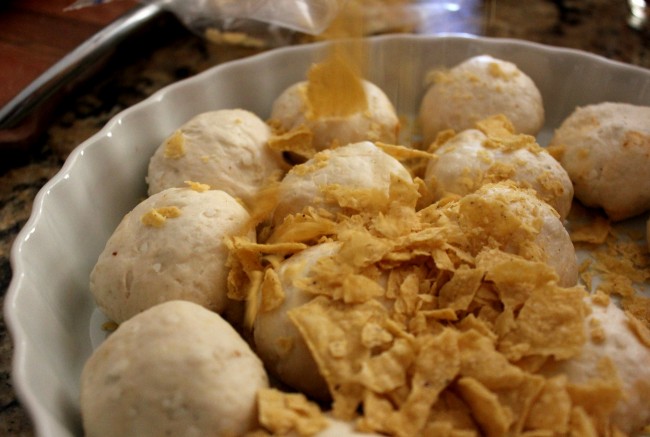 And now the Cheese…
Bake them at 350 for approx. 45 minutes, or until they're puffed, melty and slightly golden.
  Take a few peeks in the oven…
They will look SOOO good…
Serve them nice & hot…
And dig in!  ~Enjoy!  🙂