Well…the weekend is once again here and that means Food, Football, Freedom & Fun…almost all of the best 'F' words!
We're only going to talk about one 'F' word here today and that will be Food~sorry..LOL!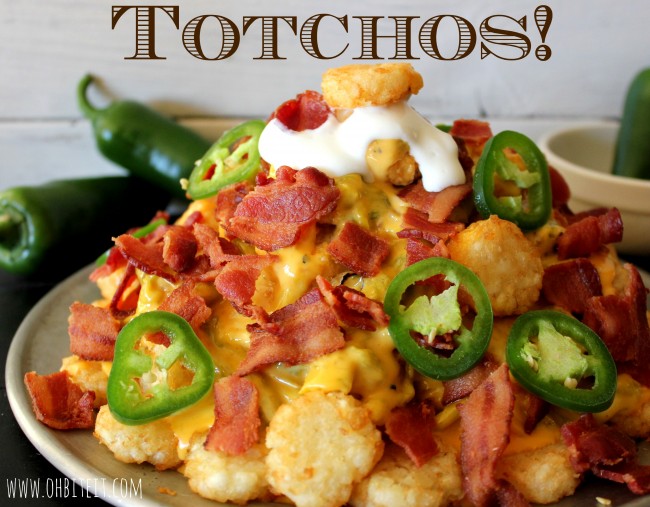 TATER TOTS + NACHOS = TOTCHOS! 🙂
I came up with this spin on typical Nachos simply because everyone that I know is obsessed with Tater Tots…and Nachos!  Young, old, skinny, fat, smart, stupid…Tots don't discriminate.  😉
So all that's happening here is an adorably morphed name and a mile high pile of crispy, hot Tater Tots, fully loaded with all that typical Nacho goodness we all know and love!  These are also dripping in my famous Green Chile Queso, but feel free to load your Totchos with your own Nacho faves!
~This is one winning pile of snack perfection!
What you'll need: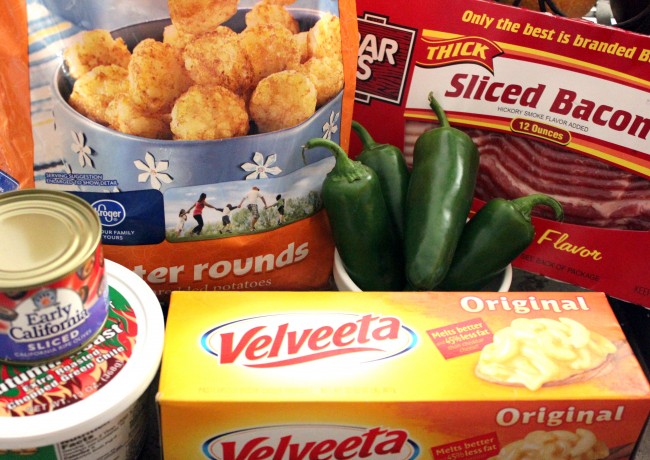 1.5 lb. bag of Tater Tots
1 lb. Crispy and crumbled Bacon
1 lb. Velveeta
1 cup Chopped Green Chile, or more if you like it super hot!
Sliced Jalapenos…optional!
Sliced Black Olives and Sour Cream for topping..optional!
And anything else you'd like to put on there!  🙂
Directions:
Bake the Tater Tots according to their package directions..get them good and crispy, this will be the only time that they're in the oven.  While they're warm, stack them up in a nice Nacho-like pile…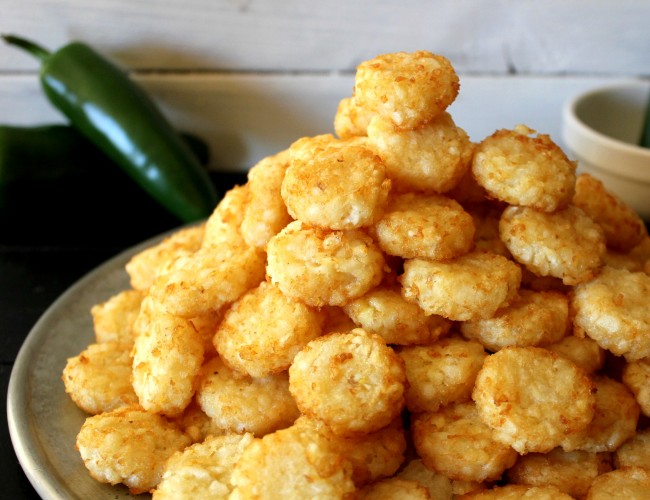 Make the Queso Cheese while the Tots are in the oven, (this is optional, you can always just add whatever you'd like)..but this is SOO Good!
In a medium pot add the Cheese and the Chopped Green Chile.  Stir often, and let them slowly melt together until it gets all thick and gooey…
Drizzle the Pile O' Tots with the Queso, and add all the other Totcho toppings~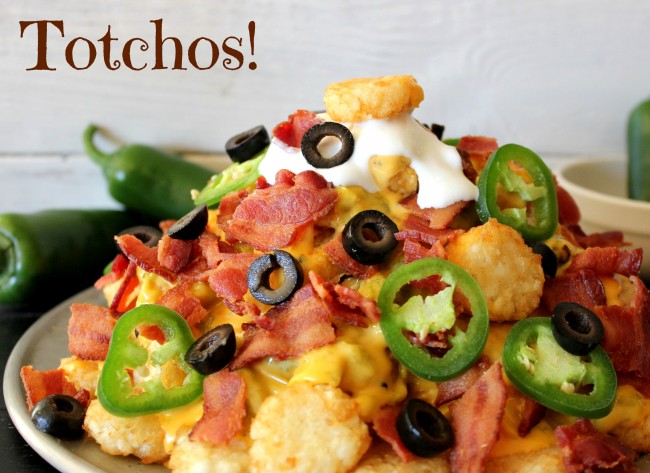 Grab those Tots, and don't waste any time…they go faster than you can say "Where'd they all go?"..lol!  ~Enjoy!