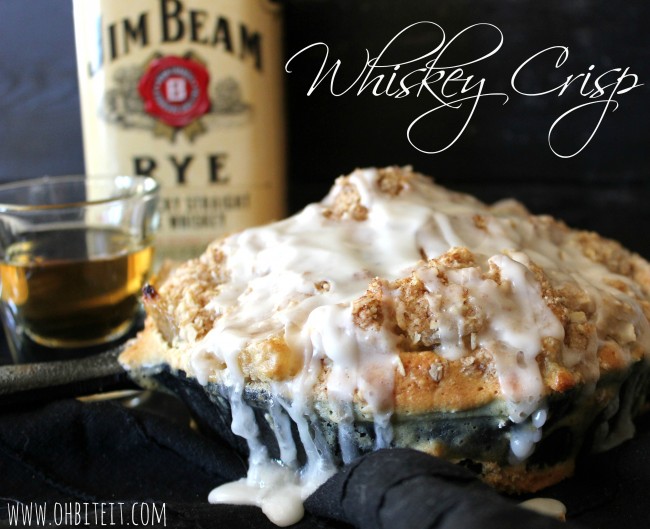 Oh yeah, there are Apples in this Crisp, there is moist Cake in this Crisp, there's a sweet sugary Streusel and maybe even some Ice Cream on top of this Crisp! ~BUT, it's the booze, yeah..the BOOZE…once again, that takes front and center on my table!  I have no shame and make no apologies for cooking with booze…at least I'm not drinking it..Right??  LOL! 😉
Whiskey makes this Crisp not only delicious, but just a little bit naughty and the perfect Fall treat to warm you up from the inside out. This isn't your kid's special treat…nope! This is a "put those kids to bed early" kind of dessert for adults only.  And we totally deserve it, those kids get everything good, right? Right!  This is our turn for happiness..lol!  🙂
Hide those car keys and sink deep into a piping bowl (or Shot Glass) full of rich, sweet, Whiskey'd Apples, suspended in thick Whiskey filled Cake, drenched & dripping in Whiskey Glazed goodness>>See a theme here?
I'd say that Whiskey is one of the best things that will ever happen to your Apples, and it provides the perfect flavor balance to all the sweetness of the Crisp!  ~Not to mention, it will make those holiday family gatherings SO much more tolerable fun! LOL! 🙂
Serve it in some Shot Glasses with a 'tiny bit' of Whiskey on the bottom~~We do what we want!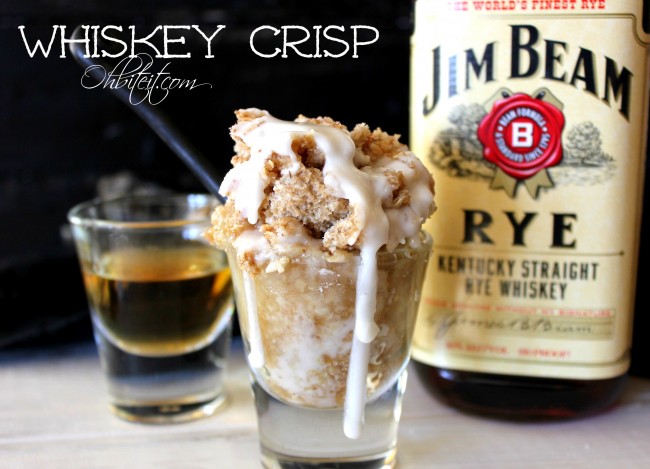 What you'll need:
13×9 sprayed baking pan or 8″w x 2″ deep cast iron skillet.
1 box of Vanilla Cake Mix (prepare the batter per box instructions)
2 large cans or 4 cups of Apple Pie Filling
Enough Whiskey to replace the liquid in your Cake Mix, and to add some into the Apples…just buy a big bottle~LOL! 
The Whiskey Glaze:
1 cup of Powdered Sugar
A few 'splashes' of Whiskey…mixed until it reaches your desired thickness
The Topping:
1 cup AP Flour
1 cup Whole Oats
1/2 cup Brown Sugar..packed
1/4 tsp. Salt
1/2 cup Butter, cut into small pieces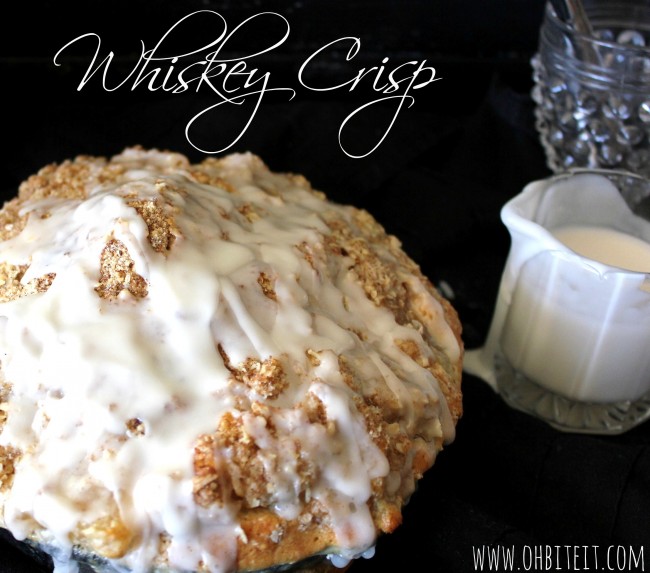 Directions:
Make the Streusel topping first, by blending all of the Topping ingredients in a food processor, or mixing it very well by hand…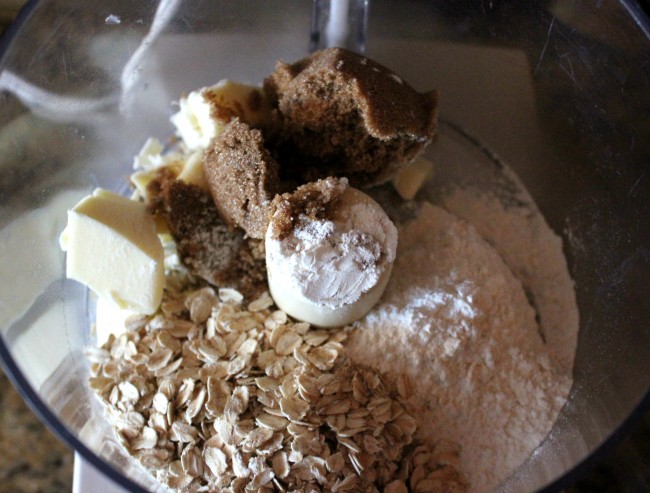 It should look and feel like wet sand.  Set it aside…
Now make the Cake Batter according to the box directions, but replace the liquid with yep..Whiskey…
Pour the batter into the baking pan.
Add a splash of Whiskey to the Apples, just because you can…
Pour the Apples on top of the Cake Batter…
Top it evenly with the Streusel Topping…
Place it onto a sheet pan to protect your oven…
Bake it at 350 degrees for approx. 45 minutes, or until it's golden, gooey and looks AMAZING!
While it's baking, make the Whiskey Glaze (see directions above):
Let the Crisp cool, just a bit…
Drench drizzle it with the Whiskey Glaze!
Serve it only to people you like A LOT, they won't be leaving anytime soon…
Plate up some of that Whiskey Crisp Heaven…
Prepare for the BEST and cutest shot glasses of Whiskey Crisp EVER!  ~Enjoy!  🙂
Sponsored Ad:
Good drink choices to accompany your meals:
We all want the best health possible. A great deal of where health begins is not only in what we eat and drink but when and how we consume it. Eating late at night is not recommended for instance but snacking during the day and eating lightly may suit some people.
Of course, what we drink is of equal importance to what we eat. A focal point of the debate on
consuming liquids centres around drinking with meals.
The following tips will help in your choice of what to drink while dining.
Watery facts
Having something to drink while eating is a habit most people follow, with water being a popular choice. However, too much water during a meal can interfere with the acids and biles which aiddigestion.
The general rule is drink water about 30 minutes before eating to hydrate the body. This will help the whole digestion process. Drinking 30 minutes afterwards has the same effect.
If you haven't drunk any water prior to sitting at the table it is advisable to have a few sips during your meal as this is better for digestion than eating without liquid.
Herbal delights
It is common knowledge that herbs aid digestion. Think of the aperitifs that are available before or after dinner and the range of herbal teas on the market which help digestion.
There is also a range of pleasant-tasting soft drinks from Zeo which perform a similar role.Ingredients are natural with sugar extracted from sugar beets and a sweetener coming from thestevia plant; a herb which has satisfied the sweet-tooth for centuries.
Herbs and fruits which are great for digestion include camomile, ginger, lemon, fennel and peppermint to name a few. These are blended with carbonated water, natural flavours and colours to create a delightful drink to accompany meals.
Wining and dining
Wine has long been staple fare at the dinner table and for good reason. Both red and white wines contain antioxidants which can help fight any harmful properties you consume from time to time and scientists also think they help with digestion.
Healthy drinking
As with anything in life which is aimed at supporting health, moderation is the key word. If herbal soft drinks are your preferred dinner tipple, the Zeo blog will keep you in the know about some splendid flavours.
We'll drink to that!