Tis the Season!!  You know, that season that brings with it Pumpkin EVERYTHING, over-eating, gift-giving, and Candy Canes!  Do you still eat Candy Canes??  Does anyone…?  LOL!
If you find yourself with way more than you'd ever need, put them to use and make this delectable, rich, Brownie cake-like dream come true, that totally screams Holiday CHEER!
Sweet, pepperminty & beautiful, this will be a hit every. single. time.  And such a fun, whimsical presentation, you just can't be sad with this around!  🙂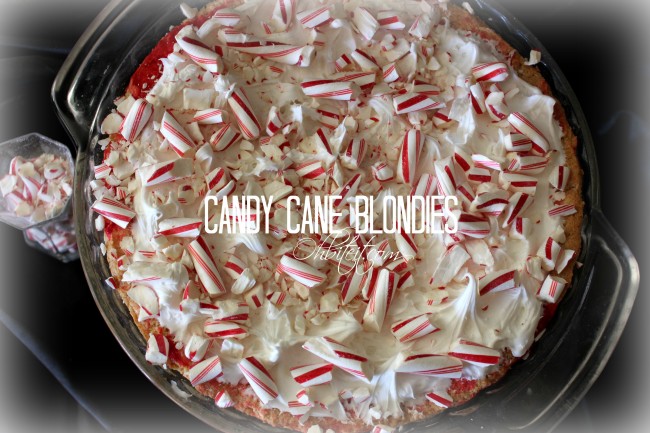 What you'll need:
The Blondies:  (you will NOT be following the cake box instructions this time!)  See MY directions!
1 box White Cake Mix
1/2 cup Melted Butter
2/3 cup Evaporated Milk
4-6 drops of Red Food Coloring
The Frosting:
1 container of White Frosting
4 drops of Peppermint Extract
The Topping:
10 roughly crushed Candy Canes
I used a sprayed, round pie dish for baking~ any cake pan will work
Directions:
In a medium bowl combine the dry Cake Mix with the butter and evaporated milk.  Stir to combine very well.  It will be thick and doughy!
Pour the batter into your sprayed baking pan.
Now drop a few drops of the Red Food Coloring evenly onto the Batter and swirl it around candy cane-ish…
Bake it at 350 degrees for 20-25 minutes, until it's cooked through…
Make the Minty Frosting~  Just add a few drops of the Peppermint Extract into the Frosting and stir…
Crush up those Candy Canes into rough pieces…
Let the Blondies cool, you don't wanna deal with a hot Blondie..LOL!…
Get to Frosting!  I made little peaks on top because I realized that I could..lol.  Just pop up the spreading knife quickly to form little peaks..so pretty.
Now~Let it rain Candy Cane!
Look at how pretty it is…
Serve it up in socially acceptable sized pieces…
Grab a socially acceptable sized plate…
And take a socially acceptable sized bite!  ~Enjoy! 🙂