So, typically when it comes to Cranberry Sauce I'm a can girl!  I don't care if it's chunky, smooth or still totally looks like the can once it has un-suctioned itself from the metal…lol!  However, when I saw that bag of fresh Cranberries at the store, they screamed my name and I knew I was going to attempt to break-up with the can, at least for this holiday season.  Oh, I might keep the can's number just in case I get desperate, but for now~  I'm all about the bag..HAHA!  🙂
This Cranberry sauce is SO different from even your typical fresh recipe.  It can get you 'sauced'..literally.  Well, maybe not, but it does have wine in it.  And I HATE wine!  It's gross and nasty and gross and ….nasty.  BUT…for some reason in this sauce it takes on a whole new flavor and makes this Cranberry Sauce EPIC!  If you don't want to go the alcohol route..water will work too~ no worries!  🙂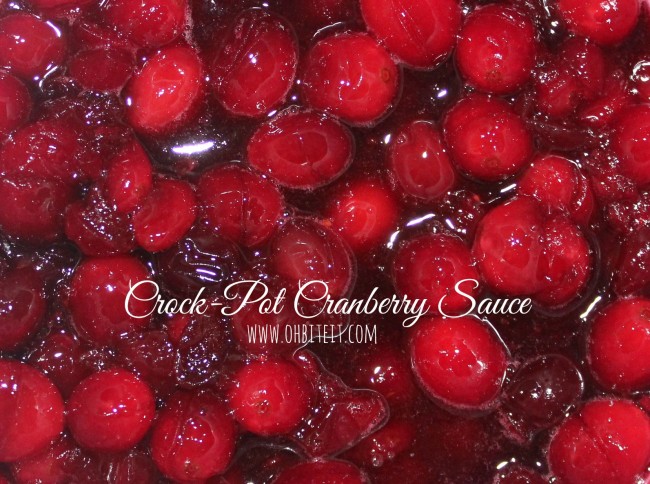 What you'll need:
1-12 oz. bag of fresh Cranberries
1 cup Sugar
The zest and juice of one Orange
1 cup Red Wine OR Water I used amazing Dead Bolt Wine 
A generous pinch of Nutmeg
1 tsp. of Corn Starch..optional for thickening if necessary
A crock-pot
Directions:
Simply add all of the ingredients (other than the Corn Starch) into the Crock-Pot and set it to high…Mine took about 3-4 hours.
Add in the Cranberries…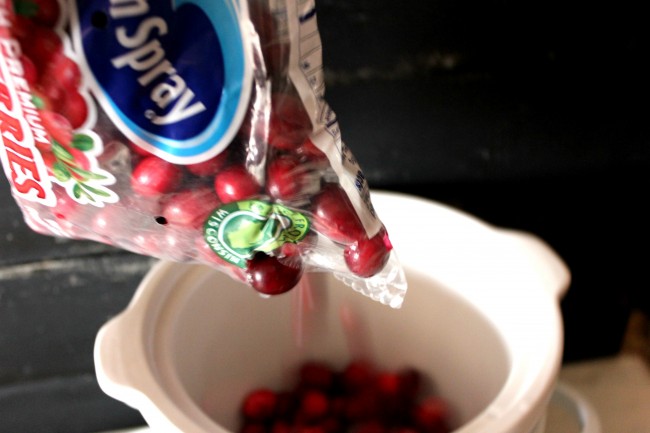 And the Sugar…
And the Wine (or Water)…
And the Orange Zest…
And the Orange Juice…
About 1/2 an hour or so before you think it will be done to your liking…add some of the Cranberry Sauce juice into a glass and stir in the Corn Starch until it's smooth.  Now pour it back into the Crock-Pot and stir it to blend.  This will help it thicken up if you want it to be thicker.
Then serve it up~  Chill it in the fridge and use as needed…it gets better with time!  ~Enjoy!  🙂