*Check out the bottom of this post for a new Christmas adventure for Kids, that will instill the belief in the magic of kindness~  Oh..and a chance to win a Canon camera to capture all the magic of the Holidays!  🙂
My sweet & salty obsession is in full swing, and shows no sign of slowing down!  I can't help myself anymore, if there's a sweet and a salty anywhere within arm's reach ..I'm reachin'!  Oh, well…that just means that I get to create more little treats like this!
Rich, thick and sweet Brownies are dripping in Maple Glaze and then topped with an entire pound of candied Maple Bacon.  Oh..STOP IT!  Don't even act like you wouldn't try this, no one would believe you..lol!  Just go with it, and trust me~  it's AMAZING!
What you'll need:
1 box of Brownie Mix'
1 lb. of Bacon  I used Hickory Smoked Bacon from BACON FREAK>>  SOOO AMAZING!
1 cup Powdered Sugar
approx. 4 tablespoons of Maple Syrup..add until you reach desired thickness…
1/4 cup Syrup for the Glazed Bacon…
Directions;
Bake up the Brownies according to the box instructions.
Cook up the Bacon and brush on the 1/4 cup of Maple Syrup, about 5 minutes before it's done.  Set aside…
The Bacon will crisp up a bit as it cools…
Make the Maple Glaze by combining the Powdered Sugar with the Maple Syrup, and mixing until it's thick and smooth…
Make sure it's thick, sweet and creamy…
Drizzle the warm Brownies with the Glaze…
Let them cool…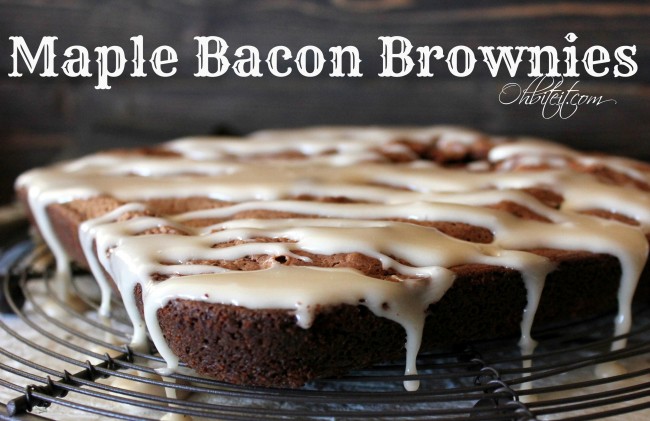 Marvel at this unique culinary wonder…
Serve some up…
You'll definitely need a plate…
But it's SO worth the manners!  ~Enjoy!  🙂
Look at this wholesome and adorable "Secret Bubblers Adventure Package"  It's a kid's Christmas Adventure that teaches kids about the power, importance and magic of kindness!  How great is that?!
Secret Society of Bubblers strives to promote kindness in young children to combat bullying, by teaching compassion, fun and caring.
Secret Society of Bubblers teaches kids that being "good" is not about "not being naughty" — it's about being KIND
This activity is such a refreshing addition, not just to a toy collection, but to an entire family.  It's so nice to see a pure and wholesome activity that makes a positive difference in children~ in the most entertaining and adventurous way!
Check out the links below for more info:
The Secret Society of Bubblers: www.secretbubblers.com
Secret Society of Bubbler's Blog: http://secretbubblers.com/blog
Twitter: @secretbubblers
Facebook: Facebook.com/SecretBubblers
Pinterest: @secretbubblers
Special Offer/Discount Code
Offer: 30% off each adventure set
Code: kindmoms
Here's YOUR chance to win an AMAZING Canon Camera to capture all the magical moments of the Holidays!  Simply enter below AND share this post!  Make sure to comment below that you "SHARED" ~  That's it.  Good Luck!  🙂