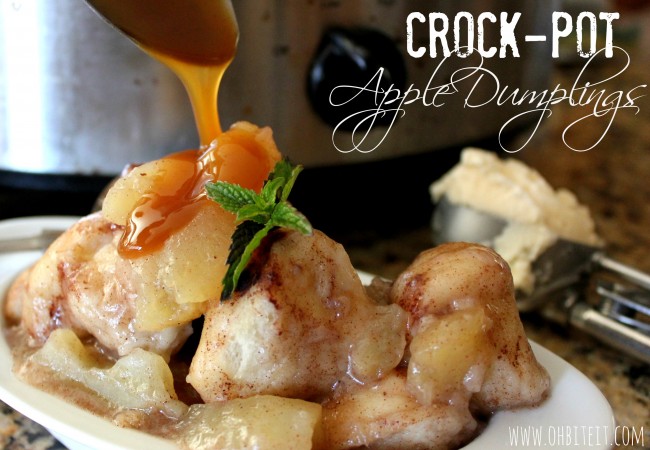 **YOU can win an incredible

Lucly Leaf

Prize Pack to make your very own delicious creations!  See the bottom of this post for details!
Just think of this Dessert as super tasty edible 'Potpourri'!  Not only is this the easiest, tastiest and most comforting winter/holiday dessert ever, but it will make your entire house smell like you live inside an Apple Pie!  🙂
Simply toss all the ingredients into your Crock-Pot~  and you're ready for a cozy and delicious evening beside the fire.  Fill up a bowl to the brim with a piping hot scoop of fluffy, tender Apple Dumplings, top them with some Caramel & Vanilla Ice Cream and call it a day!
*You didn't even have to slave in the kitchen for this one~ SCORE!  🙂
What you'll need for 32 Apple Dumplings:
A crock Pot (the large one, I'm not sure of the quart size..sorry)  If you only have a small Crock-Pot it's OK!  Just make half this recipe because the Dumplings puff up and take up a lot of room! 🙂
1 can of Pillsbury Grands Flaky Layers Biscuits
1-21 oz. can of Apple Pie Filling~  I used Lucky Leaf
1-21 oz. can of Water
1 tablespoon Apple Pie Spice
Some Ice Cream and Caramel for topping…optional!
Directions:
Cut each Biscuit into fourths and roll them up into little balls…
Add the Apple Pie Filling, Apple Pie Spice and the can of water into the Crock-Pot and turn it to med/high.  Add in all of the Biscuit Balls that will now be referred to as 'Dumplings'  🙂
In my Crock-Pot they were done after 3-4 hours, the Dumplings puffed up and made like a top layer on the simmering and thickened Apples.  Dig your spoon down into the steaming pot of goodness through the puffed and cooked Dumplings and serve it up in hot scoops…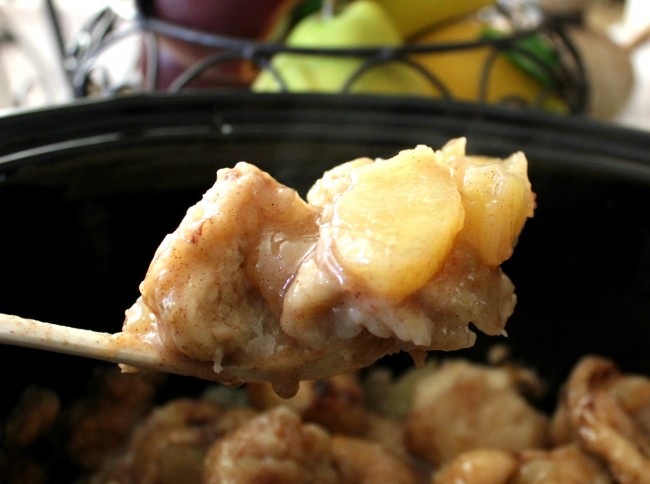 Add a drizzle of Caramel…because you CAN!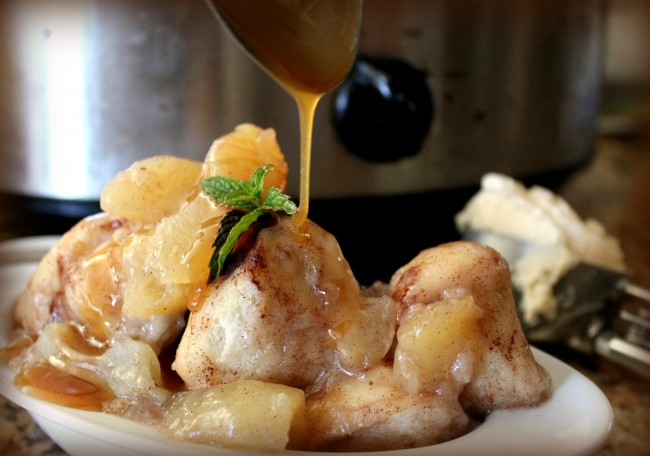 Oh, and Ice Cream too…because yep..you CAN!
Grab a nice big, sweet bowl for you, because  well…you know, you CAN!  ~Enjoy!  🙂
NOW for the GIVEAWAY!!!  For a chance to win THIS amazing Prize pack filled with Pie Fillings, one Le Creuset Pie Bird, and other goodies! —->>>
Simply share this post AND comment below that you "SHARED"~~   That's IT!  One of you will be chosen by Midnight EST on Friday, November 15, 2013!  ~GOOD LUCK!  …or Good LUCKY..lol!  🙂