SO~ What do you get when you smear Cream Cheese Frosting in the middle of 2 Tortillas, waffle them up, then shower them in Cinnamon- Sugar & drizzles of thick Honey?  You get these babies, that's what!  AND a brand new, yummy Breakfast idea to add to your rotation…we need a few more don't we?!  🙂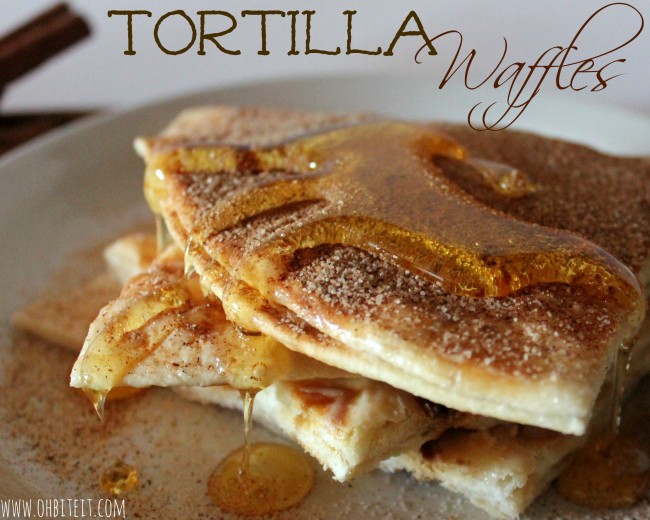 Crispy, yet tender, sweet 'Waffles' that totally self glaze as they cook!  That's right…these delicious disks create their very own shell of sugar as they become Waffle-fied!  Each toasty square 'flavor-chamer' holds tons of Syrup OR Honey and creates the best cream filled crunch EVER!
You end up with a super fun and unique Waffle twist, that will have everyone reaching for seconds and thirds.  Such a nice change of pace from the regular Breakfast menu.
Change up your Waffles and taste the YUM!  🙂
What you'll need:
Flour Tortillas (6″ works best in the Waffle Iron)…2 Tortillas per Waffle!
Cream Cheese or Cream Cheese Frosting…approx. 2 tablespoons per Waffle
Melted Butter..just for brushing the Waffle Iron
Cinnamon/Sugar mixed to your liking
Honey or Syrup for drizzling
Directions:
SOOO easy…are you ready?!
Smear one Tortilla with the Frosting…
Butter up your Waffle Iron (non-stick spray is FINE too)…
Place the Tortillas into the Iron…and wait!  Tick-Tock/tic AND tock…they took a while.  My Iron sucks so that could be why, but each Waffle took me about 8-10 minutes to get golden and crisp..still worth it!
Let them cool a bit to form that sweet, crackly glazed shell…
Shower them with some Cinnamon/Sugar…
AND…Honey of course..jeez…lol
Stack them up and serve them to everyone standing around waiting..begging…
Grab a few for you…
Open up & LOVE it!  ~Enjoy!  🙂