I'm so lucky and honored to be a part of
Swanson's "Why I cook"
project.  This heart felt project gave me a chance to reflect, as well as look to the future in a way that I probably never would have otherwise.  I have to say, the reflecting was my favorite part.  I realized that cooking and sharing the experience of a meal together is really the fabric that binds all five senses with our heart and soul, and IS why I cook.  If you'd like to take a small peek inside my personal world of food and what it means to me, read on.  You may think of food and cooking in a whole new way!
Why do I cook~ ?
Ahhh~ Where do I begin?  It's so amazing how such a simple question, about a simple word like food, will always have such a deep and meaningful answer.  That's what food and cooking does.  It encompasses so many things, from emotion, to fun, to marking almost every event in one's life.  Food for me, holds my memories, it's my past, my present and my future, and is why I cook!
I'll start with my past, the time in my life when food started becoming the thread that would weave its way through my life, binding all that I love forever.  When I was 5 years old, my Grandmother would stay with me during the day so that my Mom could work.  Even at that young age, I knew that her "Apple Cider Cake"  would not only make my mornings amazing, but was somehow becoming part of my Grandmother's identity that would live on through generations.  A simple dish made with all the love in the world, whimsical, different and sweet…just like Grandma!  One simple cake literally became my heart and soul, and stayed with me all these years.
As time went by, and I became a Mom, I often think back to those days.  Sitting with my Grandmother in her kitchen, cooking, laughing and making those memories that I had no idea at the time, would guide me everyday.  Cooking is tradition, it's where we've been, where we are, and where we hope to go.  For me, it's a scrapbook of life's best moments. Food and the act of cooking it, evokes all five senses, brings us closer together and creates the ties that bind!
With food, we're ageless, timeless world travelers, party makers, friendship starters, and even comfort givers in the sad moments of life.  We can bring people back, stir up old feelings and create new ones.  Memories are cooked up and those 'smells in the kitchen' are never forgotten, they're a delicious backdrop to our soul.
Like love, food is so much more than a simple word, or a life-sustaining necessity, it's really where we came from, where we're going..and who we are!  It's why I cook!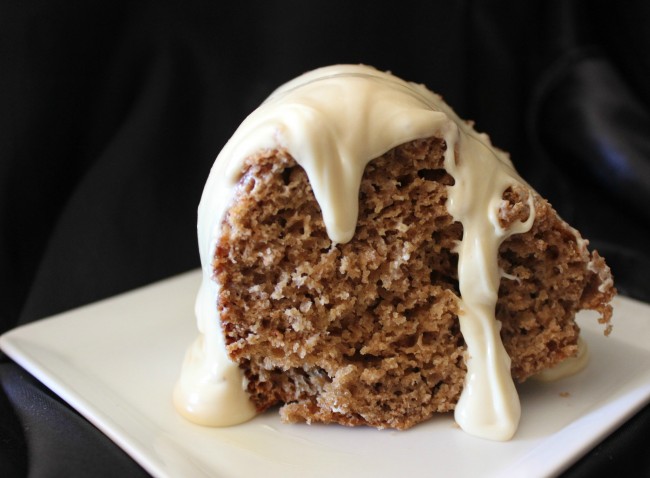 Recipe at the bottom of the page!  🙂
A huge thank you to everyone below for allowing me the opportunity to discover and explore, what turned out to be such a surprisingly deep and important part of who I am, please click on the links below and check them out:
Disclosure: 
This is a collaboration between Campbells' and the AOL Lifestyle Contributor Network. Compensation was provided by Campbell's via AOL Media. The opinions expressed herein are those of the author and are not indicative of the opinions or positions of Campbell's.
"Gram's Apple Cider Cake with Caramel Frosting":
What you'll need for Gram's Apple Cider Cake with Caramel Frosting!  (FYI~  Gram made this from scratch but I never learned her exact recipe…so I took shortcuts, but the love is in it, so it's ALL good!)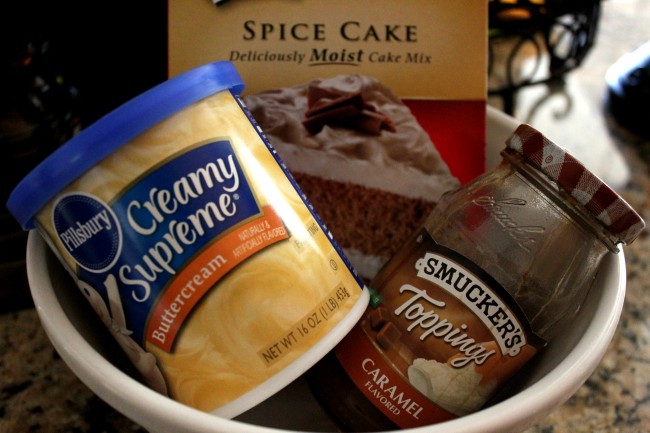 The Cake:
1 box Spice Cake Mix
Enough Apple Cider to replace the water in the box instructions
The Caramel Frosting:
1 container of Butter Cream Frosting
1/4 cup Caramel Topping
Directions:
Make the Frosting by mixing the Butter Cream with the Caramel,  Set aside…
Mix the cake batter according to the box directions, but replace the water with Apple Cider.
You can bake this at 350 degrees in a Bundt Pan or a regular cake pan for approx. 30 minutes or until it's cooked and firm all the way through.
Let it cool completely before turning it out of the Bundt Pan…
Now pour the Frosting ALL over it!  Dig in!  ~Enjoy!
~Thank you!  🙂