I'm so into my Crock-Pot is isn't even funny!  I say good morning to it everyday as I see it glowing on my counter in the morning sun…lol!  Seriously, I was a late Crock-Pot bloomer, but I'm never giving it up.  Especially now that I totally found a way to incorporate Chocolate into the low & slow way of life!
~Yep~~  Sweet, chewy, ooey-gooey, caramel nuggets of Chocolate heaven, waiting for me at the end of a busy day…just begging to be all over my lips and chin,,haha!
You have to do this..and if you'd like, you don't have to scoop it out.  You can drizzle it onto Ice Cream..over cake, dip Pretzels in there..shove your fist in there, it won't matter, just get it into your mouth!  PS..If you like Turtles..just add Pecans~BOOM!  🙂
What you'll need for a boat-load of candy:
1 bag (40) unwrapped Kraft Caramels
12 oz. Chocolate Chips (2 cups)
1-8oz. bag of  HeathToffee Bits
A Crock-Pot..I used my medium sized
Directions:
Dump all of the the ingredients into your crock-pot…
Set it and you know~~  forget it!
My Crock-Pot is small so it took 3 hours on high..adjust yours accordingly!
When all of the goodness is melty, gently mix it together trying to leave some of the Caramels in tact so they don't completely disappear into the Chocolate.  You want those chewy bites!
Scoop out about a tablespoon at a time onto wax paper or parchment…
And let them set up…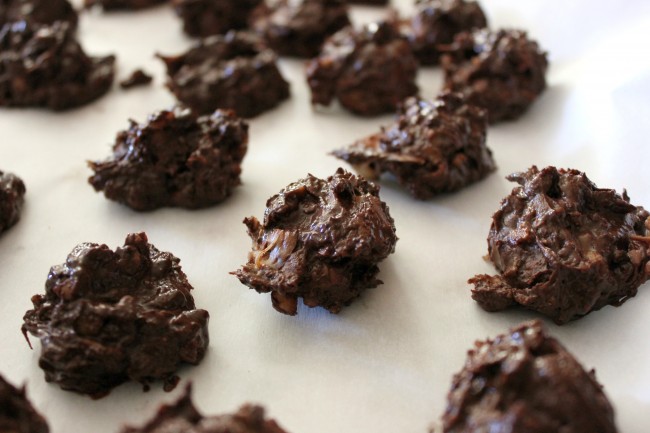 You can eat one now if you must, but there will be evidence on your fingers…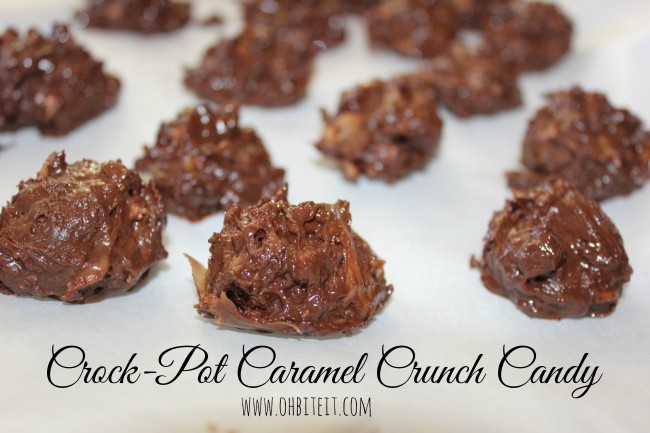 Go ahead and rip one away from that paper…
OR…you can have manners and put them in cute little wrappers…
But definitely, grab those babies and do what comes naturally!  ~Enjoy!  🙂