Do you ever wish you could enjoy a nice plate of warm, sweet Cookies in the morning without the judgmental eyes of law abiding  toast & cereal eaters?  Well…NOW you can!  That's right~ it is now totally acceptable to indulge in a stack of Cookies before Noon with these French Toast Cookies!  Just own it, and give that simple stack a sweet  syrupy soaking just for fun!  🙂
Watch it come to life here, and if you enjoy the videos, be sure to subscribe so you don't miss anything!  🙂
SOOO GOOD!
Each buttery Cookie is filled with Maple Syrup and encrusted in that authentic Cinnamon & Sugar combo!  Fresh out of the oven, these are honestly THE BEST COOKIE err…"Breakfast" EVER!  Just trust me on this one!  Get these tender, chewy morning morsels into your mouth STAT!  🙂
~As a bonus, they're perfect for dessert too..or a Midnight snack..or an afternoon pick-me-up!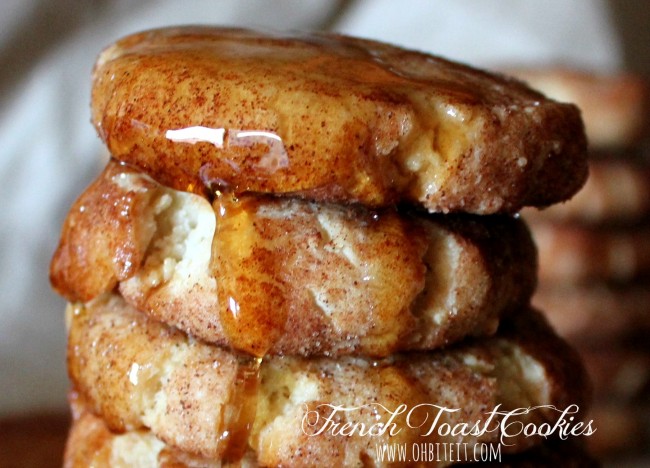 What you'll need for TWO dozen French Toast Cookies:
3 cups of all purpose Flour
1 cup Sugar
1/2 cup softened Butter
1/2 cup Maple Syrup
1 Egg
1 cup Cinnamon/Sugar (mixed)
Directions:
In a large bowl combine the Flour, Egg, Sugar, Butter and Syrup, mix well!
Form the dough into 1″ balls and roll them into the Cinnamon/Sugar…
Place them onto a parchment lined sheet pan and gently press them down into a cookie shape…
Bake them at 350 degrees for 15 minutes, or until they're golden and slightly firm…
Let them cool just a little…
BUT..definitely eat them warm!!  Re-heat as needed~they're the BEST that way!  🙂
You'll want need more than one or two…
Don't forget the Milk!  ~Enjoy!  🙂