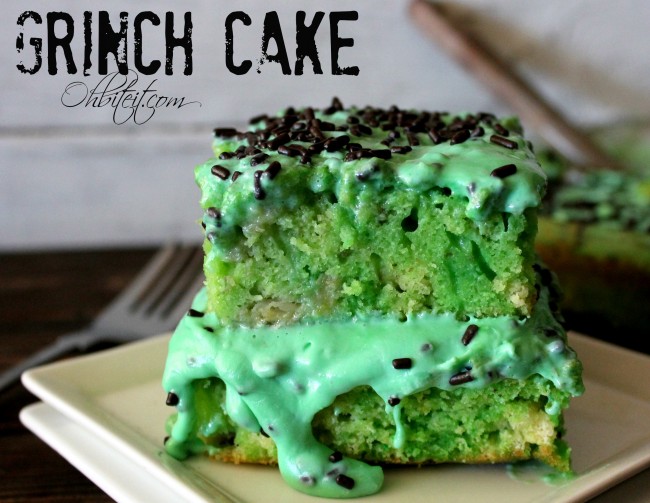 Are you sick and tired of the same old, kind-hearted, goody-goody Holiday treats that get passed around this time of the year?  You know>> ..Tree shaped Sugar Cookies for the Mailman, red & green sparkly truffles for that lady down the street, fluffy fudge for the babysitter…lol! Well..now you can embrace your inner grump while still maintaining a pretense of generosity!  It's true!!  I give you "Grinch Cake"…the surprisingly delicious, murky green, lumpy cake that will leave all 500 of your closest friends talking until next  year..lol!  🙂
This fun cake is filled with smashed, over-ripe Bananas (just like the "Banana with the greasy black peel" in the Grinch song..lol)  and it actually made this cake SO  moist, sweet and incredible!  I've never added Banana to cake batter before and I tell you…YUMMM!  Almost too delectable to call it a Grinch Cake!  🙂
YES…by all means, if you hate Bananas…leave them out!  🙂
What you'll need: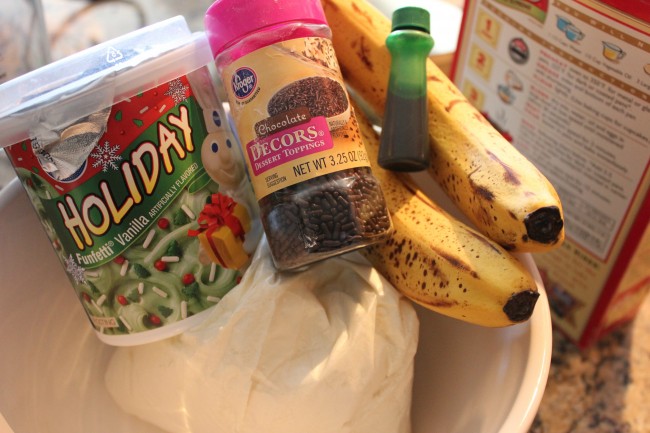 1 box of yellow OR white cake mix
2 ripe Bananas
Green food coloring
Green frosting
Chocolate sprinkles
A fun and enjoyable attitude..lol
Directions:
In a medium/large bowl mix together the cake batter according to the box instructions.
Smash the Bananas with a fork and stir it into the batter.
Now pour the batter into your baking pan..I used a 9×4, shallow pan.  Add swirls of the Green food coloring to the batter and swirl it around with a fork..evenly so you end up with a green, streaky cake!
Bake it at 350 for about 25  minutes, or until it's firm and golden.
Let it cool…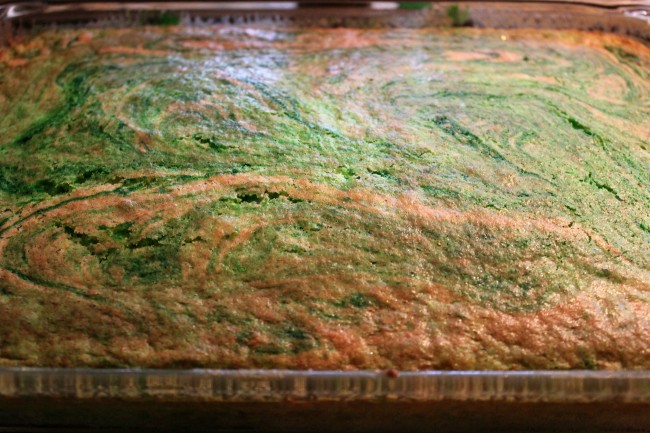 Add a cap full or so of sprinkles into the frosting and mix it up.  This will give the cake a nice, lumpy look..lol
Frost the entire cooled cake…
And then sprinkle the rest of the sprinkles on the top..
Serve it up to your grumpiest of friends..lol!
That might even include….YOU!  🙂  ~Enjoy!