Ahhh~  Midnight on New Year's Eve!  The purge of all that you'd like to change and the fresh start of all that's shiny and new.  The only thing that could possibly make this magical time more magical is …….
…the sweet surprise & fun burst of a sparkly Caramel filled  Kiss Truffle..lol!  I bet you thought I was going to say love huh??!  🙂
Love and these Kiss Truffles go hand-n-hand, lip-to-lip because anyone that you share these with will know from that moment on, that you are theirs.
~If not forever, at least until the Truffles are gone..lol!  2018..here we come!
~Now 'Truffle me' you sexy thing! 😉
What you'll need for 20 (or so) Midnight Kiss Truffles:
1-1lb bag of Sugar Cookie Mix
1 cup Melted Butter
Caramel filled Kisses..one per each Truffle
1 cup of melted Vanilla Almond Bark  OR Candy Quick
Festive and fun sprinkles
Directions:
In a medium bowl combine the Cookie Mix with the melted butter, until it's a dough consistency…
Using the T-fal silicone whisk was a blessing, it made this otherwise thick and difficult batter effortless!
The T-Fal Ingenio whisk features steel wires coated in silicone to provide optimum aeration. Protects mixing bowl from scratches and safe on non-stick surfaces. The T-Fal Ingenio whisk is easy to clean and is dishwasher safe. Made of ABS and silicone
Scoop about 1″ of the dough and add a Caramel Kiss to the center.  Roll it up into a nice , tight dough ball.  Now dip them into the Melted Almond Bark, making sure to cover the entire Truffle…
Let them set up on the amazing multi-purpose T-fal AirBake large cookie sheet for effortless removal!
AirBake® Nonstick 14-Inch x 16-Inch Cookie Sheet in Copper
While they're wet, sprinkle them with your festive sprinkles…
Find someone to love..go on!
Who wouldn't love you for these?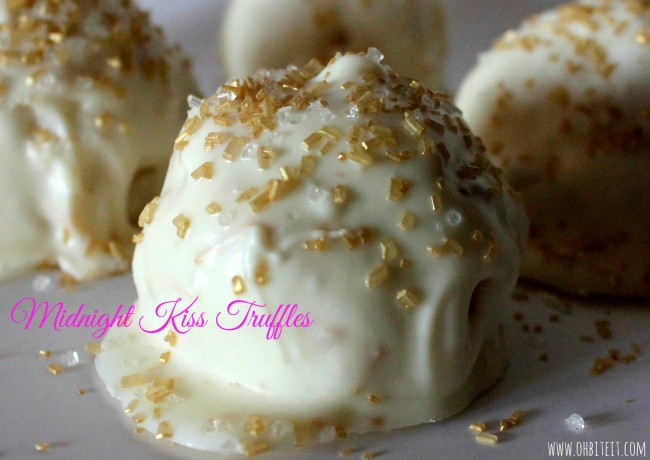 Kindly share a Kiss Truffle with them…
And they're ALL yours for sure!  BUT..remember to also love yourself..lol
There you go!  ~Enjoy and HAPPY NEW YEAR~2018!