Tis the season friends~ 'the everything pumpkin and pumpkin the everything' time of year… where even the most patient of people get annoyed at the molestation of persistent pumpkin promotion ALL OVER THE PLACE.. and trust me, I'm also one of those people.  BUT~  once in a while something comes along that makes us forget all about the 15 thousand pumpkin recipes we've just seen and actually makes us kind of happy!  THIS is one of those recipes!
I'm talking about everything we know and love about pumpkin pie, all jazzed up and sheet pan simplified in the tastiest, easiest, and most delicious way EVER!  Yep~ I'm talking about sheet pan pumpkin pie!  Each succulent slice is bursting at the seams with rich, sweet, and tender pumpkin pie.  Ready in minutes, with almost no effort.. you'll want this on all of your holiday tables!
This delectable dessert will have you looking like a pumpkin spice rockstar in your very own house.  Don't even think about serving this without the recipe ready to hand out because there is no escaping the requests!  Trust me!
What you'll need:
What you'll need:
1 box (2 included crusts) of Pillsbury refrigerated pie crust
approx. 1/4 cup or so of pumpkin pie filling (sweetened)
approx. 1/8 cup regular sugar
1 3gg mixed with a splash of water for the egg wash
coarse sugar for decoration and sprinkling.  amounts are up to you
powdered sugar for dusting
Directions:
Lay out one pie crust as evenly as possible into the sheet pan..
coat it with the pumpkin pie filling…
top it with the other rolled out crust..
brush the top with the egg wash
sprinkle it with the sugar
then sprinkle on the coarse sugar just for a pretty look
make some diagonal slits into the top of the crust just for pretty…
bake at 350 degrees for approx.  20 minutes or until it's golden…
let it cool, dust with the powdered sugar…
.. and slice it up!  ~Enjoy!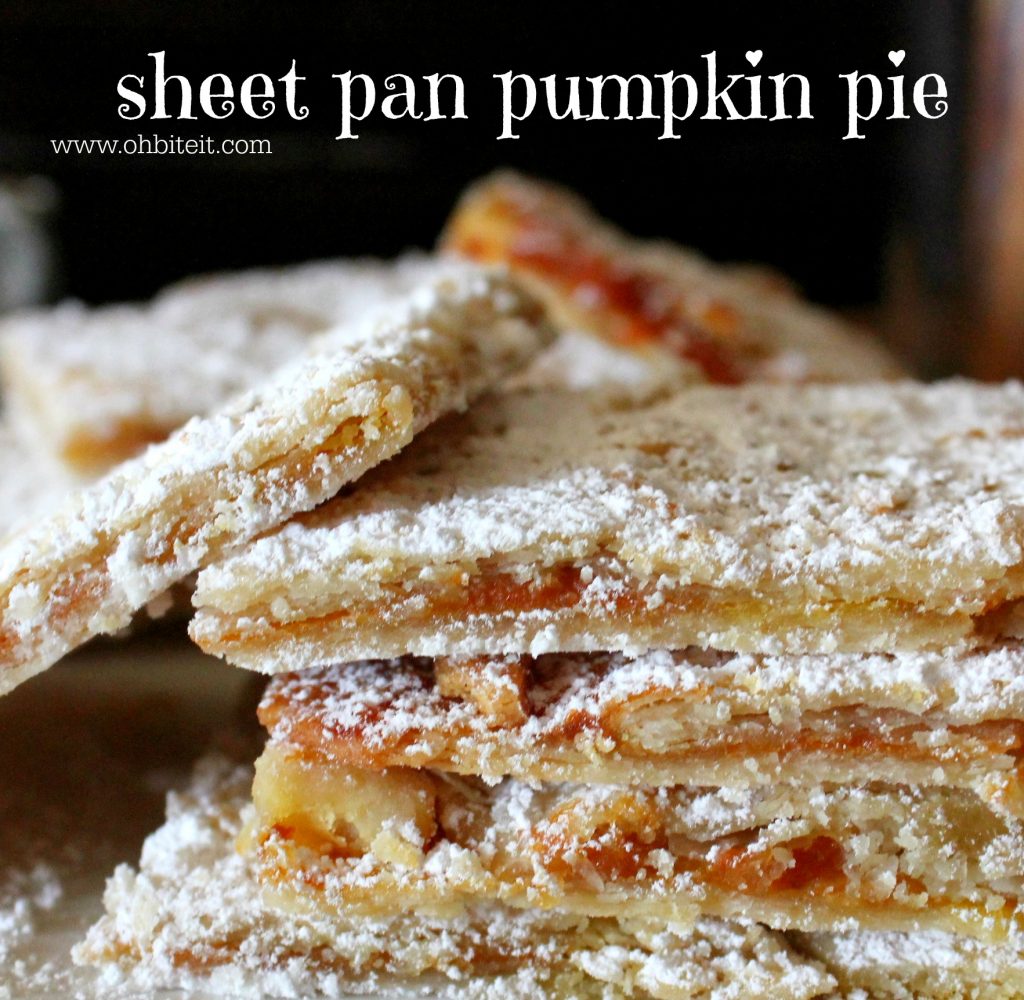 *This video was filmed a few years ago, prior to today's amazing technology! But you can watch this recipe (old school) come to life, right here if you'd like