Hola!!  So today I whipped up one of the best one bowl wonders I've ever made!  This dish is so easy, so affordable and so simple to customize and make your own!  You can take this idea and run with it.
In one day, this became a family favorite around here!  Kids, as well as adults just LOVE it!  
Watch it come to life here>>
OR you can scroll down for the regular blog post…OR do both..lol!  🙂
Tender Tots are surrounded by everything we love about Tacos in one easy-to-make and serve casserole!  Perfect for a busy weeknight or casual weekend filled with drop-in family & friends! 🙂
And be sure to subscribe to my youtube channel for exclusive video only recipes, and let me know how you like this dish!!
What you'll need for 12-15 full bellies:
A 9×14 baking pan
A GIGANTICALLYHUGEBIG bowl
8-10 cups frozen Tater Tots..semi defrosted
5 cups of Shredded Colby/Jack Cheese divided
5 cups crushed Tortilla Chips
1 lb. cooked Ground Beef
1 Taco seasoning packet
2 cups Sour Cream…divided
Hot Sauce for the top..optional
Directions:
Cook up the Beef with the Seasoning Packet…
Add it into the big bowl with the Tater Tots, 4 cups of the Shredded Cheese and 1 cup of the Sour Cream.  Mix it up VERY well.
Pour that Beef mixture into the baking pan and top it with the crushed Chips and remaining 1 cup of Cheese.
Bake it at 350 degrees for 45 minutes to an hour.  Make sure it's HOT all the way through, cheesy and gooey!
Let it cool just for a minute or too..you can do it! 🙂
Serve up a big old scoop…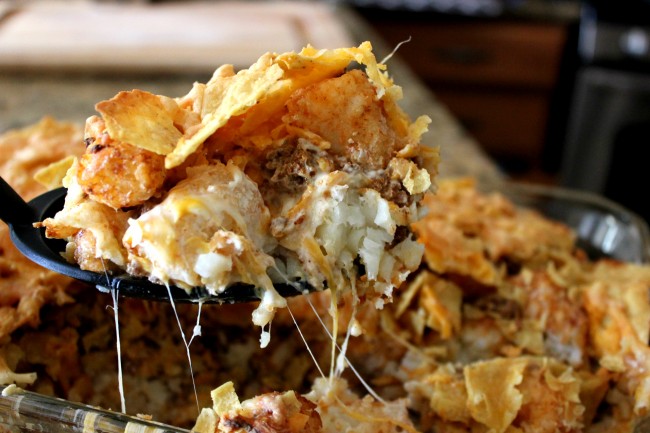 Top it with some remaining Sour Cream and Hot Sauce..
Serve it with extra Hot Sauce…
Which will mean more…Sour Cream..lol!
DIG IN and taste the love!  ~Enjoy! 🙂