If you could take all that's delectable in this world and combine it into one fluffy, sticky & sweet treat that's topped off with the Crown Jewel of all deliciousness~yep…BACON, it would look and taste just like these Bacon Honey Buns!
It's true!  These Honey Buns aren't your Grandma's cakey & dry Honey Buns~nope!  These Buns are taken over the top with flaky Crescent Dough and sweet/smoky slabs of crisp candied Bacon!
~If you're feeling particularly unloved for a moment, make a batch of these gems!  BOOM>>instant Love by anyone around you..lol!  🙂
What you'll need:
1 container of Pillsbury Crescent Rounds (8count) …OR regular Crescent Dough cut into 3″ rounds.
12oz. cooked, crispy and crumbled Bacon..or more is fine too!
1 stick of melted Butter
1/3 cup of packed Brown Sugar
1/2 cup of Honey PLUS some for extra topping!
1/2 cup chopped Pecans..optional!
A cupcake/muffin baking tin
Directions:
Melt the butter and the Brown Sugar together, and let it cool slightly.  Mix it with the honey and pour a spoonful of it down into each cupcake well…
Combine the crumbled Bacon with the chopped (optional) Pecans and add a spoonful of them into each cupcake well.
Now place one of the Crescent Rounds onto each pile of buttery Bacon and bake them at 350 degrees for approx. 15 minutes, or until they're golden and firm…
Let them cool before flipping them out onto a serving platter…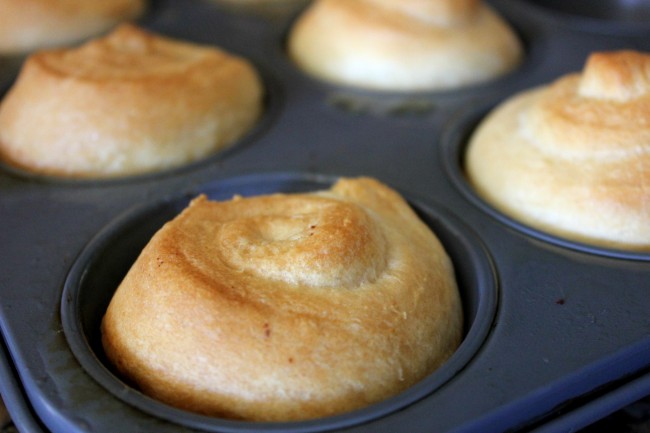 Flip them out, and if some of the sticky Bacon doesn't make it onto the top of the Buns, add it back where it belongs!
~You won't have to look for people to share with…
The will already be there..lol
Add a bit more honey onto yours, because you're SO sweet…
And grab a couple for you!  ~Enjoy!  🙂