What happens when you drop a HUGE scoop of Peanut Butter into some rich Dark Chocolate Cake Batter and bake it up, then top it with more Peanut Butter and maybe some Ice Cream??!
A beautiful bowl filled with the most amazing dessert Bomb ever to explode in your mouth, that's what!  BOOM!
If you want a quick and impressive, super simple, succulent dessert…here's your ammo!  🙂
What you'll need for one standard sized Bowl full of Buckeye Goodness: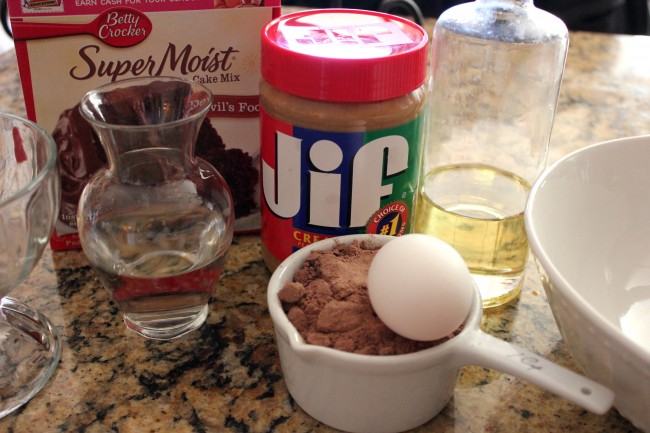 One OVEN -SAFE Bowl>> A standard sized bowl, just make sure you fill the batter only to about half to 3/4 of the way… 
1 cup of Chocolate Cake Mix
1 Egg
1/8 cup Oil
A splash or 2 of water
1-1/2 cups Peanut Butter …creamy…divided. (1 cup added inside the batter, the other 1/2 for the topping)
Ice Cream..optional
Directions:
Mix up the Cake Batter…
and plop 1 cup of the Peanut utter into the center…
Bake it up at 350 for approx. 25 minutes, or until it's totally cooked through, or until it's however you enjoy your cake.
Now, while it's warm…top it with the other 1/2 cup of Peanut Butter…so it gets all melty, and Mmmm!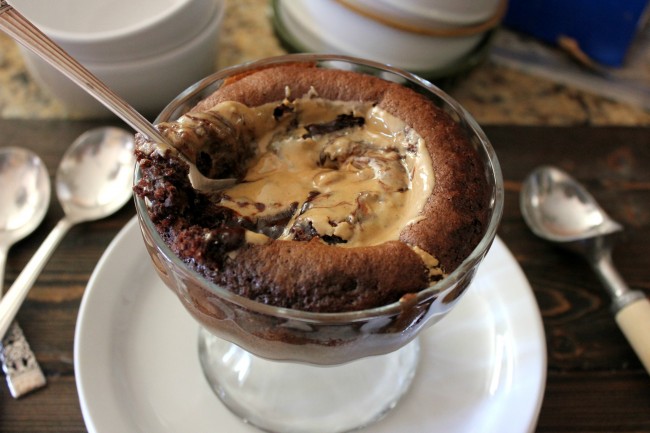 Serve it nice and hot, with some Ice Cream if you so choose…with LOTS of spoons for sharing…
Don't forget to share with YOU!  ~Enjoy!  🙂