Why should Rice Krispies get to have all the fun and variety in different recipes?  
What can't Corn Flakes join in all that sweet fun?  Oh, sure..we have Corn Flake Chicken, BIG WOW.  It's about time for Corn Flakes to have their moment in the Sugar too! And that time is now!  🙂
Creamy, sweet and slightly crunchy, this cake is everything you love about breakfast AND dessert all layered under the lightest and fluffiest Banana Cream Frosting EVER!
What you'll need:
The Cake:
1 box Yellow Cake Mix
1/2 cup of prepared Banana Jello Pudding (or any flavor)
1 cup Corn Flakes
The Topping:
The rest of the prepared Banana flavored Jello Pudding..approx. 1-1/2 cups
1 tub of Cool Whip..standard size
2 cups Corn Flakes OR Frosted Flakes
Directions:
In a medium bowl combine the Cake Mix according to the box instructions…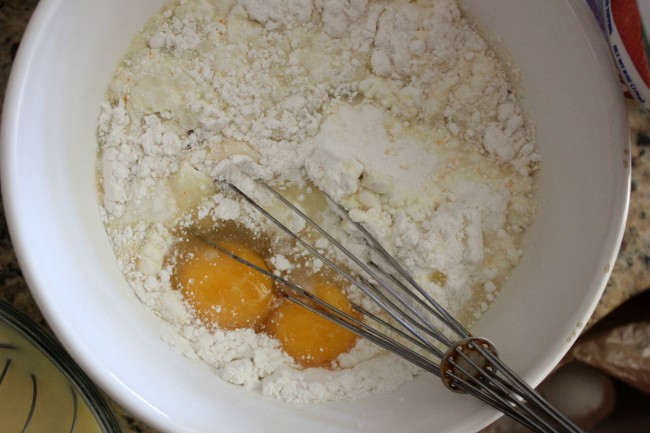 Mix up the instant Pudding….
Add 1/2  cup of the prepared Pudding and 1 cup of the Corn Flakes into the prepared Cake Batter and mix it well.
Pour the Batter into a baking dish…
Bake it at 350 for about 20 minutes, or until it's cooked through.
Let it cool…
Add the Cool Whip into the prepared Jello Pudding and gently mix it together, keep it in the fridge until the Cake is ready to be frosted.
Top  the Cake with the Cool Whip/Jello Frosting…
And now top that with the 2 cups of Corn Flakes…
Cut into that baby…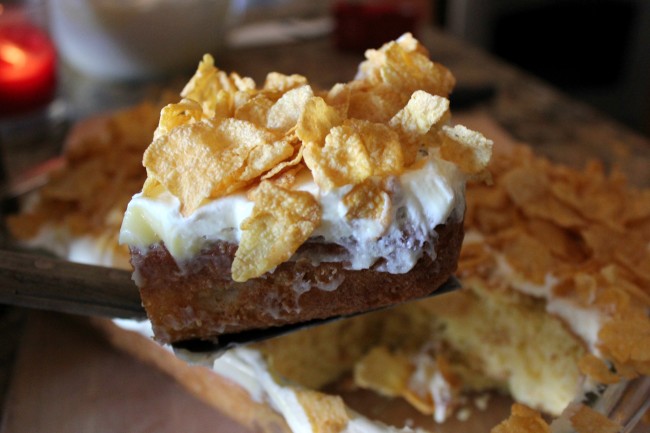 Grab some for ..YOU!
Dig in!  ~Enjoy! 🙂