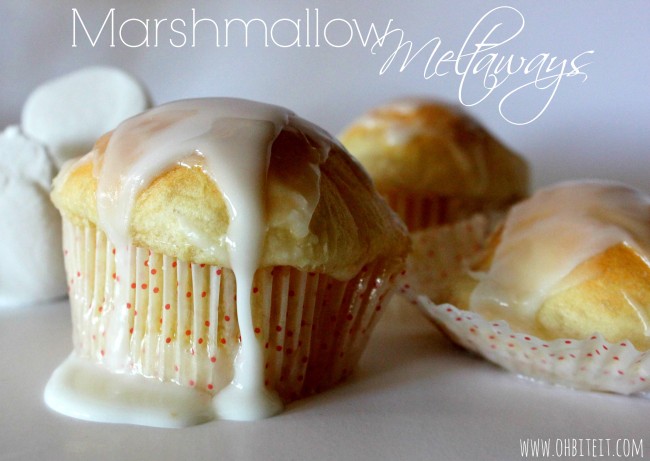 OH~~MY~~GOSH!  If I've ever been speechless over a recipe before..I was wrong!  NOW, I'm speechless!  I really can't find the words to adequately describe the sheer delectable, succulence of these buttery, and sweet puffs of Heaven!  Each puff is filled with what was a Marshmallow that slowly melted away and transformed into a thick, rich glaze of satisfying sweetness!  They will literally melt in your mouth!
This is one of those decadent delights that you really need to just go do, in order to understand!  And for the love of all that's good in the world…eat them warm!~  TRUST ME!
What you'll need:
1 container of Pillsbury Crescent Rounds (8 count) OR Crescent dough cut into 3″ rounds
Marshmallows..one per each Dough Round
1/2 cup melted Butter
1/2 cup Sugar
1 tsp. of Cinnamon
a cupcake/muffin pan, papers optional.
The Glaze:
1 cup Powdered Sugar
A few splashes of Milk until it's your desired consistency
A splash of Almond Extract..optional
Directions:
Roll out the Crescent dough rounds just slightly, to smooth the seams.
Dip a Marshmallow into the melted Butter and then roll it in the Cinnamon/Sugar…
 Place it into the center of the dough round and seal it up very tight.
Then give it another dip into the melted Butter…
Now into the cupcake tin for a baking at 350 for approx. 12 minutes, or until they're puffed and golden!
While they're getting a tan..make the Glaze:
Mix together the Powdered Sugar with the drops of milk and Almond Extract until it's smooth and creamy…
Top the Warm Meltaways with some Glaze…
Take in the sight of it all…
And find some people you love….
Let them have one..or they can split one so there's more for you..lol
Now it's your turn…with a little more Glaze of course…
Find a quiet spot…
And go for it!  ~Enjoy!  🙂