Sometimes it's so much fun to take a fun, hand-held food favorite and totally turn it into a one dish wonder, worthy of any family dinner!  That's exactly what this casserole offers!
All the fun and convenience of a good old Meatball Sub, beautifully packaged under a layer of melty gooey Cheese, all ready for your big spoon to serve up each hot portion!
So easy and delicious, this is everything we know and love about a Meatball Sub Sandwich, baked to an ooey-gooey, family style casserole!
What you'll need for an 8 count Sub Casserole:
1 container of Pillsbury Crescent Rounds…or any Biscuit dough in 3″ rounds!
Frozen/fully cooked Meatballs..one per each dough round
1 cup or so of Marinara
1/5 cups of Shredded Mozzarella
Oregano and Salt & Pepper ..optional
Directions:
Roll out each round just a little bit to flatten. Add one Meatball into the center and roll it up nice and tight…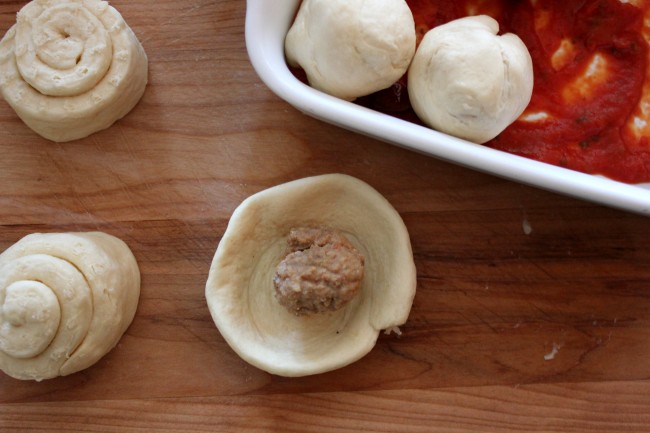 Add a thin layer of Marinara Sauce to the bottom of your baking dish.
Place them into your baking dish and top them with the rest of the Marinara Sauce, then the Cheese…
Bake them at 350 for approx. 50 minutes to an hour (longer than I stated in the video, the dough wasn't done quite enough at 35 minutes when I cut into them)…test one before serving, if necessary cover them and keep them in until they're fully cooked!
Let them cool a bit before serving…
Then.serve those babies up…
Remember some for you!
Dig in!  ~Enjoy!  🙂