Watch this Burger being built right here~  And be sure to subscribe so you don't miss any scrumptious morsels!
Can you imagine for a moment a world where you can feed an entire group of people with one Burger?  No special orders, no sweaty flipping, no pesky condiments all over the place?  And this Burger would be so much fun, so epic and so delicious that no one would even dare complain!!  No..you can't imagine that?!  Me either…LOL!
BUT…we can come close right here!   🙂
Bacon Cheeseburger PIE!  Yep~ America's favorite food just got elevated to next level greatness!  Less work for you, more pleasure for everyone.  One hot skillet filled with everything you know and love, in and on your Burger>>>BOOM!! ~ Bacony, Cheesy, Burger bliss hits your table!
~Skeptical??  Once you cut into this Pie, you will ooh & ahh your way through at least 2 pieces!  This will become a regular on your family menu for sure!  🙂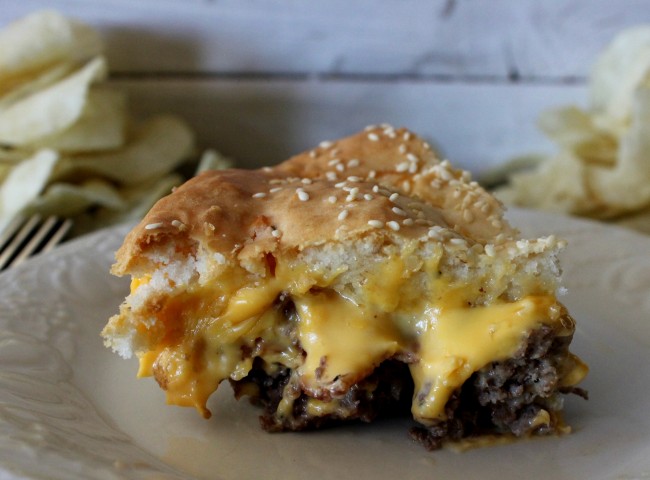 What you'll need for a HUGE Burger Pie:  Keep in mind, this is totally customizable~ add whatever you like on your Burgers!
1 lb lean Ground Beef
1/2 lb (or more) of Crispy Bacon
Approx. 1-1/2 lb of sliced Velveeta Cheese..enough to cover your Pie.  If you HATE Velveeta, use any cheese you like!  🙂
1 Egg
Salt, Pepper and your fave seasonings
2 cups of Bisquick or equivalent
1 cup of Milk
1/2 cup Sesame Seeds
Potato Chips for topping..or as a side>optional!
An oven safe skillet..approx. 8″ across
Directions:
In a med. bowl mix the Bisquick and Milk together until thick and smooth..adjust amounts as necessary.   Set aside…
In another bowl mix the Beef, Egg and spices of your choice together until combined.
Place the beef evenly into the skillet…
Top the Beef with the crispy Bacon…
And now top that with the Velveeta…
Pour the Bisquick all over the top, and smooth it out so it's even.
Sprinkle it all over the top with those Toasted Sesame Seeds.
Bake it at 350 degrees for approx. one hour, or until it's fully cooked through…cover with foil at the halfway point! 
Let it cool before cutting into it..if you can!
Slice it up like a Pie…
Grab a fork and people you love a LOT!
Dig in!  ~Enjoy!  🙂