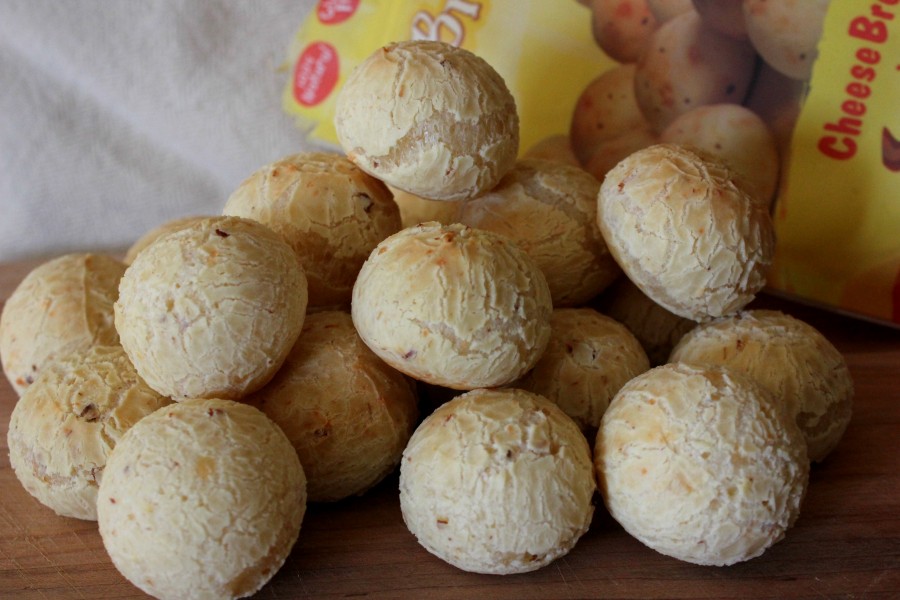 Whoa!  I can't believe that my favorite type of Bread in the whole wide world is now available at my finger tips ANY. TIME. I. WANT!
Cheese Bread Snacks, commonly known as Brazilian cheese bread or Pão de Queijo, are a South American household staple now available at your local grocery store. The business of bites began when Brazilian native Junea Rocha moved to the US in 2005 to be with her husband Cameron. Junea really missed the cheese bread she enjoyed throughout her life in Brazil. Once a secret family recipe was secured from her mother, she and Cameron got to baking. After much trial and error, researching and accessing the best ingredients, the couple finally made a perfect batch; in fact they were so perfect that they ate them all before they could even cool!
By starting Brazi Bites, the couple is blazing a trail to share this outstanding traditional food with the US. Fresh off some very impressive growth throughout the Pacific Northwest, Brazi Bites are just about to hit the freezer shelves at Sprouts stores across the USA, coming in three different flavors: Original, Fire-Roasted Jalapeño and All-Natural Bacon. Naturally gluten-free and containing 100% natural ingredients, these delicious bites bake straight from frozen in about 20 minutes, perfect for entertaining or a quick snack any day of the week.
This is just the beginning for Brazi Bites, and given its unique story and burgeoning business, I thought it would be a great fit for your blog. More information can be found at 
www.brazibites.com
.
That's right!  Brazi Bites are the best little cheesy, moist, tender Bread balls ever..EVER!  And in just a few minutes they're ready to be devoured and dare I say…shared.  🙂
You can have the chance to win an incredible THREE BAG ASSORTMENT of Brazi Bites ALL to yourself!  All you have to do is:
1.  Share this post either here or on Oh, Bite It's Facebook page!
2.  Comment below that you shared
3.  Like BRAZI BITES on Facebook by clicking right HERE>>  BRAZI
THAT'S IT!  One of you will be chosen by Midnight EST on Monday March 3, 2014!  ~GOOD LUCK!