Imagine for a moment, a sweet and creamy Cheesecake that's been whipped, fluffed and puffed to the point that it melts in your mouth almost upon lip contact!
A light as air, dreamy version of that thick and dense Cheesecake that we all know and love,  but lightly layered with creamy, dreamy decadence, then topped with smooth, sweet Cherries~ Ahhh!
I give to you a huge, super simple and succulent dessert that will make at least 10-12 of your closest friends think that they're dreaming with each bite.  🙂
Every magical mouthful fills you with happiness, if I'm dreaming…don't wake me!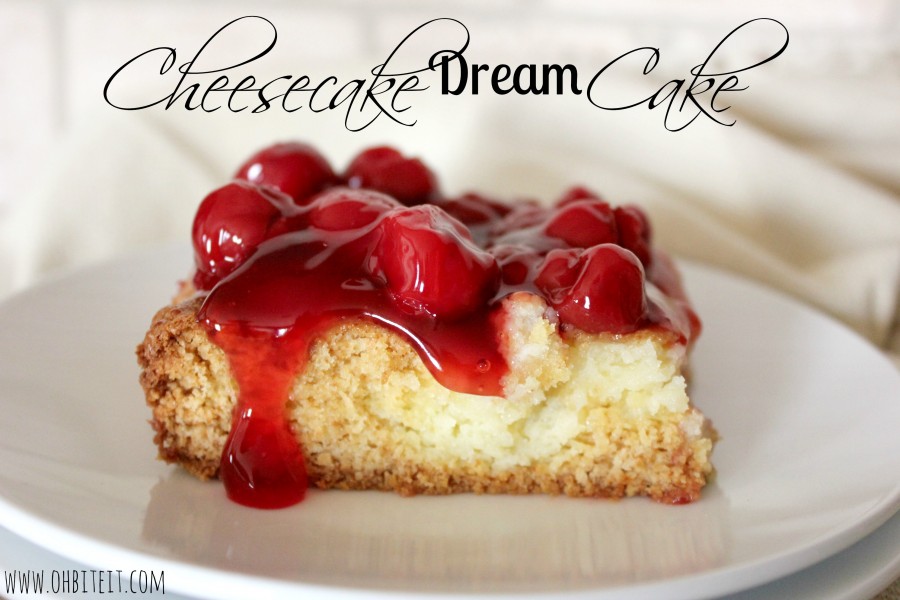 What you'll need:
TWO BOWLS, a 9×13 (sprayed) baking pan, and a hand-held mixer!
Into bowl #1:
1 (15 oz.) box of Yellow Cake Mix
1 Egg
1/2 cup Melted Butter
Into bowl #2:
1 (8oz.) block of Cream Cheese..room temp.
2 cups Powdered Sugar
1 teaspoon Vanilla Extract
2 Eggs
TOPPING:
1-21 oz. can of Cherry Pie Filling…I used Lucky Leaf  You can use any flavor Pie filling that you like!
Directions:
In the first bowl mix together the Cake Mix, 1 Egg, and melted Butter~ Beat it with an electric mixer for 5 minutes…set aside.
In the second bowl mix together the Cream Cheese, 2 Eggs, Powdered Sugar and Vanilla…mix until blended…
Pour the Cake mix bowl mixture into the bottom of the sprayed baking pan, get it as even as possible..it will be THICK!
Now, top it with the Cream Cheese mixture, spreading it evenly all over the top…
Bake it at 350 for approx. 50 minutes, or until it's slightly golden, and cooked through completely.
Let it cool slightly, then poke holes randomly into the Cake…
Pour the Pie filling evenly over the top, gently pushing some if it down into the holes…
Serve it up…
Look at those sweet layers of Cheesecake Fluff…
The time has come to share with those you love…
And those who love you..lol
Now you may have a piece for yourself…
Ahhh~ finally, your dream has come true…a big bite!  ~Enjoy! 🙂