Well..I've only make Cheesecake a couple of times now, since I usually leave that job to the Master~  my Mom…lol!  However, I have to say that this Cheesecake is almost…yes, almost as good!  I knew I needed to make that whole 'crust' ordeal…(you know,  with the Crumbs and the Butter..and that whole 'hoping that it will all stay together prayer'), a bit less stressful easier for myself. ..and I did it!
Yep~  my cheesecake crust hack worked!
I was able to successfully achieve a unique, delicious, and EASY crust, with the simple addition of sweet, pre-made…Sugar Cookie dough (thank you store!)  From there it was all a piece of uhh..cake..haha!
If you can imagine a thick, rich, warm Sugar Cookie, with a sweet, thick layer of Cheesecake around it..that's what each bite of this one-of-a-kind Cheesecake is like!
~So unique, SO delicious..and dare I say…EASY!  Give it a try!  🙂
What you'll need:
A Springform Pan!
The Crust: 
1-1lb. roll of Pillsbury Sugar Cookie Dough
The Filling:
4-8oz. blocks of Cream Cheese..softened
4 Eggs
1 tablespoon Vanilla Extract
1 cup Granulated Sugar
The Topping:
3/4 cup coarse Sugar..I used an all natural "Raw" Sugar.
Directions:
Press the Sugar Cookie Dough evenly down into the bottom of the pan, set aside…
In a large bowl combine the Cream Cheese, Eggs, Vanilla and Sugar…
Mix well with an electric mixer, until smooth…
Pour the Mixture into the pan…evenly onto the Crust…
Sprinkle the top lightly with some coarse Sugar and bake at 325 for approx. 1 hour, or until it's firm all the way through and slightly
golden…
Let it cool…COMPLETELY!  Gently remove the pan!
While it's warm top it with a generous amount of coarse Sugar…as much as you like..think "Sugar Cookie"…
Take a moment to really look at it's beauty..it likes that..lol
Serve it up…
Now….grab a fork and start savoring…
Oops..did you remember to share??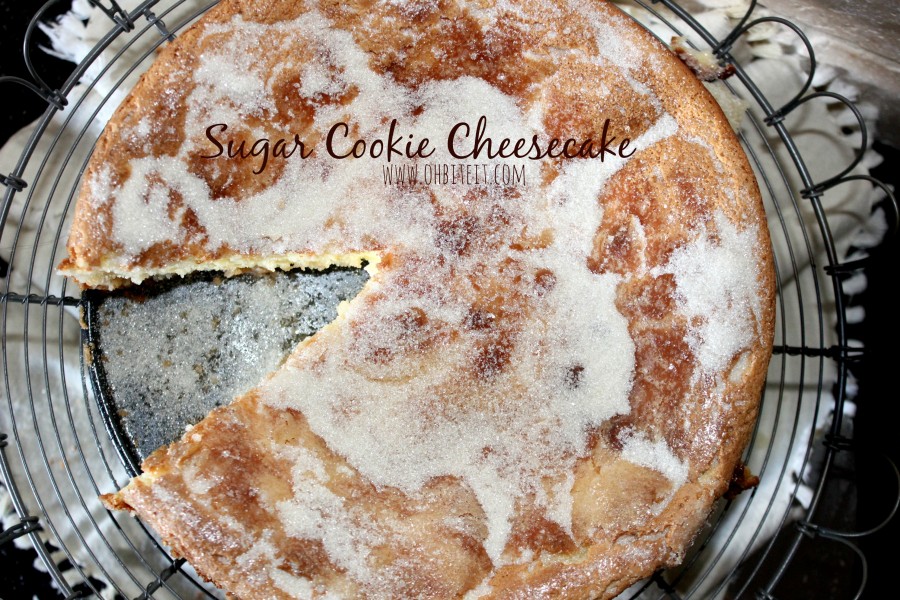 Pass those plates around, yes..you must!
Then it's your turn..open up!  ~Enjoy!  🙂