These Nachos are so over the top, so obscenely unique that they really need their own designated room in the house to be enjoyed to their fullest level!  'Man Cave' is the first thing that came to mind when I thought about the perfect place to shove golden Fries, studded with Little Smokies, spicy Jalapeños…and then topped with a thick, rich Guinness Beer Cheese Sauce into your lucky faces.
Sure you can eat these in the living room, on the couch…even the "nice" couch, but if you do, may I suggest not letting the lady of the house know about it..lol!
~The last thing you want is to be forced to eat these in the…Garage..haha!:)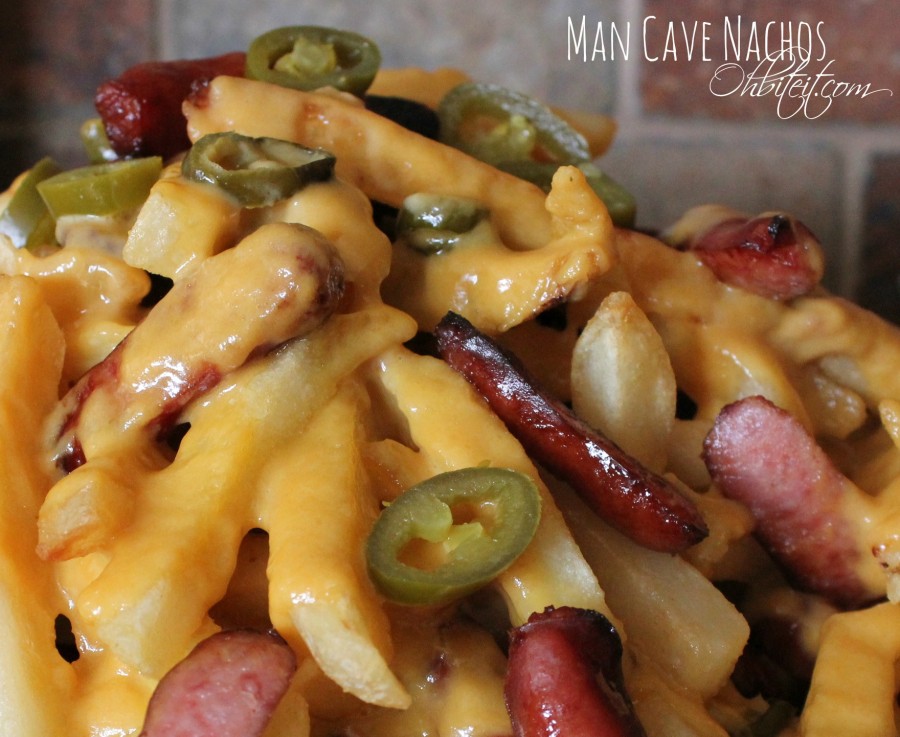 Don't get me wrong~  girls can totally enjoy this perfect pile of magnificence too…I may have had a taste or two…shh!  🙂
What you'll need for a sky-high mound of man cave munching madness:
1-2lb. bag of Frozen Fries..any cut you like
1-14oz. bag of Lit'l Smokies Sausages
Sliced Jalapeños, fresh or jarred..optional
Guinness Cheese Sauce:
Be sure to add the cheese slowly, allowing each batch to melt before adding more, to ensure smooth results.
Ingredients:
2 Tbs. unsalted butter
3 Tbs. all-purpose flour
1/2 cup milk
3/4 cup ale or darker Guinness beer
2 tsp. yellow mustard
2 tsp. Worcestershire sauce
Hot sauce, to taste
12 oz. sharp cheddar cheese, grated
Kosher salt and freshly ground pepper, to taste
Directions:
In a saucepan over medium heat, melt the butter. Add the flour and cook, stirring constantly, for 2 minutes. Slowly whisk in the milk and beer, increase the heat to medium-high and bring the mixture to a simmer. Add the mustard, Worcestershire and hot sauce and cook, whisking occasionally, until the mixture begins to thicken, 3 to 5 minutes.
Working in batches, add the cheese in large handfuls, whisking until each batch has completely melted before adding more. Season with salt and pepper. Spoon over the "Nachos" …Serve warm
Prepare the Nachos~
Slice each Lit'l Smokie in half…
Spread the Fries and the Sausages evenly onto a baking sheet..top with optional Jalapeños if you'd like!  Bake them at 350 degrees for approx. 30 minutes, or until the Smokies and the Fries are golden to your liking!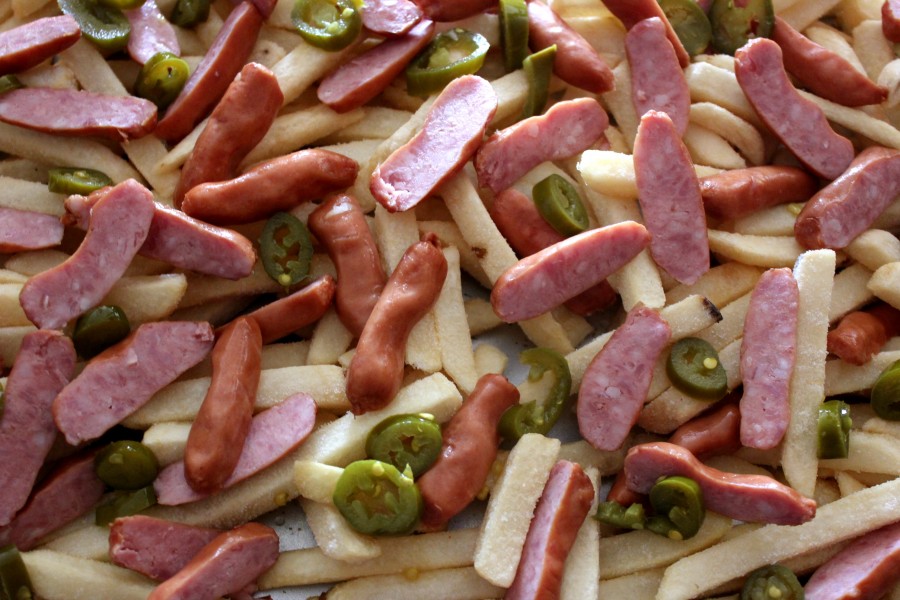 Pile them nice and high and top them with scoops of the warm Guinness Cheese Sauce…
Add some more Jalapeños for kick…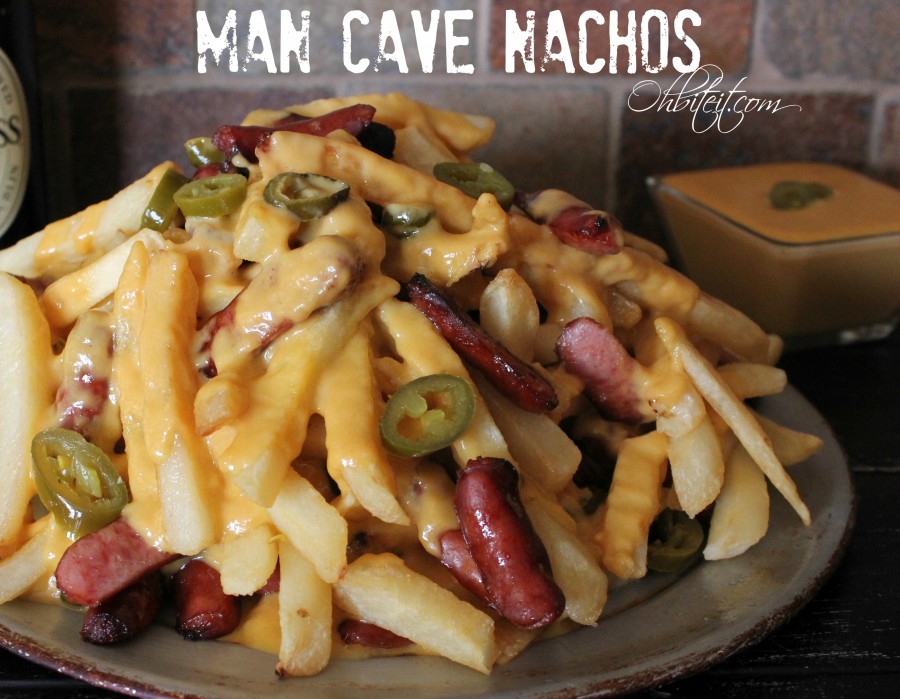 Grab some napkins and dig in…
Prepare for lots of hugs..maybe even kisses…
You're now the new hero of the Man Cave, and clearly should be allowed in there any time you want!!  ~Enjoy!  🙂