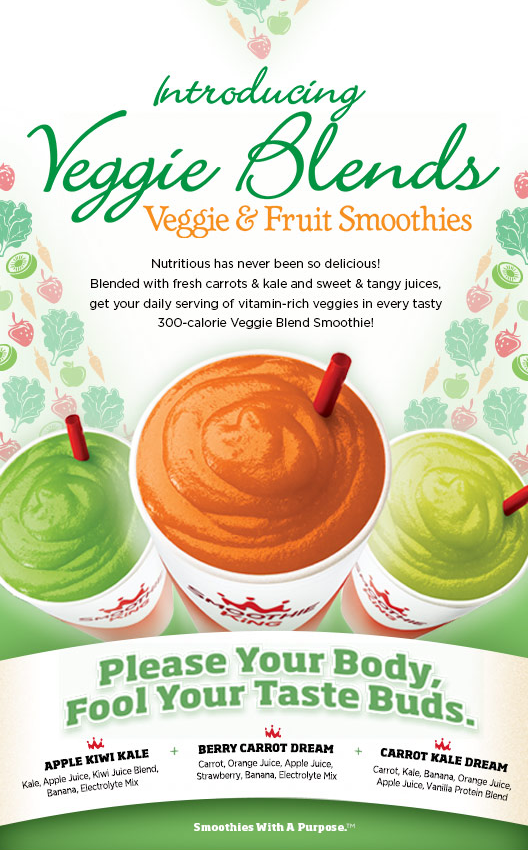 I am SO in love with Smoothies right now!  I start my day with one and end my day with one as well.  Sometimes, I even have one as a mid-day boost.  So, it's impotent that these Smoothies be as healthy as possible, and it doesn't hurt at all that they taste SO amazing!
Veggie Blends Overview:
Smoothie King's purpose has always been to make it enjoyable and easy to eat well-balanced foods in today's rushed lifestyle. And now, we're giving our guests a delicious way to eat more greens.  Our new Veggie Blends smoothie lineup is a great way to get the vitamins and nutrients you and your children need to get through the day. Enjoy the nutritional benefits of kale and carrots in a delicious smoothie that's less than 300 calories.
Launching nationwide on March 17th are the new Apple Kiwi Kale, Berry Carrot Dream and Carrot Kale Dream smoothies.  These blends are perfect for moms who want another option for their children to get more fruits and vegetables in their diet, especially when they are on the go – running errands, coming home from soccer games, etc. Similarly, we know that adults want these options for themselves as well and that these smoothies are a perfect meal replacement.
Veggie Blends Sweeps promotion:
Smoothie King wants to start a health chain reaction, that will encourage fans and followers to try our New Veggie Smoothies and spread the word to their social connections, especially those that need more Veggies!
When our fans share our Veggie Blends with their friends and followers they will be entered to win one of three inspiring prizes: Trek Bike, Nike Fuel Band, Nike gift card and Smoothie King gift cards.
Visit Smoothie King on Facebook for details on how to enter to win! Please use this link: 
goo.gl/rPtFgh
You have the chance to enjoy some incredible Smoothies.  LOTS of incredible Smoothies, thanks to
Smoothie King!
 They are launching a new line of Veggie Smoothies that will leave you wanting more, many more.  And they've got you covered!  You have the change to win
[email protected]
worth of Smoothie King Smoothies!  Simply follow the easy instructions below!  ~GOOD LUCK!  🙂
2.  Share this post on your fave social network.
3.  Comment below that you "shared" and where you shared it!
THAT'S IT!  ~BEST OF LUCK!  🙂