I'm free!  Yep~~  free of pretending that I don't enjoy  finding more and more ways to cut time-corners in the kitchen!  Some might call it laziness…I prefer to call it sanity preservation!  🙂
Here is the perfect example~  Take a mini frozen Pizza, defrost it, fold that baby over, and place it into a waffle iron, wait about 2 minutes and that's IT…DONE!
You now have a crispy yet tender crust, filled with all the goodness of your favorite Pizza, just waiting for each bite to explode all that time-saving goodness into your happy and impatient mouth! 🙂
~If you have 2 minutes, hungry people, and no shame~  go do this…GO!  🙂
What you'll need:
A waffle iron..sprayed with non-stick spray~
A mini frozen Pizza…mostly defrosted…
2 minutes
Directions:
Make sure your Mini Pizza is mostly defrosted so when you fold it over it doesn't crack.  I defrosted mine in the microwave for a few seconds.
Fold it in half, and place it inside the Waffle Iron…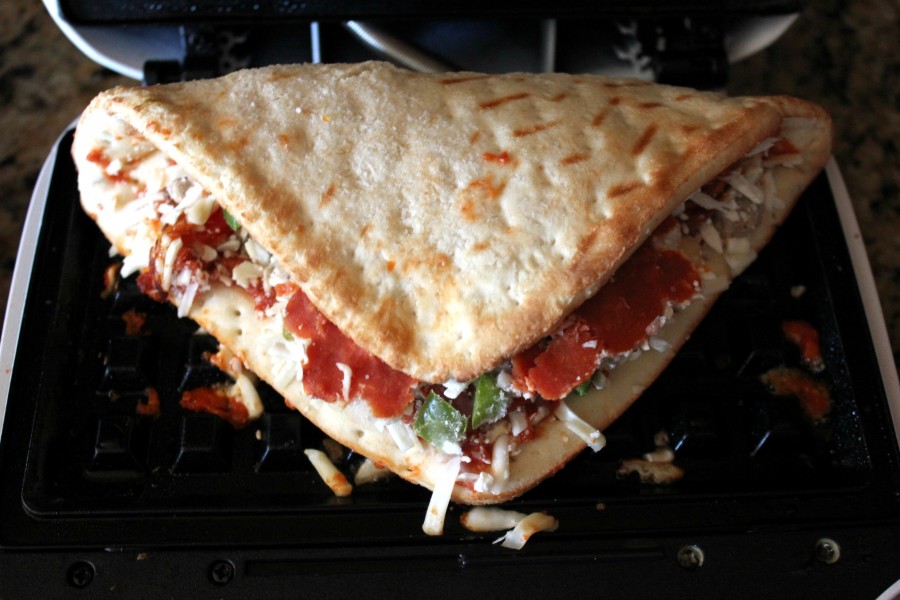 Close it up, and wait approx. 2 minutes….each Iron may vary, so just keep an eye on yours.  You want the crust to be firm and golden, with cheesy Calzone goodness slightly oozing out!
Take it out and eat it!  Make another…repeat!  ~Enjoy!  🙂