Apple Pie has morphed into one of a kind, easy to eat, crispy and sweet Chips!  That's right, you can now enjoy your Apple Pie by the handful.  🙂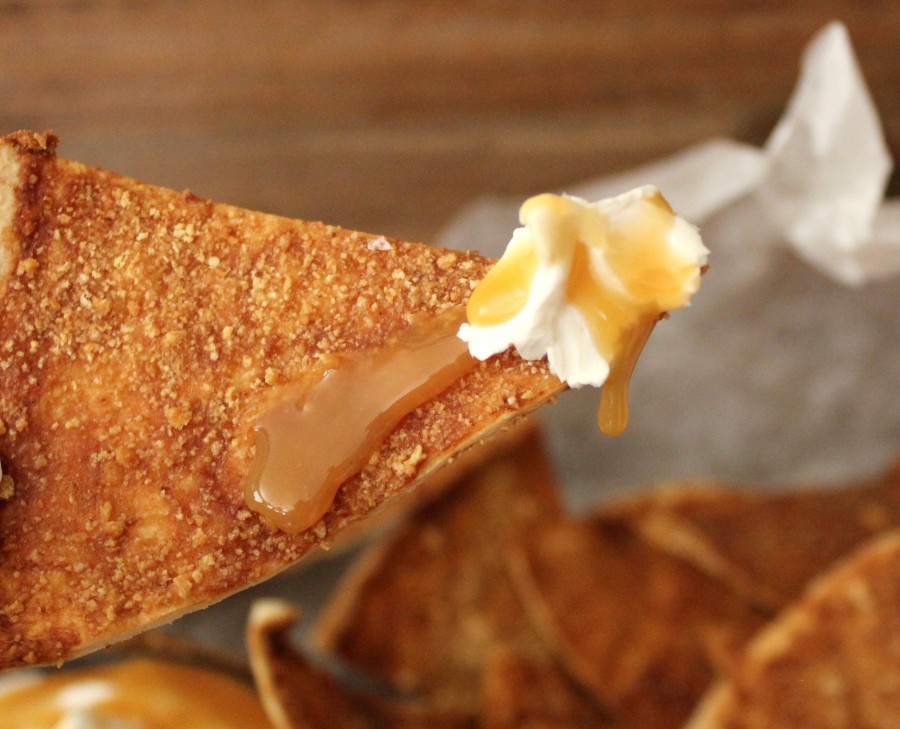 Crunchy Tortilla Chips are slathered in a smooth, sweet glaze of Apple Butter, and topped with a nutty and crunchy sprinkle of Graham Cracker Crumbs to drive home that Apple Pie experience!  And just in case that wasn't quite enough, each Apple Pie Chip is plunged deep into a thick, creamy Caramel Cream Cheese Dip…that's right!
In a matter of minutes, you can have a giant bowl of Apple Pie Chips to get you through any movie marathon in delicious style!
What you'll need:
8 – 10 Flour Tortillas
1 cup Musselman's Apple Butter
1 tsp. Apple Pie Spice
3/4 cup Graham Cracker Crumbs…give or take
The Caramel Cream Cheese DIP:
1 cup Cream Cheese..softened
1/3 cup Powdered Sugar
2 tbsp. Caramel Sauce/Topping
Directions:
In a medium bowl mix together the Apple Butter, and the Apple Pie Spice…
Brush one side of each Tortilla with the Apple Butter…
Top them with an even sprinkling of Graham Cracker Crumbs..
Cut them into 8 equal triangles…
Place them onto a sheet pan.  Bake them at 350 degrees for approx. 12-15 minutes, or until they're firm and slightly golden…
While they're baking, make the Caramel Cream Cheese Dip>>
Mix together the Cream Cheese and the Powdered Sugar until it's fluffy and well combined.  Top it with a drizzle of Caramel Topping.
Let them cool just a bit to crisp up, and pile them up in pretty piles…
Serve them to everyone you care about..lol
Like…YOU!  ~Enjoy!  🙂