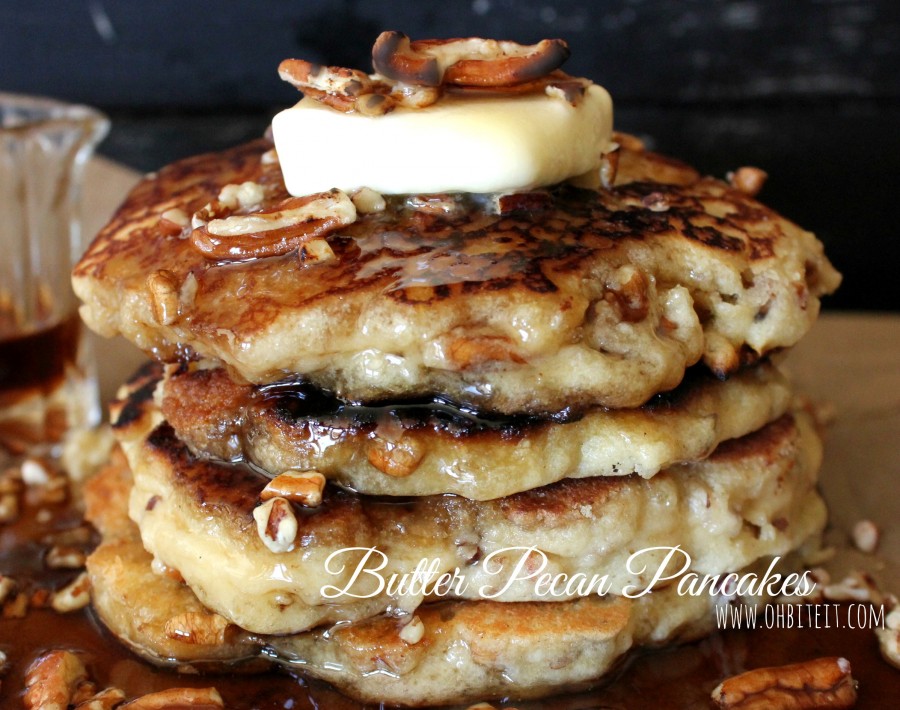 Let's all do a collective "High Five"…why?  Because we now have a way of enjoying Cake..for Breakfast…in the MORNING!  And no one can judge us, stare at us, or hate us..lol!  Nope~  Now Butter Pecan Cake has  morphed into a sinful, succulent stack of perfect Pancakes!
Fluffy, sweet, Butter filled Pancakes are bursting with real Butter Pecan Cake & studded with crunchy Pecans!  Top the whole thing with um..more Butter and cascades of Maple Syrup, and experience what Heaven tastes like!  All before Noon…take that Dessert for Breakfast haters..haha!  🙂
What you'll need for 4-6 Pancakes:
1 cup Pancake Mix
1/2 cup dry Butter Pecan Cake Mix
1/2 cup Butter…melted
1 Egg (not shown)
1/2 cup Chopped Pecans//reserve a few for topping of you'd like!
Butter and Syrup for topping!
Directions:
In a medium.large bowl combine the Pancake Mix, Cake Mix, Egg, Butter, and Pecans until well blended and thick…
Now cook them up the way you make your Pancakes…
Until they're golden on both sides…
Then get to stacking…
And buttering, and syrup drizzling…
And eating…!  ~Enjoy!  🙂