Get ready for everything we know and love in our breakfast and/or brunch, all nestled into one buttery, flaky Pie Crust!  I'm talking about golden hash browns, 2 cheeses, eggs, peppers, veggies and of course…BACON!
~Could you ask for more?  I think not..haha!  🙂
This super simple Breakfast or Brunch Pie will make your life easier and make everyone you love SOoo happy!!
** WINNING!**  < Yeah…I still say it, so what?!  🙂
What you'll Need:  (Keep in mind, you can fill this baby up with anything YOU love!)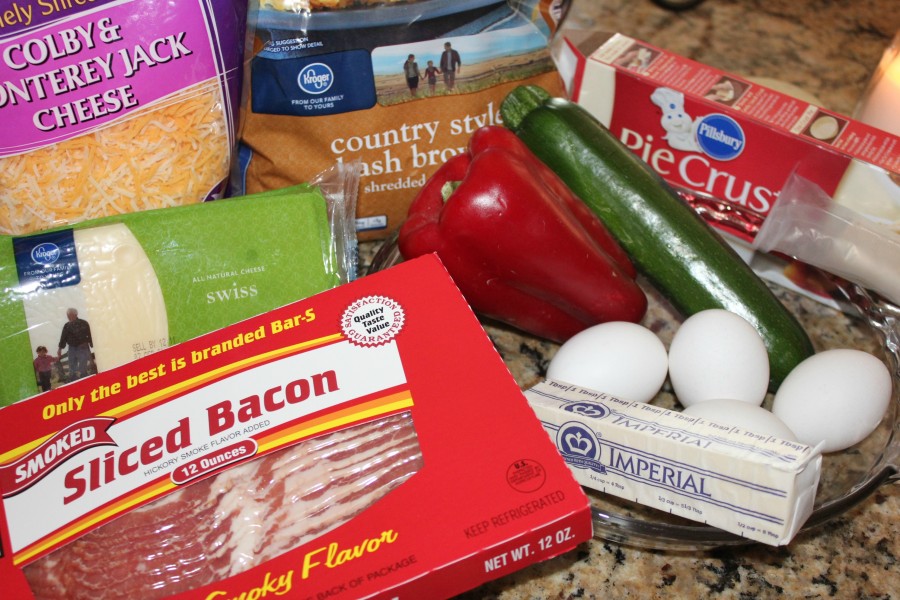 An 8″ Pie Plate
A LARGE bowl
1 Pillsbury Pie Crust
1-1lb. bag of Frozen Country Style Hash Browns (defrosted)…feel free to use freshly grated!
1lb. crispy and crumbled Bacon
1/2 cup (one stick) Butter~ melted
4 Eggs
1 cup Shredded Colby Jack Cheese
1 cup Shredded Swiss Cheese…divided
1 diced Red Bell Pepper
1 Zucchini…shredded
Salt and Pepper to taste
Parsley for garnish..optional!
Directions:
Place the Pie Crust dough into the pie plate..set aside.
Shred the Zucchini~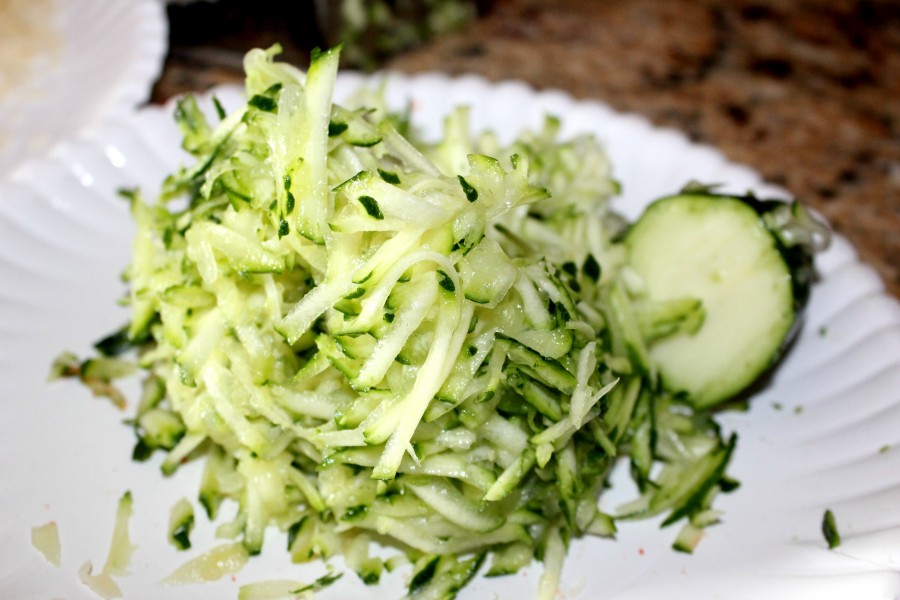 Shred the Swiss, if you need to like I did (couldn't find pre-shredded..boo)
In a large bowl mix together the Hash Browns, Melted Butter, Eggs, Colby Jack Cheese, 1/2 cup of the Swiss Cheese (reserve the other half for topping), Bell Pepper, Zucchini, Bacon and salt and pepper…
Mix it very well to combine!
Fill up that Pie Crust…yes, it will be full!!
Now top it with the remaining Swiss Cheese…
Bake it at 350 for a good hour, to get it nice and gooey in the center with a golden cheesy top!
Let it cool…trust me..lol!
Add some Parsley, if you want to be fancy pants…
Cut into that amazing creation, and watch everyone suddenly appear, fork in hand…
Grab a plate for you, because…duh.
And dig in!  ~Enjoy!  🙂