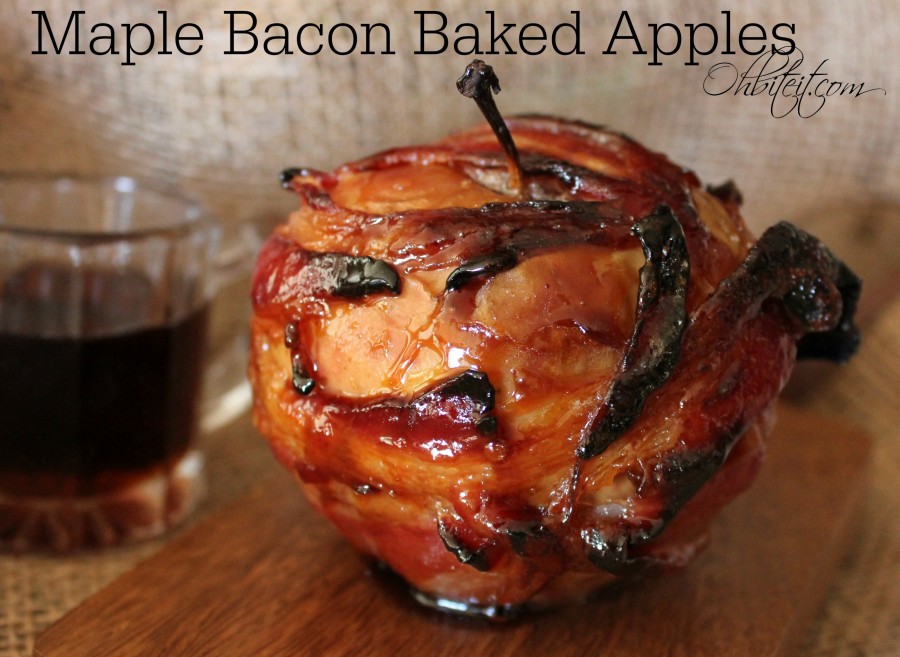 For those of you that may not know, most of my recipes are created after midnight~  I know it sounds strange, but it's true!  Right here, right now, you have a first hand idea of what that looks like!  This sweet, sticky Maple Bacon covered Baked Apple was thrust into my brain and refused to leave, somewhere between midnight and 2am…lol!  And here we are!
I'm wide awake and here to tell you that I think this is my ultimate FAVORITE way to eat an Apple, and I don't think I will ever be able to eat Apples any other way ever again!  🙂
~The Maple glazed Bacon literally shrink wraps itself around that sweet, juicy Apple and creates a one-of-a-kind Apple eating experience…TRUST ME on this one!  Pop some of these in the oven, and the smell alone will draw a crowd.  Serve them up and watch out…it's a life changing experience.  🙂
What you'll need for 4-6 Apples:
1 lb. of Bacon..I used thin cut
4-6 Apples..depending on size~  Your fave Apple variety will work!
1 cup Maple Syrup
Sticks/Skewers..one per each Apple
Directions:
Wrap each Apple with 2-3 slices of Bacon, and secure gently with a skewer.  This is so the Bacon stays in place as it cooks around the Apple and doesn't slip off as it gets hot in the oven.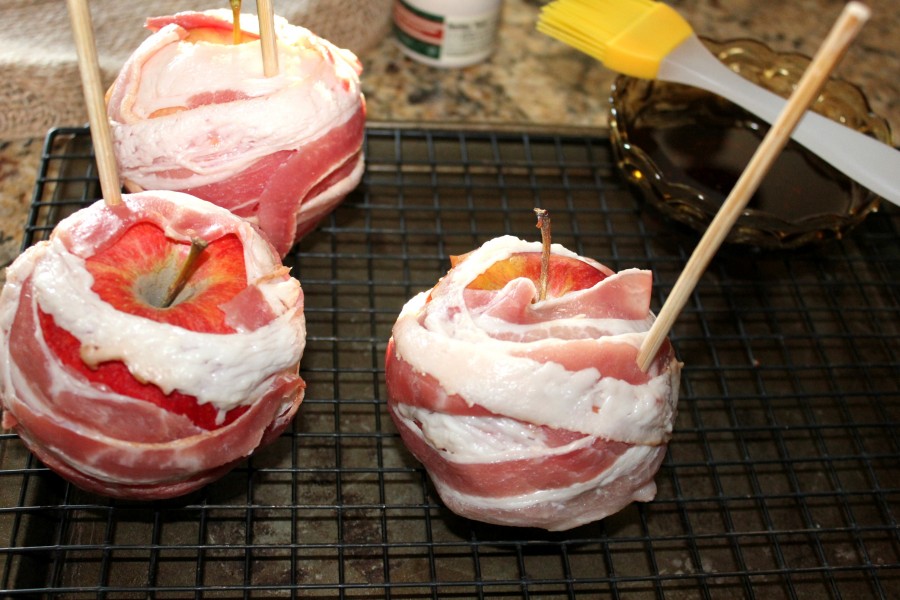 Brush the Bacon wrapped Apples with the Maple Syrup~  reserve some for basting during the baking process…
Place the Apples on a sheet pan and bake them at 400 fro approx. 45 minutes.  The time will vary depending on the size of your Apples and thickness of your Bacon so keep a close eye on them.
Baste them every 10 minutes or so with more Maple Syrup to get them SUPER sticky sweet, and dark!
They're done when they're dark, tender and smell amazing.  Let them cool!
Remove the skewers…and now you can serve them up…BUT, serve them warm.  🙂
And be sure to grab one for YOU!  ~Enjoy!  🙂