Wait…don't go!  This one was only partially my idea…it's TRUE!!  Even I'm not quite THIS crazy..lol!  Okay, maybe I am..but not this time.  I've been hearing lots of internet "chatter" about this semi-existent "Fried Chicken Pizza Crust".  It turns out (I think anyway) that this whole idea was originally one giant misunderstanding that the hungry public took and ran with, and was never real at all!  ~Either way, I had to make it real, I just had to!  So here we are!  🙂
A layer of crispy Fried Chicken is 'Pizza Crustified' as it's turned into only the BEST Pizza Crust known to mankind!  The sinful Fried Chicken Crust is topped with layers of Cheese, Sauce, and Pepperoni,…and any other of your fave Pizza toppings.  All creating this one of a kind, over the top, out of the ballpark, almost embarrassing monstrous meal.  Pizza and Fried Chicken and YOU, will never quite be the same after this one…trust me!  As a bonus…you will be a ROCK STAR!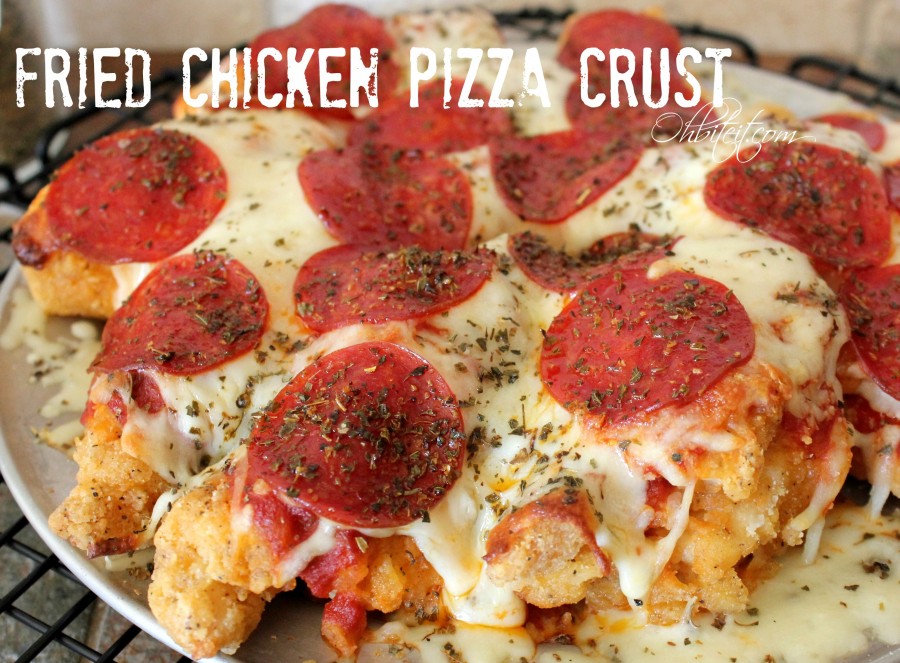 What you'll need for a 10″ "PIZZA":
A 8-10″ Pizza Pan
1-1lb. Fully Cooked/frozen Fried Chicken Tenders OR strips!  (semi-defrosted is fine)
1 1/2 cup Pizza/Marinara Sauce
2 cups Shredded Mozzarella..or your fave Pizza Cheese
Add your favorite Pizza toppings…I used Pepperoni
Directions:
Layer the pan with an even layer of the Fried Chicken.
Top the Chicken with an even layer of the Sauce…
Now the Cheese…
…and the rest of your toppings…
Bake it at 350 degrees for approx. 20-25 minutes, or until the Cheese is melty and everything is all and hot and gooey!
Let it cool for a couple of minutes…or as long as you can possibly wait..
Feel free to add some Olives…
Whatever you decide to top it with, be sure to share…
You will need a plate if other people are around..lol!
Now dig in!  ~Enjoy! 🙂