Just in case all of my Jalapeño Popper recipes on here weren't quite hot enough, just in case your eyes were still connected to your head and your lips stayed their same size after eating them~  I present to you Habanero Poppers!  Super spicy, crispy crunchy, creamy and cheesy bites of HOT HEAVEN!
Now you can feel the extreme sizzling pleasure of a pepper in which not many people can partake!  In fact, I don't recommend these for those weak in the 'constitution'…haha!  Even I had to beg for a taste tester just to make sure they were…"SOOO GOOD" as reported back to me!  So, I had to give one a try~  and surprisingly, the frying process removed quite a bit if their heat…but they were still super hot!  It did help to have that cheesy, cream cheese filing ooze out and cool things off…a tiny bit!  🙂
These aren't for everyone, but they sure are for some…a very brave, and thick-skinned some!  So kick things up a few notches next time there's a game on, and sit back and watch the drunkards brave people show off!  ~
~Keep some Milk and Ice Cream close by for a chaser!
**HERE'S YOUR WARNING>>>  THESE ARE ATOMIC!!  Hot doesn't begin to cover it!  Please use common sense, protective gloves and lots of hand washing!  DO NOT touch anywhere that means anything to you for the next day…haha!  🙂  BE CAREFUL WHEN HANDLING HOT PEPPERS!**
What you'll need (and YES..you can sub regular Jalapeños if you're a chicken..lol):
12-15 fresh Habanero Peppers
1 cup Cream Cheese..softened
3/4 cup Shredded Cheddar Cheese
The Batter:
2 cups Panko Bread Crumbs (I do not recommend substituting regular bread crumbs)1-1/2 cup Water
1 cup Flour
1/2 cup Cornstarch
3/4 tsp. Baking Powder
1 tablespoon Garlic Powder
A pinch of Salt & Pepper
Oil for frying..I used Canola – enough so that you have about 2 inches of oil in your pot.
Dips such as Ranch or Blue Cheese to cool off each bite!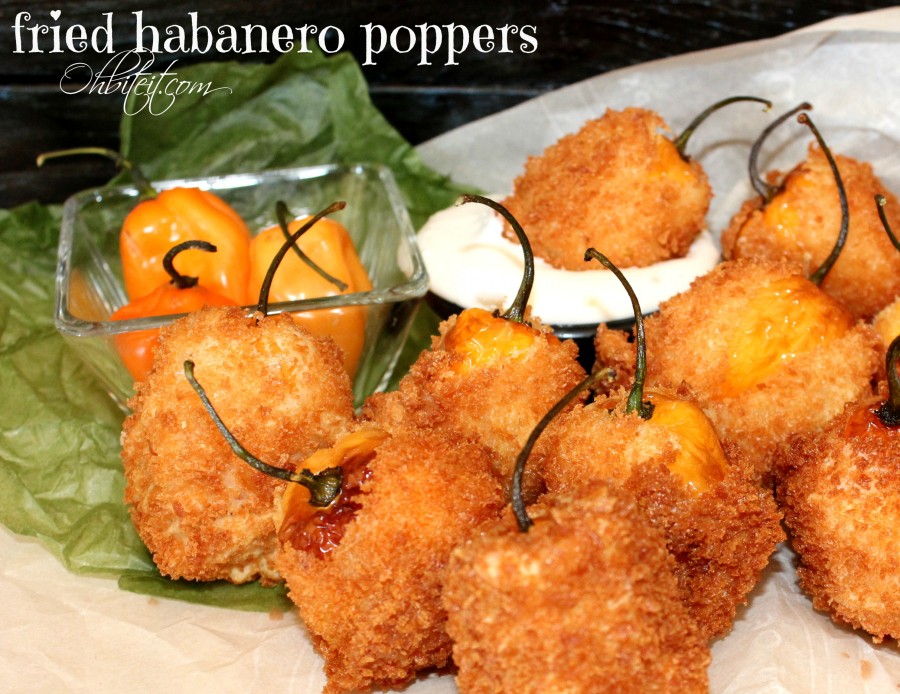 Directions:
Be prepared to handle dangerously HOT Peppers~
Now slice a slit on one side of each pepper, making sure not to go all the way through, just a small slice so you can stuff them…(there won't be many seeds to remove)
In a medium bowl combine the Cream Cheese and Cheddar~  feel free to add any additional spices that you might like.  Set it aside.
Now, prepare the batter~  In a medium/large bowl combine all of the above "Batter" ingredients,  and mix well.  Set aside..
Pour the Panko into a shallow bowl..set aside.
Gently and carefully fill each Pepper with some of the Cream Cheese mixture.
Dip each filled Pepper into the batter, making sure to leave the stem clean…
Roll the Peppers around in the Panko…get a nice and even coating onto them…
Set them near your oil, which should be heating up to 350 right now…
Gently place a couple into the hot oil and carefully roll them around to evenly brown them.  Take them out when they're golden and firm, let them drain on paper towel.
The heat of the oil actually removes some of the Pepper's heat, but they're still HOT so have some delicious dips handy…
Share them with every brave soul you know…
Give one a try~ be brave, and take a bite!!  Come on….
Then have some Ice Cream…lol!  ~Enjoy! 🙂