This light, yet hearty dish was one of those recipes that just came together almost all on its own!  No real effort on my part…I kind of just wanted a meatless, yet delicious simple Italian dish~  and here we are!  I love when it works out like that..haha!
The fried Mushrooms are THE BEST Fried Mushrooms EVER!  They're crispy and crunchy with a tender center, balanced with flavorful Marinara and LOTS of cheesy Cheese!  To. Die. For!
Even if you don't make this full dish, you have GOT to try this simple breading…on Mushrooms, or anything else you like..it's THAT GOOD!  And SO simple!!
BUT, by all means, feel free to add whatever Meat you like!!  🙂
What you'll need:
8-10 Fresh Mushrooms, cleaned with the stems removed
2-3 cups of your favorite Tomato Sauce..or Marinara
1 cups of shredded Mozzarella
1/2 cup grated Parmesan
The Batter:
2 cups Panko bread crumbs (I do not recommend substituting regular bread crumbs)
1-1/2 cups water
1 cup flour
1/2 cup cornstarch
3/4 teaspoon baking powder
1/2 teaspoon salt
1/4 teaspoon garlic powder
1/4 teaspoon black pepper
Vegetable oil or canola oil – enough so that you have about 2 inches of oil in your pot.
Directions:
Use a clean dish towel to wipe the mushrooms clean, remove stems and discard In a bowl.
Mix together flour, cornstarch, baking powder, salt, garlic powder, and black pepper. Add in water, about 1 1/2 cups, to create the batter…
Dip each mushroom in the batter, allowing excess to drip off…
Coat each mushroom in Panko bread crumbs…
Heat about 2 inches of oil in a large stock pot to about 350 degrees. Carefully add mushrooms to the hot oil using tongs. Allow the mushrooms to cook for about 2-4 minutes, or until they are golden brown and crispy…
Carefully remove mushrooms from the oil to a paper towel lined plate. Pour the Sauce into your baking pan…
Add the Fried Mushrooms to the Sauce, spaced evenly…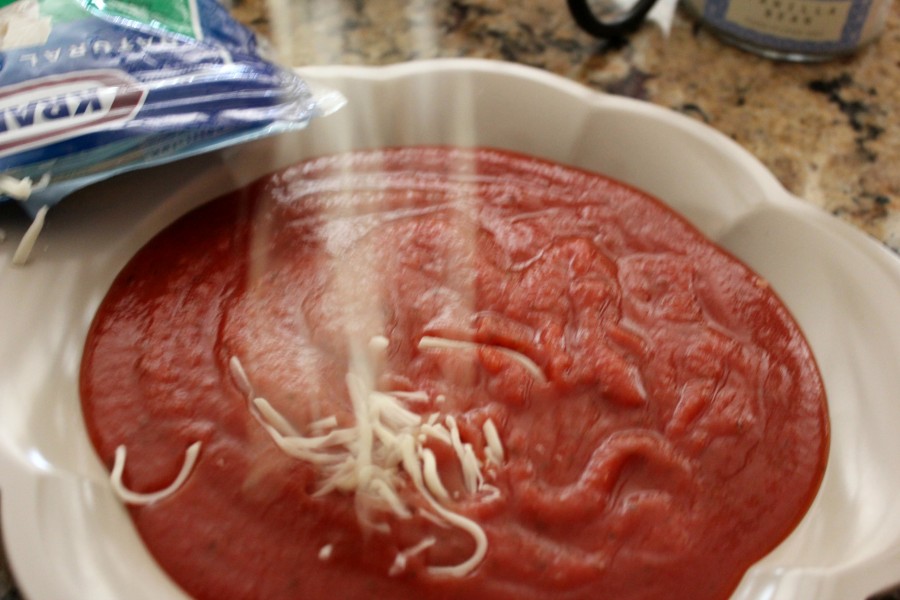 Top them with the Cheeses…
Now bake it at 350 degrees for approx. 12 minutes or so, just to heat it through and melt the Cheese…
Let them cool a bit, the Mushrooms really hold in that heat!
Serve them up…
They're just too good not to share…
Grab a plate…
For YOU!  ~Enjoy! 🙂