SOoo, what do you get when you dream about a bite sized fluffy Pancake Bite, nestled warm and tenderly inside a buttery cradle of Pie Crust, dripping in Syrup and topped with a sticky slab of Maple Bacon?  You get these Pancake Pie Poppers~  How's that for making a dream come true?  🙂
Talk about an all-in-one breakfast bite.  Breakfast just became the cutest, tastiest thing ever!
~Make a HUGE, yet EASY batch of these and just watch everyone come to life first thing in the morning…you will be a Breakfast/Brunch HERO!
What you'll need:
1 box of Pillsbury pie Curst (2 crusts)
1 cup of dry Pancake Mix…mixed according to your box instructions
1 tbs. Cinnamon
A mini muffin tin~  or regular sized for bigger Poppers!
1lb. Crispy Bacon
1/3 cup Maple Syrup…or a bit more…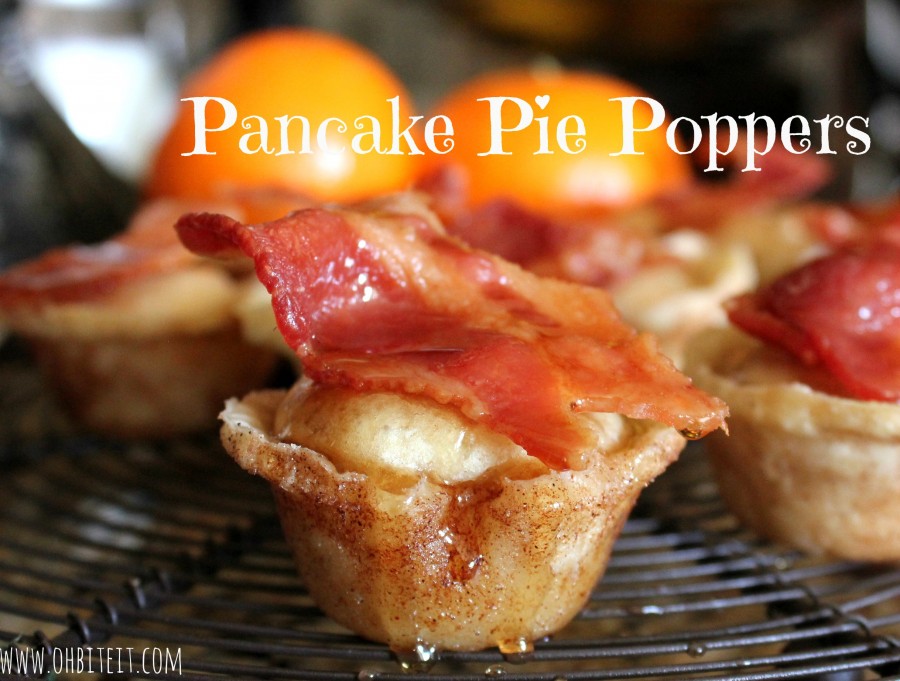 Directions:
Roll out the Pie Crusts just to even them out, sprinkle the dough with some Cinnamon, and cut out circles…large enough to just cover each muffin tin hole…
Place each dough circle down inside of  each hole, creating a cup.
Mix up your Pancake Batter as instructed on your box…
Fill them up 3/4 full, with Pancake Batter.
Bake them at 350 for approx. 15 minutes, or until the Pancake center is firm, and slightly golden.
Let them cool and brush the tops with some Syrup…
Place a piece of the Bacon on top of each Popper and maybe give it another drizzle of Syrup…
Now serve those beautiful babies up…
Grab a good one for you!  ~Enjoy!  🙂