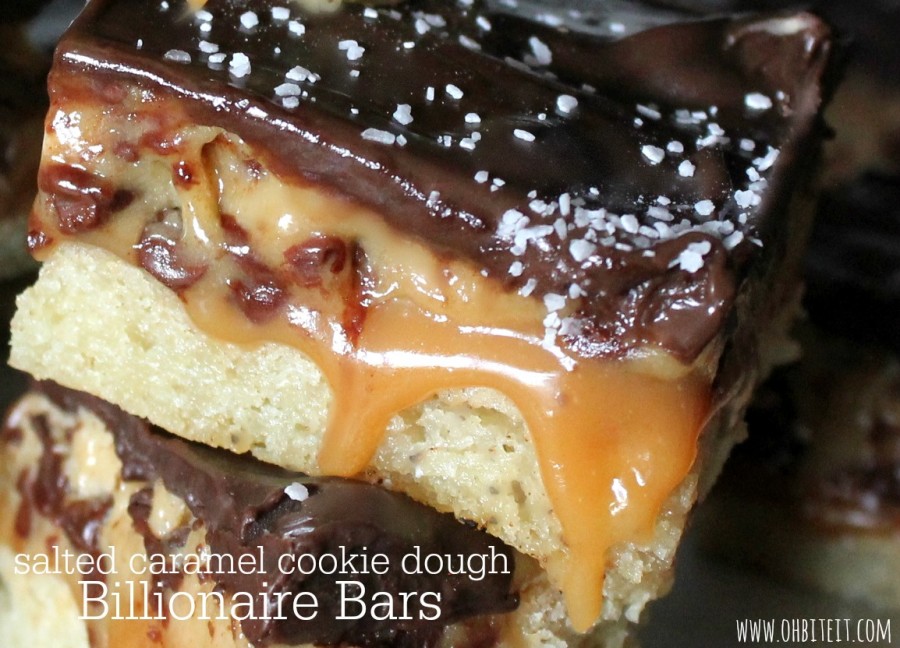 Whoa~  that's pretty much all I can say!  Just mentally take all of your favorite sweet flavors, and combine them into one sinful, decadent bar!  Now, maybe..just maybe you can imagine the amazing, one-of-a-kind dessert..that IS this Billionaire Bar!
Each bite will make you feel like a Billionaire!  A sweet, gooey, chewy, chocolaty, salty satisfied Billionaire!  These bars are different, because the flavors are totally kicked up by a slight sprinkling of Salt!  It drives home all the amazing flavors with a POP!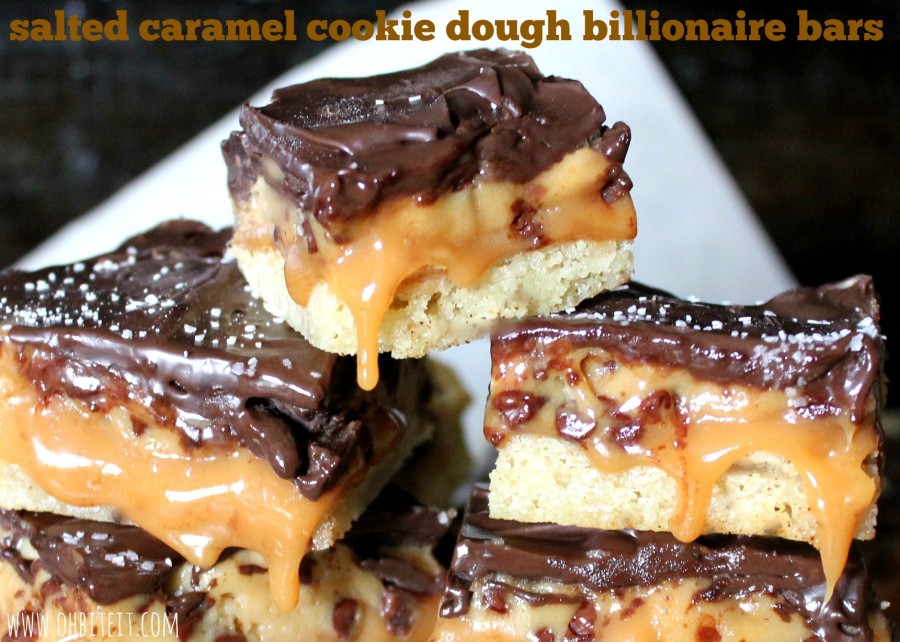 These bars start with a buttery, sweet Sugar Cookie Crust, then they're coated in thick, warm Caramel, a smear of Cookie Dough and topped with a Peanut Buttery blanket of Chocolate!  See..I told you they had ALL of your favorites covered!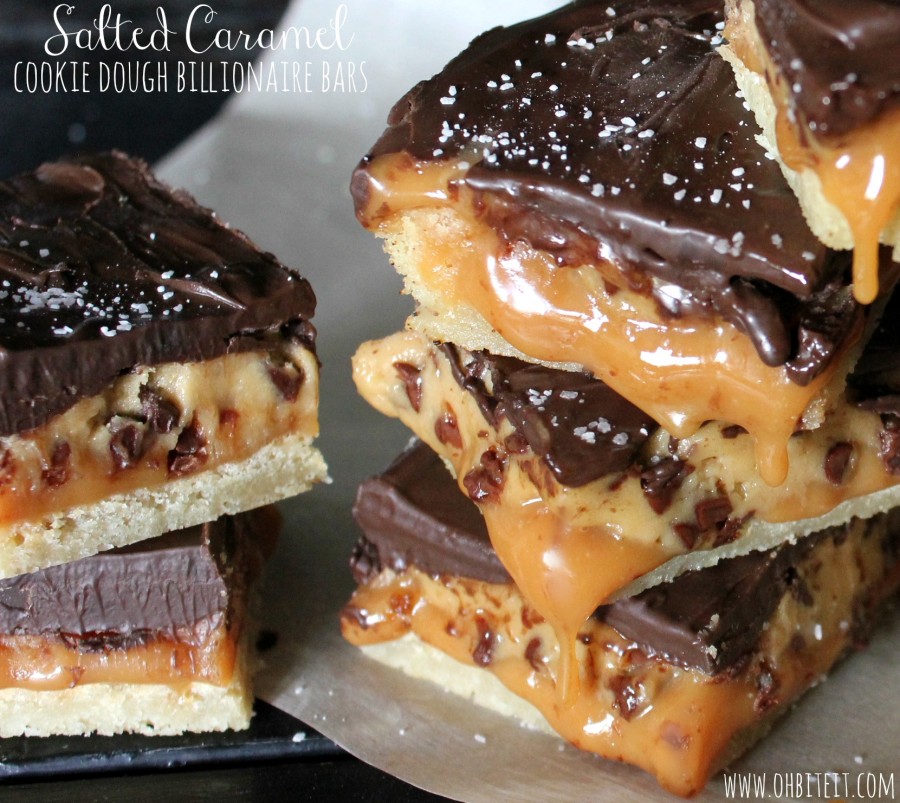 Heck..you can even add some Nuts on top if you'd like!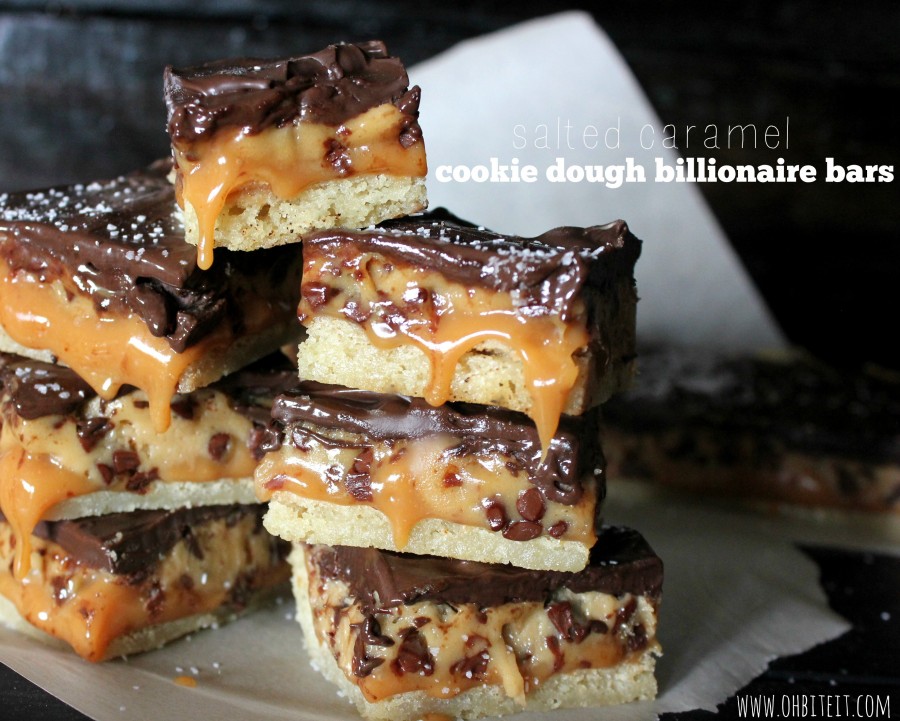 What you'll need:
The Crust:
9×13 baking pan
1-1lb. roll of Pillsbury Sugar Cookie Dough
The Caramel Layer:
1 (14 oz.) bag of caramels
1/2 cup heavy cream
The Cookie Dough Layer:
3/4 cup (1 – 1/2 sticks) butter, softened to room temp.
2/3 cup brown sugar
2 tbs. heavy cream
1 – 1/2 tsp. vanilla extract
1 cup all purpose flour
1/4 tsp. salt
3/4 cup mini semisweet chocolate chips
The Chocolate Top Layer:
1-1/2 cups regular semisweet chocolate chips
1/4 cup creamy peanut butter
A sprinkle of Sea Salt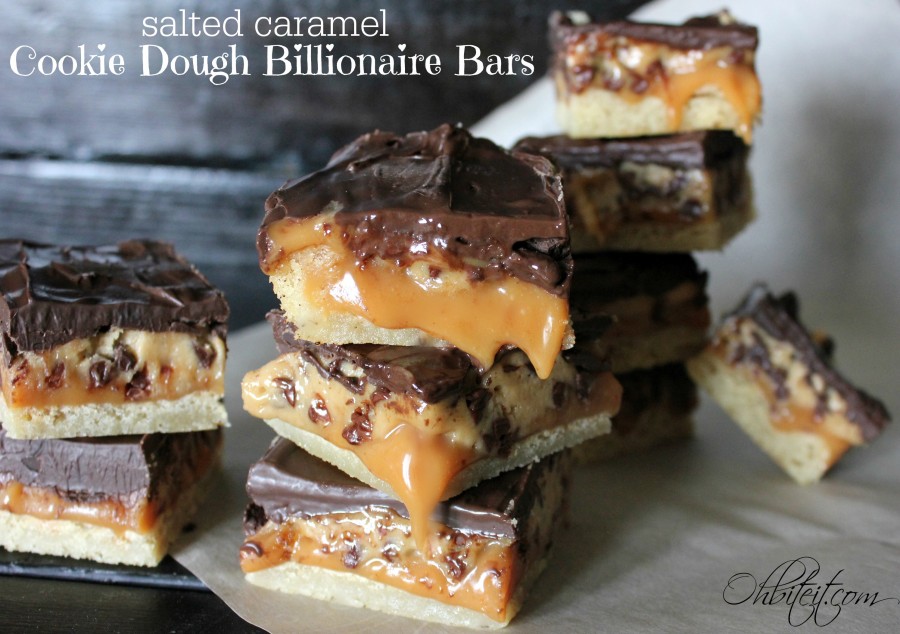 Directions:
1.  Preheat the oven to 375 degrees. Grease a 9×13″ baking dish with spray and line with parchment for extra insurance!
2.  Press the Cookie Dough evenly down into the pan…
Bake it according to the package directions, let it cool…set aside!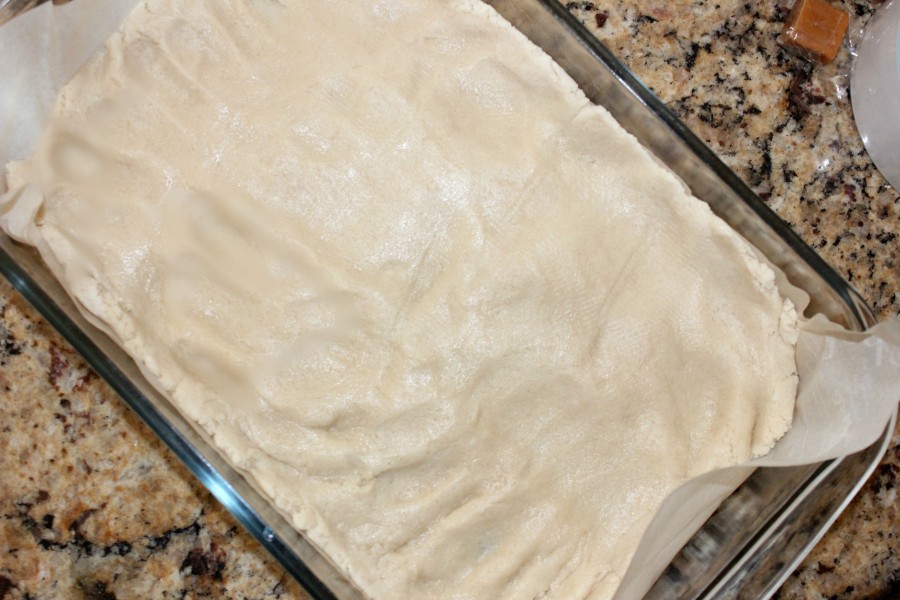 3.  While the Cookie crust is baking, combine the caramels and cream in a medium saucepan over low heat.  Let melt, stirring occasionally until smooth, about 10 minutes.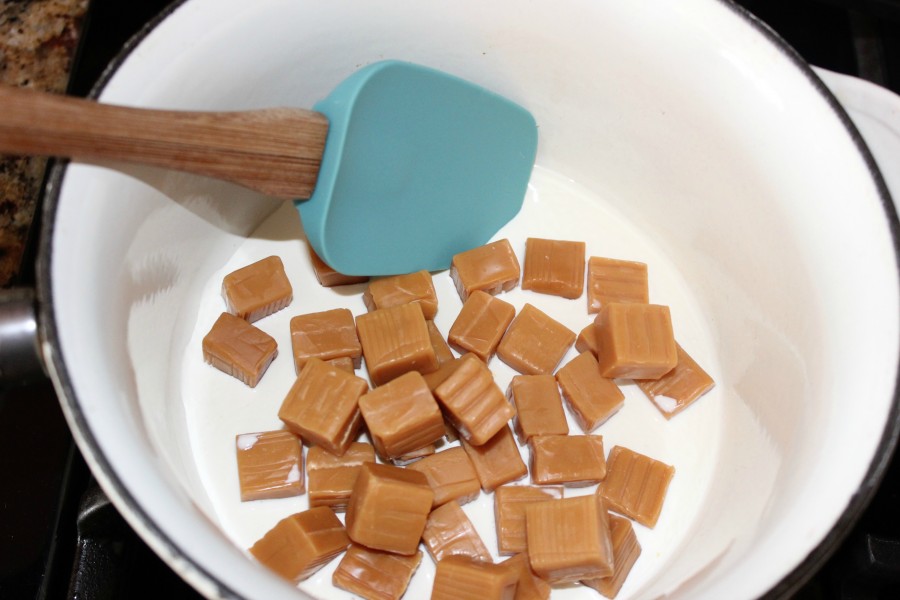 4.  Meanwhile, prepare the cookie dough layer.  Into a large bowl add the softened butter, brown sugar, flour, salt, cream and vanilla.  Mix until it's combined, fluffy and light in color  I did this by hand with no problem…just when you think it's not coming together..BOOM~  it's perfection!
Stir in the mini chocolate chips…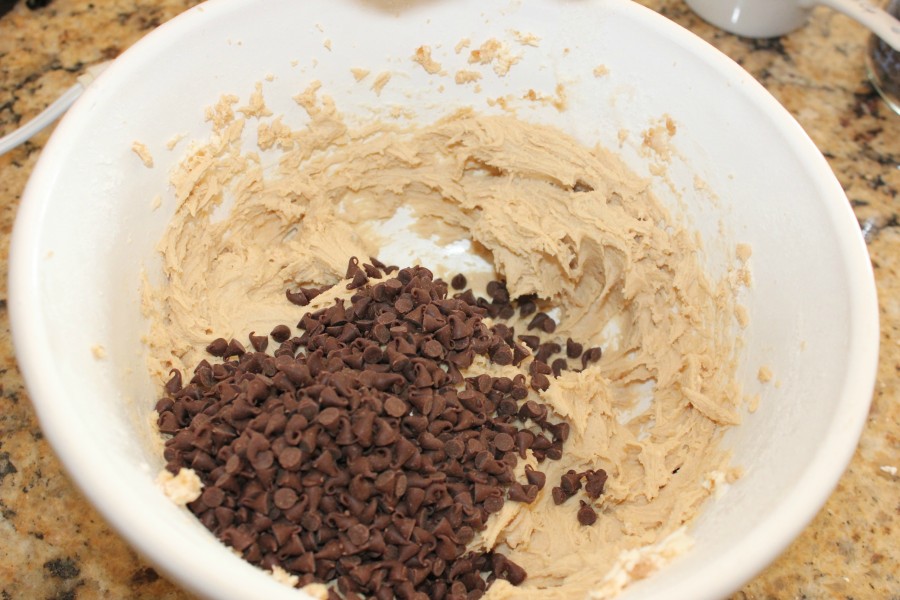 Pour the caramel layer evenly over the cooled Cookie Crust…
Spread the cookie dough gently over the caramel layer, be careful not to press too hard into the caramel.  You want to be sure and keep the two layers separate…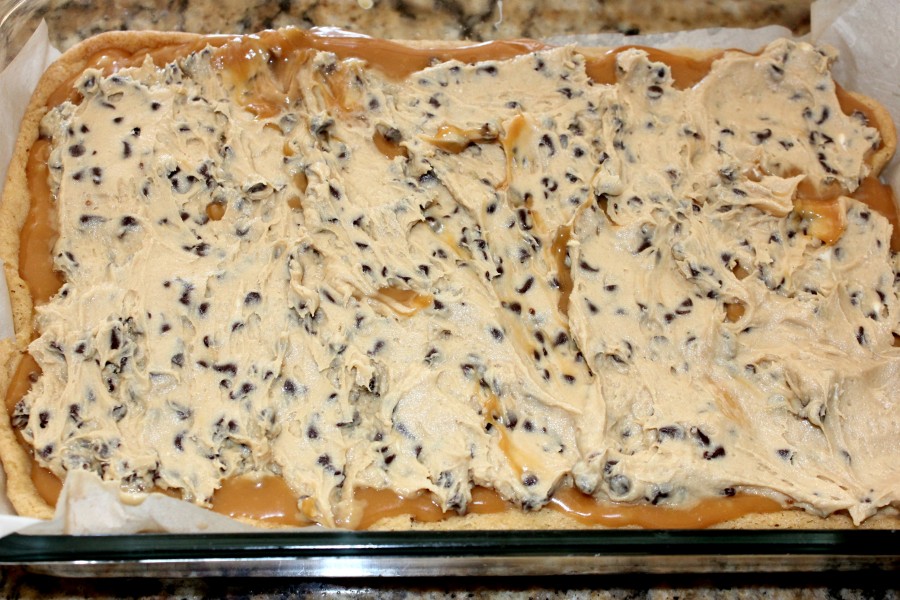 5.  Melt 1-1/2 cups chocolate chips with 1/4 cup peanut butter either in a saucepan, or in the microwave for a few seconds…stirring until combined and smooth!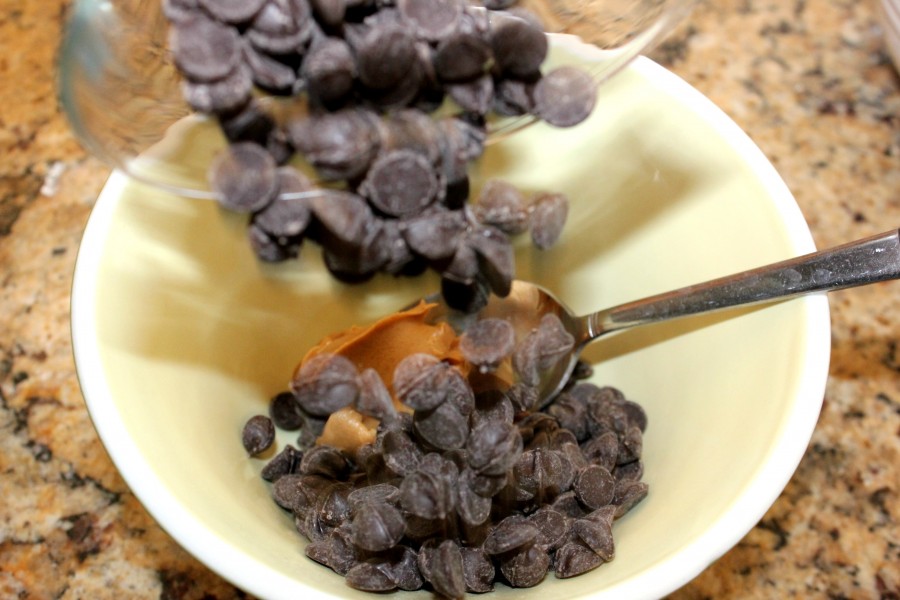 Pour it over the cookie dough layer…
Evenly spread the Chocolate over the top, sprinkle the salt…and let it cool completely!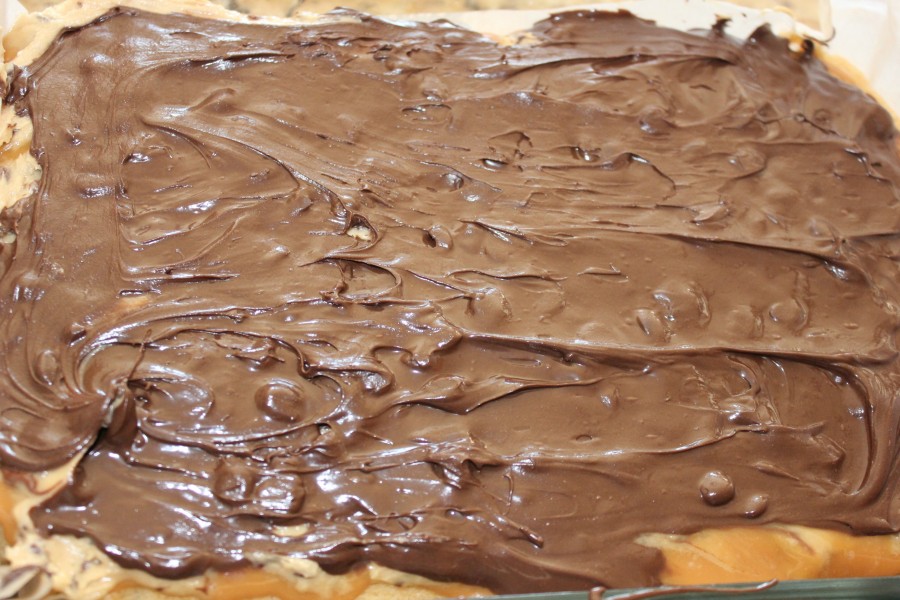 Refrigerate for at least one hour before serving.
Cut them into squares, and serve them up…
These will get gooey at room temp. but will taste great!  I keep mine in the fridge and grab them as I want one..which is WAY too often!
They are GREAT chilled!   ~Enjoy!  🙂