Suddenly I've gone from someone who has "never made a Cheesecake" to someone who "can't make enough Cheesecakes"//haha!   It was a slow process, but a fun one.  And while my Cheesecakes will never…EVER be as good as my Mom's, they sure are simple and different!
This time I ditched the traditional (but delicious) Graham Cracker Crumbs crust, and opted for a Cookie!  Yep…a sweet, easy, ready for me to bake..Cookie!  A SUGAR COOKIE!
~That's right, I used one GIANT Sugar Cookie as the crust to this Cheesecake, and now..I see WAY more Cheesecakes in my future!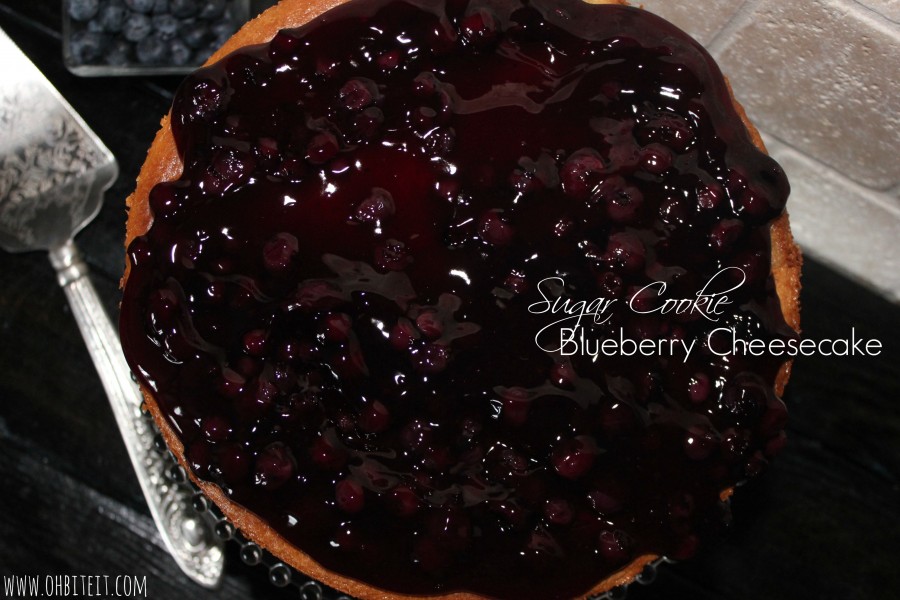 And by future, I mean like, tomorrow!  🙂
If you like fresh, sweet and simple flavors in your Cheesecake, this one is for you!  Oh…and SOOOO simple!  Give it a try!  You can top it with ANY fruit that you like!
What you'll need:
The Crust:
1-1lb. Roll of Pillsbury Sugar Cookie Dough
The Filling;
A large bowl
An 8″ Springform Pan
2 cups of fresh Blueberries..this is optional, but really makes it SO extra special!
4-8oz. blocks of Cream Cheese…softened
1 cup Granulated Sugar
4 Eggs
1 tbs. Vanilla
An electric hand mixer…or muscles!
The Topping:
1 can of Blueberry Pie Filling
Directions:
Press the Sugar cookie Dough down into the bottom of the pan.  Making sure that it's an even "crust"…
Bake that at 350 for approx. 12-15 minutes…just until it's almost a done Cookie!  Then let it cool completely!
While the Crust is baking and cooling, prepare the filling!
In a large bowl combine the Cream Cheese, Sugar, Eggs, and Vanilla…
Mix on medium speed until it's as smooth as can be.
Sprinkle the 2 cups of fresh Blueberries onto the cooled Crust…
Now, pour the filling over the Blueberries…
Bake this on a sheet pan to protect your oven, at 325 degrees for approx. 1 hour!  It took mine about an hour and a half to get it golden and firm, so just check it!  It shouldn't shake AT ALL when it's done.  If it needs more time just cover it loosely with foil until it's firm, so the top doesn't burn!
Let it cool before you even think about removing the pan..lol!
NOW that it's cool, you can safely release the greatness…
Get it onto whatever adorable serving plate you like…  (I leave the bottom of the pan attached for insurance..lol!)
~Notice that bottom Cookie layer…Mmm!  🙂
And top it with the Blueberry Pie Filling…
LOTS of it…
It's a show-stopper for sure!  See how those fresh Blueberries burst onto the Sugar Cookie Crust…hold me!
When you're done looking at it…
It's time to EAT IT and that means sharing…I know it's hard to do…
SO be sure to share with…YOU!  ~Enjoy!  🙂