Are we getting tired bored of the same old summertime side dishes?  I mean, they're all good, don't get me wrong..I love my share of Potato Salad, Cole Slaw and Corn…BUT~  it would be so nice to change things up just a little and add something new and slightly exciting to the menu!  That's where I come in.  With some help from Musselman's Apple Butter of course!  🙂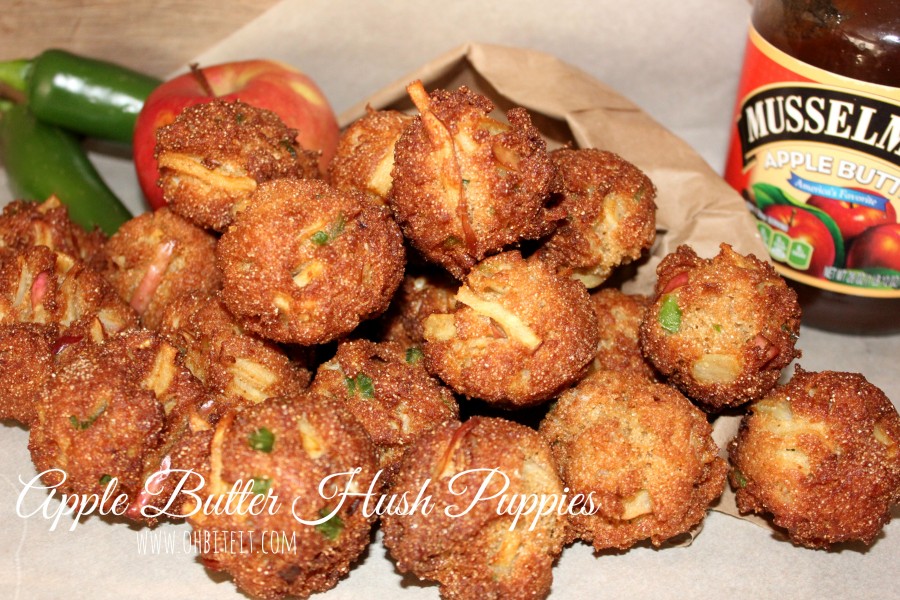 I've created these quick, easy and totally unique little Hush Puppies that will have you re-thinking all your BBQ, patio dining, side dishes.  These little pop-in-your-mouth Puppies are sweet, slightly spicy and jam packed with crisp Apple sticks that make them so moist on the inside and totally crunchy on the outside!  Giving us that tender, crunchy Hush Puppy experience we all love!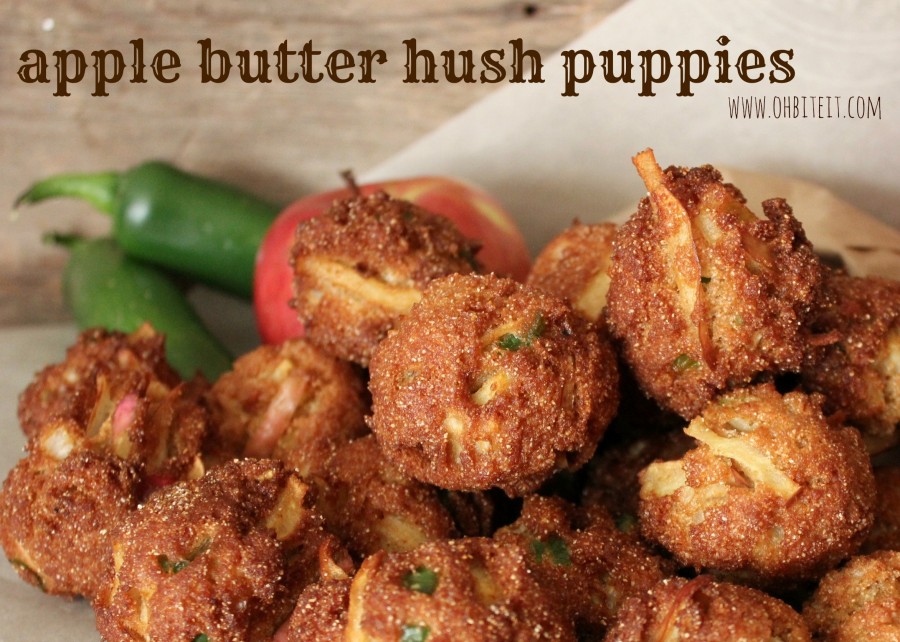 Take that Hot Dog and Burger to the next level and give these tasty, 2-bite wonders a try.  The smooth and slightly sweet background flavor of the Apple Butter takes these over the top!  Everyone will LOVE them!
*See the bottom of this post for YOUR chance to win a Musselman's Summertime Prize Pack filled with an adorable Fish Grill pan for your grill and a HUGE jar of Musselman's Apple Butter, so you can make these and LOTS of other delicious delights as well!   
What you'll need:
The Batter:
1/2 cup Musselman's Apple Butter
1/3 cup diced Jalapeños
1/3 cup diced Onions
1 Apple..cut into matchsticks
1 cup Self Rising Flour
1/2 cup Self Rising Corn Meal
1/2 cup Milk
1 tbsp. Sugar
1 Egg
Directions:
In a medium bowl mix up the wet ingredients:  
The Apple Butter, Egg and Milk, set aside…
Chop up the Onion, Jalapeño, and slice the Apple into small matchsticks… (small dice on the chop)  I like the texture and look of the matchstick Apples, but feel free to chop them up as well, if you prefer a smaller bite of Apple!
In a large bowl combine all of the chopped veggies into the wet ingredients, mix well…
Add then all of the wet into the dry…make a well in the center and fold it all in…
The batter should be nice and thick…
Using a small scoop so that your Hush Puppies are all uniform, start scooping balls…
Gently place them into the hot (350 degrees) Oil about 2 or three at a time…they like to mingle with each other in the oil, so don't crowd them…
Drain them on some paper towel.
Serve them nice and crispy and warm!
Grab some for you…
…and by "some", I mean LOTS!  ~Enjoy! : )
NOW…For the AMAZING Musselman's Gourmet Fish Grill & Serve
PRIZE Pack!!
All you need to do is share this post on your fave social network, and comment below "SHARED"!  ~THAT'S IT!  Can you believe how easy I make these giveaways for you???  HAHA!~  😉
I'll choose one winner by Midnight EST on Monday, June 23 2014!!   ~GOOD LUCK!  🙂