Is it just me, or is there a new influx of Bloomin' Onions going around the web?  I've seen them EVV-ry-where!  Not that there's anything wrong with that…however, it gave me the idea to start "Bloomin" just about anything I can get my hands on!
Anyway… so far, my Bloomin' idea has been a success!  Such a fun and unique little appetizer that brought a smile to everyone's face, even before they ever cracked into it!  Each piece of Cauliflower got individually crisped, and SOOO tasty.
A nice dip into some warm, melted cheese and…OH WOW~  HEAVEN!
~I can't wait to flatten and fry LOTS of other delectables!  Not only is it delicious, like SUPER delicious, but it's fun too!  So get to Bloomin'!
What you'll need:
one large Cauliflower
A large steamer
The batter/breading:
2 cups Panko bread crumbs (I do not recommend substituting regular bread crumbs)
1-1/2 cups water
1 cup flour
1/2 cup cornstarch
3/4 teaspoon baking powder
1/2 teaspoon salt
1/4 teaspoon garlic powder
1/4 teaspoon black pepper
Vegetable oil or canola oil – enough so that you have about 3 inches of oil in your pot.  Leave room for it to expand.
Directions:
Steam the Cauliflower…WHOLE!  Until it's soft and tender all the way through…but NOT falling a part in a mush!  Keep an eye on it, it will vary depending on size!  Take it out and let it cool!
Now prepare the batter! In a large bowl, combine all of the above batter ingredients, Mix unit smooth.
START HEATING UP YOUR OIL NOW!
Gently spread the Cauliflower open just a bit to create some nooks and crannies.
Pour the batter all over it, making sure to coat it inside all the crevices as best as you can…
Cover the entire thing with Panko Crumbs…be sure to get a nice thick and even coating on that baby!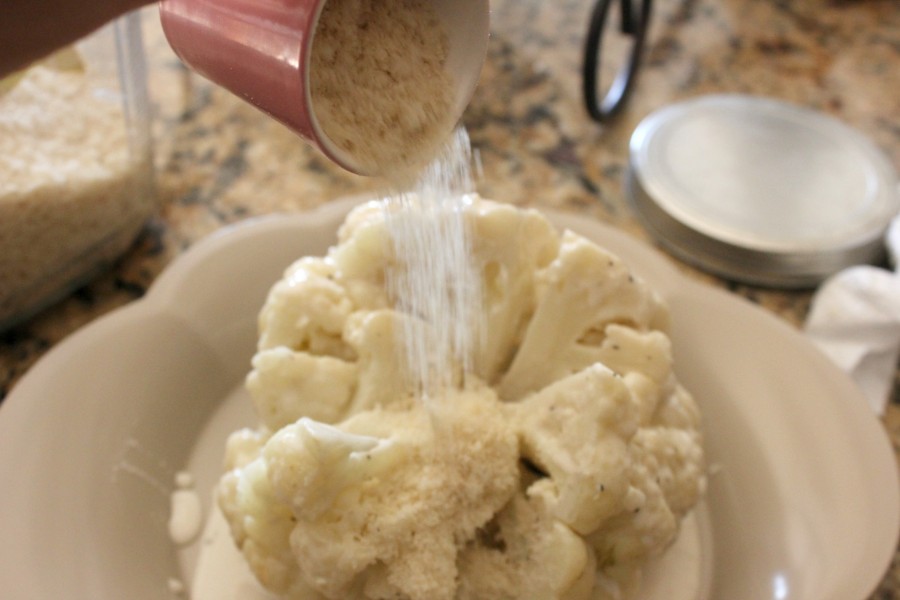 Gently place it top down, into the hot oil and let it fry until you can start to see the edges turning golden!
GENTLY flip it over and let the other side golden up as well!
Be very careful, and gently remove it from the oil…place it onto some paper towel to drain and cool.
~Plate it up!  It's a show-stopper!  A sprinkle of Salt doesn't hurt either!  🙂
If you'd like, cut a small whole in the center and place some melted Cheese of your choice in there for dipping…and serve!
Grab some for you!  ~Enjoy! 🙂