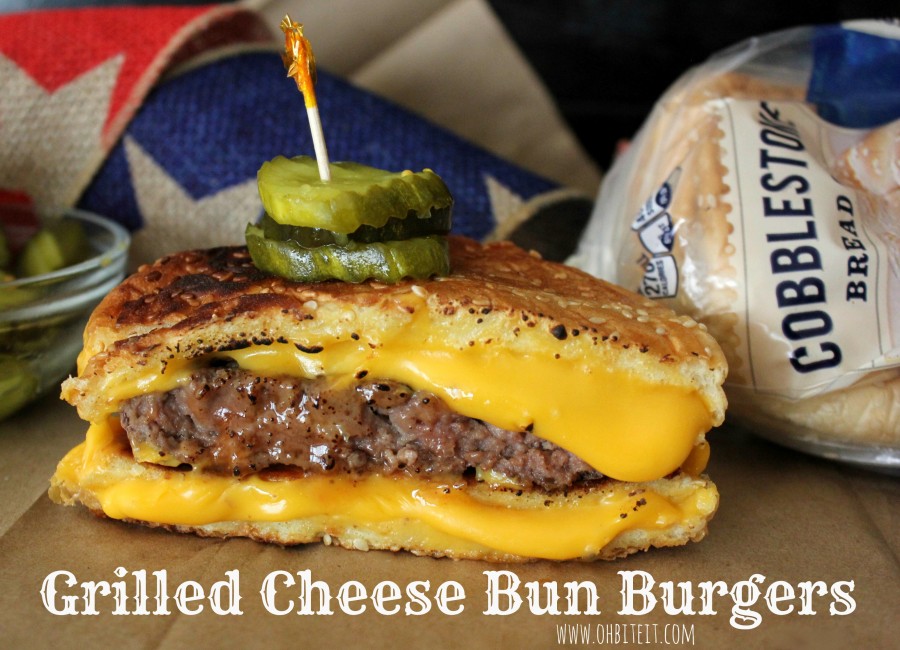 Well, it's that time of the year again…  The 4th of July is right around the corner!  A day of patriotic thanks and patriotic food!  The two go hand in hand, and when it comes to food, nothing beats those all-american classics!  Hot Dogs, Burgers, Steaks on the grill~  actually anything grilled makes it to my 4th of July menu!  This year,  I wanted to take two classic all-american favorites and morph them into one amazing, and unique Burger that everyone will still be talking about long after the grand finale!  A total cure for Sandwich 'sameness'!
Yep..I combined Grilled Cheese and Burgers!  Each thick, and juicy Burger is held together by 2 Grilled Cheese Sandwiches!  Ahhh…yes, it was only a matter of time, and here we are!  These aren't just any Burger Buns either.  Nope, these are Cobblestone Bread co. Sesame Twist Hamburger Rolls!  Only the very best in gourmet breads and buns!!  These are the most fresh and best tasting burger buns that I have EVER had!  And Cobblestone Bread Co. quality sure did make a difference for these Burgers!  Because of the quality and delicious flavor of Cobblestone Bread, I was able to take gourmet Summer grilling to a whole other level of flavor, excitement and whimsy!
These Burgers are such a fun twist on the regular Burger that everyone will love.  Talk about entertaining, these Burgers are the meal and the conversation starter all in one..haha!
Check out Cobblestone Bread Co. and Kitchen Daily here and on:
Cobblestone Facebook..click right here>>  COBBLESTONE BREAD CO. 
Cobblestone Instagram..click right here>>  Instagram!
Cobblestone Twitter..click right here>>  Twitter!
Kitchen Daily on Facebook..click right here >> Kitchen Daily Facebook!
Kitchen Daily on Twitter..click right here >> KD Twitter!
Kitchen Daily on Instagram..click right here >> KD Instagram!
Kitchen Daily on Pinterest..click right here >> KD Pinterest!
NOW~  for the amazing Grilled Cheese Bun Burger recipe~
What you'll need:
Burgers ..cooked to your liking!
Burger Buns~  2 full Buns per each Burger!  Of course, I suggest these Cobblestone Sesame Twist Hamburger Rolls! 
6 slices of American Cheese ..per Burger!!
Melted Butter, just enough to brush on all sides of the Burger Buns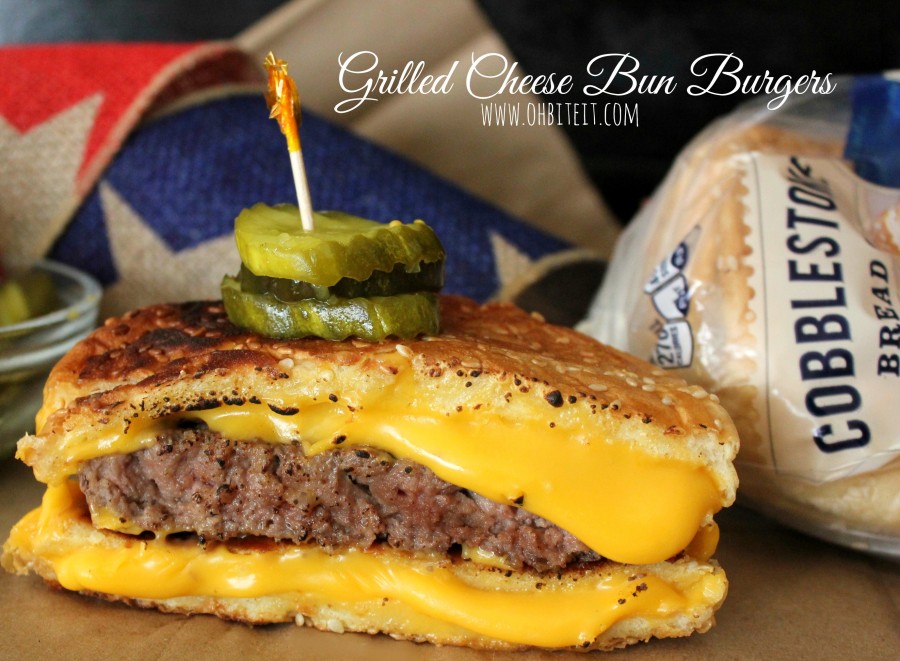 Directions:
First, grill up your Burgers to your liking…  Keep them warm, as you prepare the Grilled Cheese Buns.
Place 3 slices of Cheese between each Bun.  Below, you'll see the top AND the bottom buns for one Burger!
Brush them with the melted Butter…
Grill them up until they're hot, melty and smell ahhh-mazing!
Now..build your Burger!  Stack those Grilled Cheese Buns with your Burger OR Burgers (if you so choose..lol) between them.
Serve them up super warm, so the Grilled Cheese Buns can really show off!
You'll LOVE the first bite, the last bite and every bite in-between!  Happy 4th of July!  ~Enjoy! 🙂
Compensation for this post was provided by Cobblestone Bread Co. via AOL Media. The opinions expressed herein are those of the author and are not indicative of the opinions or positions of Cobblestone Bread Co. or AOL.