Do I really need to say anything here..?  I mean really~  do you even want to hear me babble when you can simply scroll through this embarrassingly easy "recipe" and get to spooning this glorious combo into your lips where it belongs?!
I think not…
Let's go!
What you'll need:
3-4 cups of Vanilla Ice Cream ..or YOUR fave flavor!
1 lb. (YEP..an entire pound) of thick cut Bacon
1/2 cup of Brown Sugar
1/2 cup Maple Syrup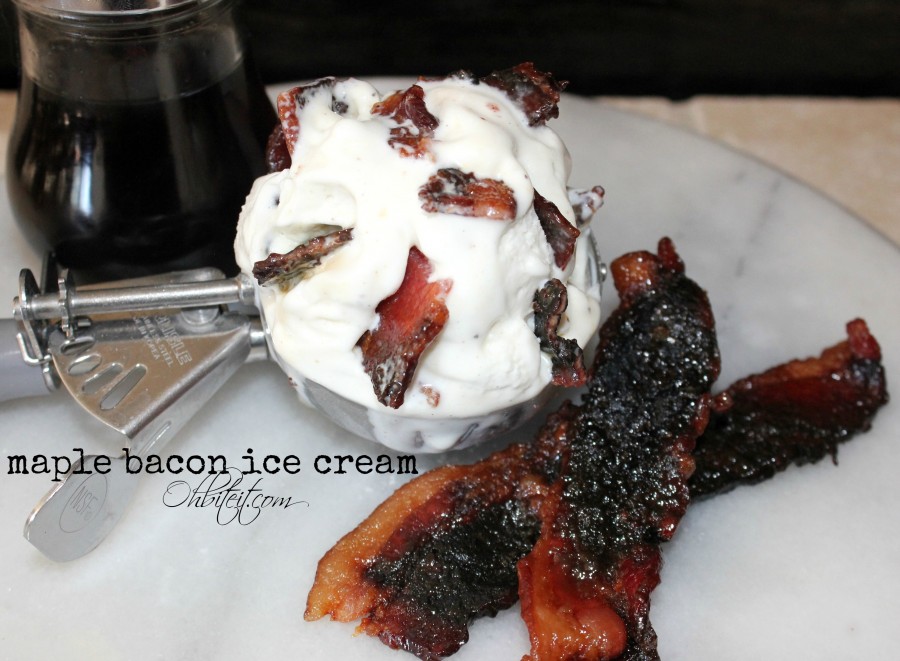 Directions:
Crisp up your Bacon as you normally do (your favorite method)…BUT~  before you cook it, top each slice of Bacon with an even coating of Brown Sugar~  and a nice, even drizzle of Maple Syrup.  Watch the bacon so it doesn't burn..and remember it will get crispy as it cools off!
Now~ Let the Bacon cool, and then crumble it up into large chunky chunks…
Mix those amazingly beautiful bacon bits into your semi-soft Ice Cream…
Serve it up to only those who deserve such an epic treat..lol  If you REALLY love them lots, you can drizzle some extra Maple Syrup over the top…
You can freeze it for a more firm Ice Cream experience, or keep it soft-serve!
Grab a spoon and DIG in~  Moan, Groan..repeat!  ~Enjoy! : )