It seems like sometime late last night these charming Chocolate Chip Cookies, sweet talked some sweet and vulnerable Cheesecake into some serious mingling!  And as a result, we now have ourselves a house full of Chocolate Chip Cookies stuffed with Cheesecake…Happy Birthday to them!  🙂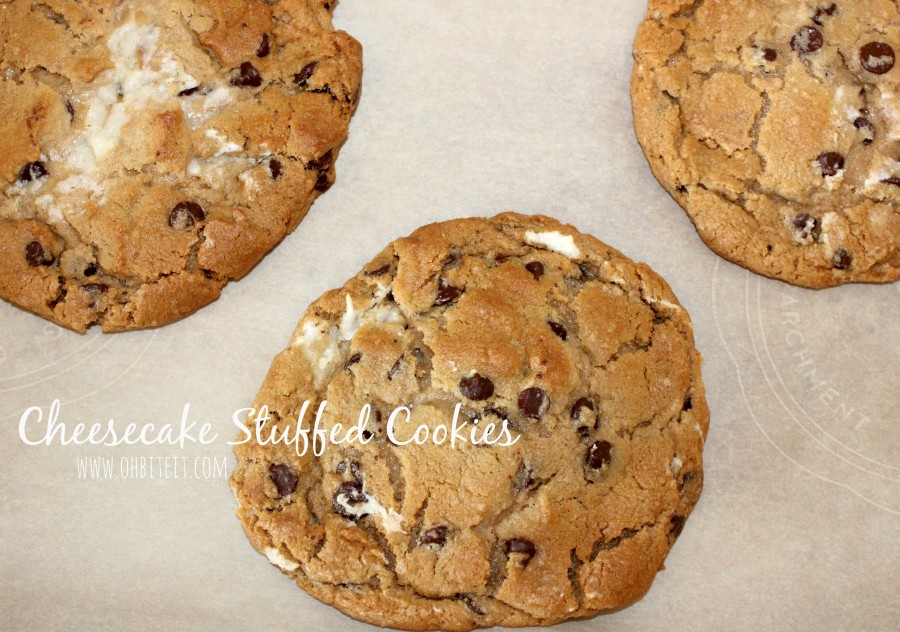 And yay for all of us, because these are the BEST Chocolate Chip Cookies EVER EVER…everrrrr!
They're SO succulent they could almost be eaten with a spoon and no one would question it!  Rich, moist and filled with Cheesecake, these cookies are on a level all their own!  I mean…a warm Chocolate Chip Cookie marbled with swirls and swirls of creamy Cheesecake…OMG!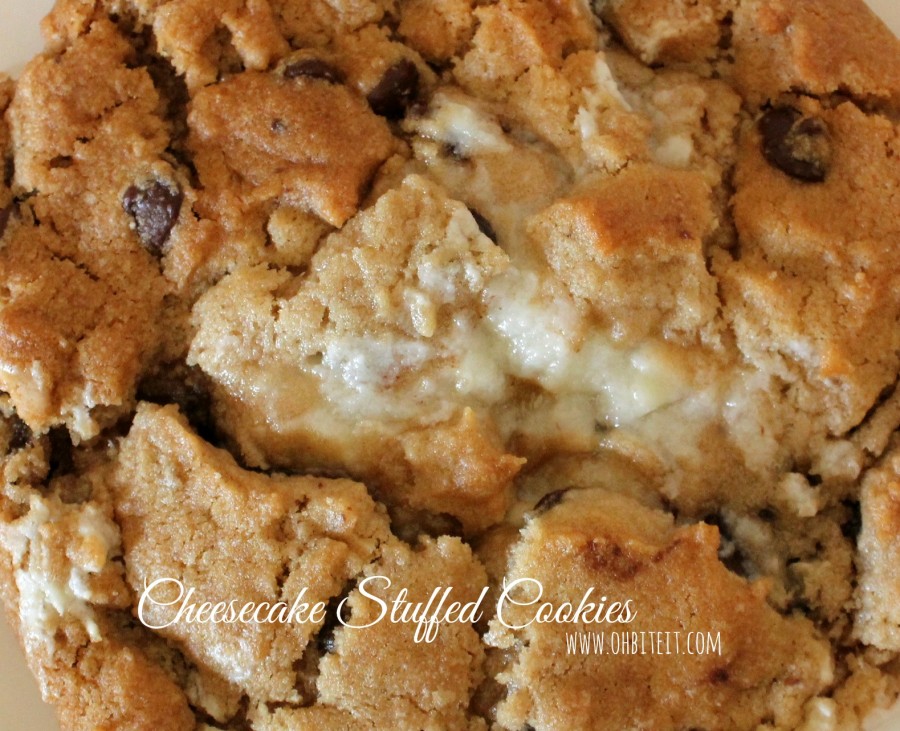 Make a HUE batch..because they do not last more than a few minutes…even if it's just you in the house..haha!
What you'll need for a dozen cookies: (double accordingly for more)
Chocolate Chip cookie dough~  either store bought OR homemade!
8 oz. Cream Cheese softened
1 cup of Powdered Sugar
1 tsp. Vanilla Extract
Directions:
In a medium bowl combine the Cream Cheese, Sugar, Vanilla …mix well (I used an electric hand mixer)
It should be smooth and creamy… you'll SO want to eat it just like this!  🙂
Now simply take some cookie dough and form a small dent in the center with the back of a spoon, making sure not to go through to the bottom…
Fill it with a small scoop of the Cheesecake filling …making sure NOT to over fill them!
Gently place some Cookie dough on the top..and seal the edges VERY well!  It's fine if some oozes out..it will all bake up together, as long as you don't over fill them!
Bake them about 3″ apart on a parchment lined sheet pan at 350 for approx. 12-15 minutes, or until they're done to your 'cookie liking'!
Let them cool, so they can set up just a bit!  Come on…you can do it..haha!
Now you can DIG in~  get some Milk though, because after the third one..you're gonna need it!  ~Enjoy! 🙂