Okay, this might be my all-time craziest, mind-blowing mash up EVER!  Let's just say that if a Twinkie and a Burrito were left alone in a room, and they really…really liked each other..like REALLY liked each other~ this is what might pop out 9 months later.  A delicious treat named "Twinkirito"   Ok..now it's getting creepy!  Back to this over the top, out of this world, super simple crazy creation!
In a matter of minutes you can either horrify or delight all of your closest friends and family in the best way ever! After you give them a minute to "get used" to this idea..hands and lips will be slapping and smacking so watch out!  Oh, people might try to act like they're disgusted, scared or down right outraged..don't fall for it!  If you turn your back, these will all be gone faster than you can say "I told you so!"
Each Twinkirito is crispy, sweet and crunchy..at first!  THEN…OMG….then, ~you crack through that deep fried, toasty sugared shell and instantly you're sinking deep into a warm, ooey-gooey, tender-drippy, glaze filled Twinkie!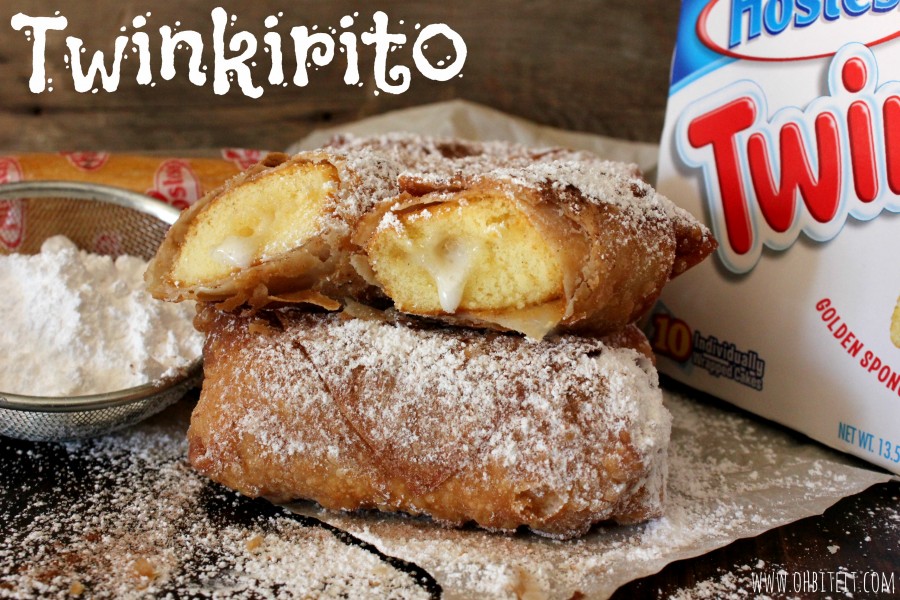 There are no words in existence that can explain the sheer joy that a warm Twinkie will bring to your life.  You will be in HEAVEN!  Give these a try, and I promise…no one will ever forget you or them!  🙂
What you'll need:
Twinkies…one per Twinkirito!
Large square Egg Roll/Wonton wrappers…one per Twinkirito!
Oil for frying..I used Canola!
Powdered Sugar for dusting!
Cinnamon /Sugar for dusting..optional!
Directions:
Simply place a Twinkie on the pointed edge of the wrapper…
And roll that baby up, tucking in the edges as you go, seal the last edge with a dab of water…
They will make nice little packages of YUMMINESS!
Now place them one or two at a time into the hot (350 degrees) oil and fry them until they're golden on all sides…
Let them cool just bit so you don't scream and embarrass yourself…
Then give them a loving sprinkle of Powdered Sugar, because you can…
And get ready to be attacked by all of those hungry naysayers that 10 minutes ago had no idea what intoxicating deliciousness these were going to smell like..lol
Eh, give them a break and let them have one…it feels good to be right..haha!
Be sure to grab one for you like you mean it..or you won't get one…trust me!
Make no apologies…haha!  ~Enjoy!  🙂