It's hard to believe that there was a delicious flavor combo in existence that I had no idea about!  But thanks to McCormick, I had the tasty pleasure of expanding my palate and discovering a whole new world of amazing flavors!  This Chamoy Sauce is a condiment from Mexico that is typically served as a dip for fresh fruit. It is made with fruit, such as apricot, mango or plum, chilies and lime juice and is bottled and sold in varying degrees of spiciness. Make it easily at home with apricot jam, lime juice and chile peppers, combined with the fresh flavors of McCormick Chile Powder and Red Pepper Flakes.
McCormick's Flavor Forecast 2014 report offers a look at the mouthwatering tastes and trends that will be connecting people and cultures around the world and driving culinary innovation in years to come! So, I chose to whip up a fresh fruit Salsa using Chamoy Sauce as the base that brings this delicious and one-of-a-kind dip all together.  I held true to the traditional flavors by using all of the typical fruits, but I stuck with true "Oh, Bite It"  form and switched it up just a little bit with the addition of some rich, and cool Cream Cheese to balance it all out!  Crunchy Tortilla Chips made the perfect utensil for getting each sweet and slightly spicy bite into our mouths!  This was beyond delicious!
Not only was it delicious, but it's also for a great cause!  YOU have the chance at winning a McCormick Anniversary  pack.  The pack includes exclusive McCormick Anniversary Edition Black Pepper and Vanilla Extract (not available in stores), a McCormick recipe book, and a branded canvas tote..a $50 value!  All you have to do is comment below and share your very own unique flavor story.  Tell us your favorite flavors, dishes or recipes that mean something to you, your family and/or your culture!
**Be sure to use hashtag #flavorstory and you're entered to win..that's it!  🙂
One of this heat's trends is Mexican World Tour: from a growing taste for regional Mexican fare in North America to early exploration in China, cultures across the world are embracing authentic elements of this bright, bold and casual cuisine.  This Chamoy Sauce can be used as a condiment, or as a tasty ingredient, complimenting almost any Mexican inspired dish you can think of!
For every story shared on any of McCormick's brand web sites or social channels, McCormick will donate $1, up to $1.25 million, to United Way to help feed those in need!  How great is that??!
 I participated in this program sponsored by McCormick..although all opinions are my own!
Be sure to comment below with your story, for a chance at winning this amazing McCormick Anniversary Pack! ~GOOD LUCK!
NOW..for this amazing recipe!!
CHIMOY FRUIT SALSA!
What you'll need:
1 Mango…diced small
2 Plums…diced small
2 Apricots…diced small
2 tablespoons (approx.) of Parsley OR Cilantro..chopped!
1 cup of Apricot Jam or Preserves
1/4 cup fresh Lime Juice, plus a few extra limes for slicing and squeezing!
2 tsp. of McCormick's Crushed Red Pepper Flakes
1 tsp. Chile Powder
1 dash of Salt
16 oz. Cream Cheese..room temperature.
Tortilla Chips
A food processor or bender
Directions:
In a blender or processor, blend/pulse together the Lime Juice, Apricot Jam, Chile Powder, Red Pepper Flakes, Herbs, and Salt until well blended …set aside!
It should look like this…YUM!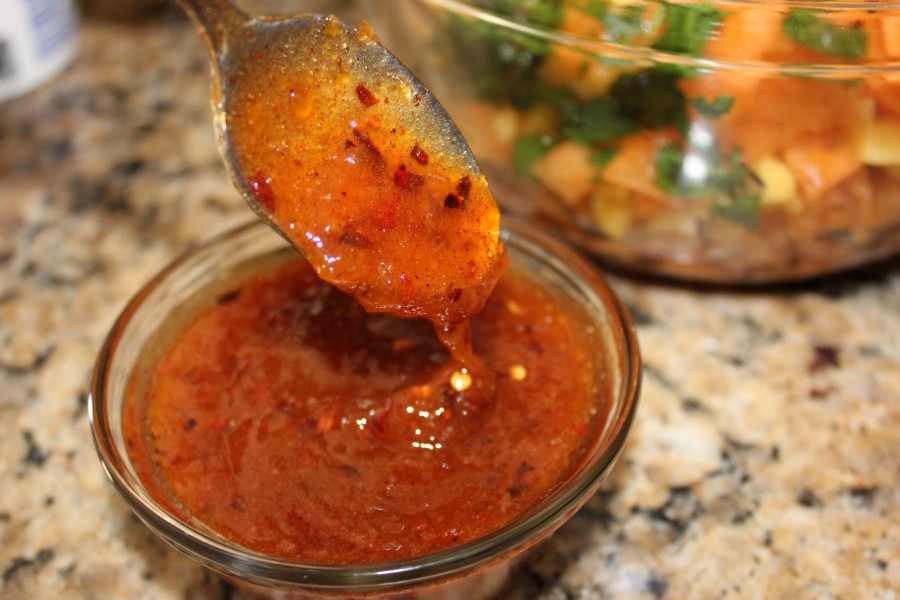 Chop up all of the fruit into a small dice…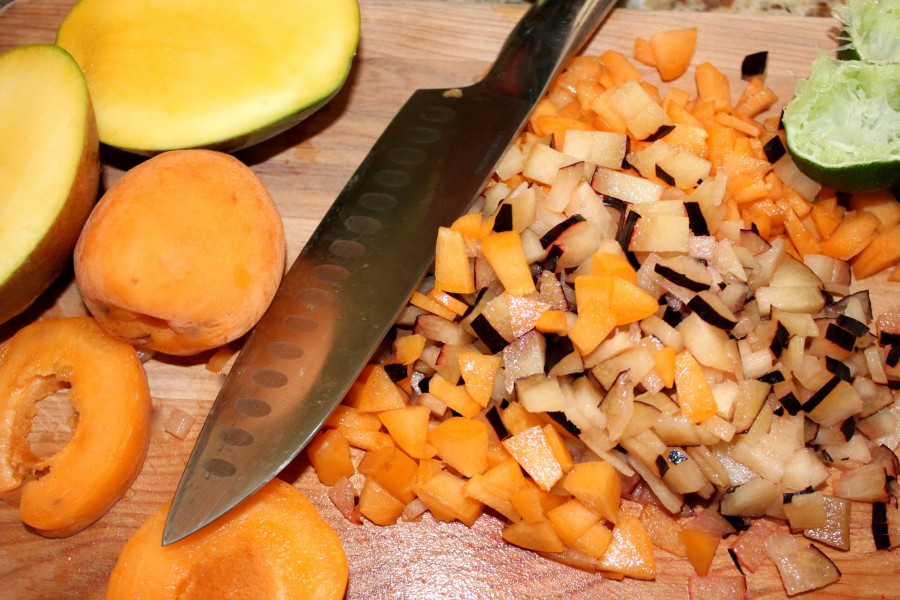 Place the fruit into a large bowl and add some of the Chamoy Sauce, mix it in..make sure to reserve some sauce for the Cream Cheese…
Spread the softened Cream Cheese onto your serving platter, and drizzle some of the reserved Chamoy Sauce over it…
Now gently spread it evenly over the top and layer on that fruit…
Grab some Chips and some extra Lime wedges for squeezing…and dig in!  ~Enjoy!  🙂