OMG…The State Fair is HERE!  Don't get me wrong..I don't go to it, I just like the idea of it..from my couch, as I get inspired to make scrumptious, over the top, crazy fair food..lol!
I think the food is the best part of the fair, and luckily I can have that right here at home, with free parking.  One of my favorite fall and fair treats are the Candy Apples, that delicious, cinnamony (depending on where you live) sassy treat on a stick that every denti$t just loves!  😉
I took all of that candy apple goodness and made a huge slab pie out of it.  Enough candy apple pie to make you the most popular guest at any party, and your kid's favorite parent!  Sweet, fresh, apple pie filling is layered between two buttery, flaky slabs of pie crust and then topped with crispy crackles of that bright red, cinnamon candy goodness that we all know and love!
The combo of the crunchy candy shell and the tender apple pie under it all, is heavenly, and so unique & fun!
Just FYI~  You will definitely need to crack through the candy with a blunt object (handle of a knife..etc.) and then slice through the tender crust in order to get a nice slab of pie out of there.  So this is interactive, entertaining and tasty all at the same time..lol!  It's much like eating the candy apples…so watch those teeth!  🙂
What you'll need:
1 box of pillsbury refrigerated pie crust (2 pack)
2-3 apples..thinly sliced
1/2 cup flour
1/3 cup sugar
1 tsp. apple pie spice
2 tbsp. butter..melted >> to brush on the crust!
a 2″ deep sheet pan
The Candy Apple Shell:
2 cups sugar
1 cup light corn syrup
1 cup warm water
1/8 tsp. of cinnamon extract OR oil
a few drops of red food coloring
Directions:
Line the sheet pan with parchment paper..be sure that your pan has a 2″ lip on it!
Slice the apples to approx. 1/8 or so in thickness..I used a mandolin..
In a medium bowl mix together  the flour, sugar, and apple pie spice…
Sift the flour mixture…
Sprinkle the dry mixture all over the apple slices..
Toss the sliced Apples thoroughly with the flour mixture…
Roll out one crust and place it into the pan, forming it to fit the best you can, no biggie if it doesn't reach all the edges..the candy will fill it up!
Brush the bottom crust with some butter…
Add in all those scrumptious apples…
Now place the other crust over the top, and crimp the edges in a rustic fashion..a.k.a ugly…lol!
Make an "X" for steam release, and brush that with some butter too.  Bake it at 350 for approx. 15 minutes, or until it's golden and firm…
Let it cool completely!
While it's cooling, make the candy:
In a medium sauce pot combine the 2 cups sugar, 1 cup corn syrup and 1 cup water.  Bring to a boil, stirring constantly until it reaches 300 degrees on a candy thermometer.  If you're unsure about the temp. simply drop some candy into cold water, if it hardens immediately and breaks in half..it's ready!  If it's sticky and falls to the bottom..give it more time!
Pour that bright happiness all over the slab pie…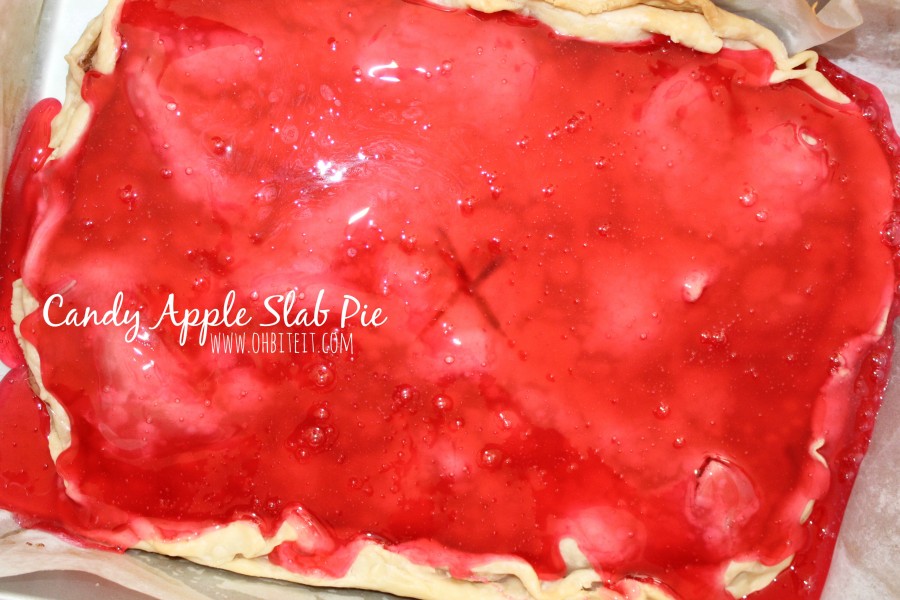 Let it set up fully and cool completely!
NOW..it's ready to crack up and devour.  You will have to basically hammer the candy before you can slice through the pie~  this chore is fun and worth it..trust me!
Grab a slab and indulge in smile after tasty smile…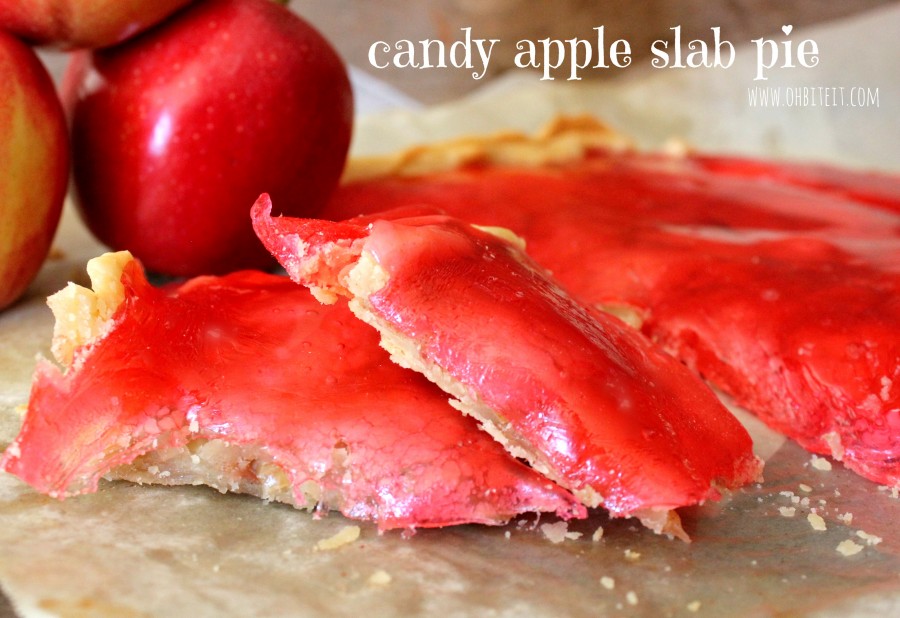 And remember..watch those teeth..lol!
Taste the happiness!  ~Enjoy! : )